Join us as we explore and adventure Isle Royale National Park.
First-Year Wilderness Experience with Stout Adventures is an adventure-based program designed specifically for first-year students.
Held from Sunday, Aug. 28 to Saturday, Sept. 3, FWE is a great way for your incoming student to meet like-minded folks before starting their first semester at UW-Stout. 
This year, we'll explore Isle Royale National Park, located on Lake Superior in Keweenaw County, Michigan. We will start with a ferry ride to the island and then spend the week backpacking from one end to the other, taking in the beautiful scenery along the way.
No prior backpacking experience is necessary; however, individuals must be active and able to walk around 10 miles per day.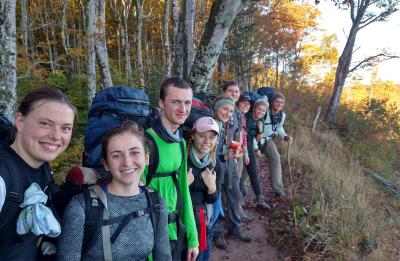 The cost of FWE is $695.
Two trip leaders guide the group.
Includes transportation, ferry tickets, lodging and meals.
All necessary equipment is provided.
All skill levels welcome. Space is limited.
Registration opens Wednesday, June 1.
Stout Adventures Outdoor Trips Program
We take students on a variety of outdoor trips, ranging from afternoon, day and weekend trips to seven-day spring break trips. Stout Adventures has adventure opportunities for all students. Here are trips happening this fall:
Saturday, Sept. 10: Rock Climbing Interstate Park, Taylor's Falls, Minn., $40
Sunday, Sept. 11: Stand Up Paddleboarding, Dunn County, Wis., $50
Friday, Sept. 16 to Sunday, Sept. 18: Door County Paddle & Hike, $100
Friday, Sept. 23 to Sunday, Sept. 25: Backpacking the North Country Trail, $85
Saturday, Sept. 30 to Sunday, Oct. 2: Bouldering & Hiking Devil's Lake State Park, Baraboo, Wis., $85
Saturday, Oct. 15: Rock Climbing Barn Bluff, Red Wing, Minn., $40
Saturday, Oct. 22: Canoeing the Red Cedar River, Menomonie, Wis., $35
Saturday, Oct. 29: Explore Crystal Cave – Cave Tour & Hike, Spring Valley, Wis., $50
Saturday, Nov. 5 to Saturday, Nov. 6: Log Cabin Yoga & Crafts Retreat, Sandstone, Minn., $85
Saturday, Nov. 12: Outdoor Trip Skills 101, $20