University Dining Services at UW-Stout has been honored with a state award for its professionalism and excellence in serving students, the campus and community.
Dining Services will receive the 2023 Regents University Staff Excellence Program Award on Friday, Oct. 6, at the UW System Board of Regents meeting in River Falls.
"This is a staff who truly cares about the well-being of our students, thinks creatively about how best to foster a positive institutional culture, and consistently goes above and beyond to help students and the university succeed," said Chancellor Katherine Frank.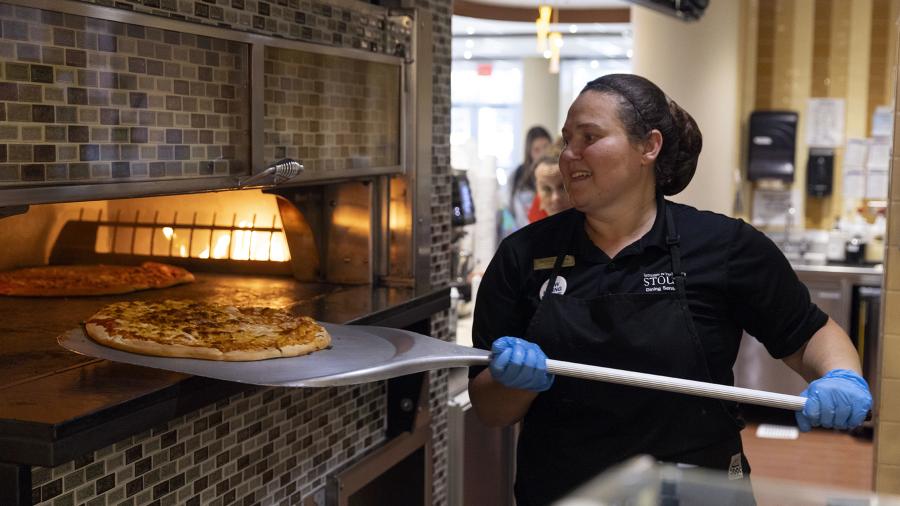 The awards are the UW System's highest recognition for members of its university staff, according to a System news release, which also recognized two individual winners.
Award recipients are selected for superior performance resulting in significant contributions to the department and university; use of positive personal interaction to manage work changes; and a consistently innovative approach that improves productivity and work quality. 
Each recipient is awarded $7,500 to support professional development or program enhancements.
"It is a true joy to be part of the Dining Services family and an honor to receive this recognition and award," said Jim Selz, assistant director. "Employees take great pride in the work they do and enjoy the university environment. It is also great to have the opportunity to work side-by-side with the hundreds of student employees in Dining Services."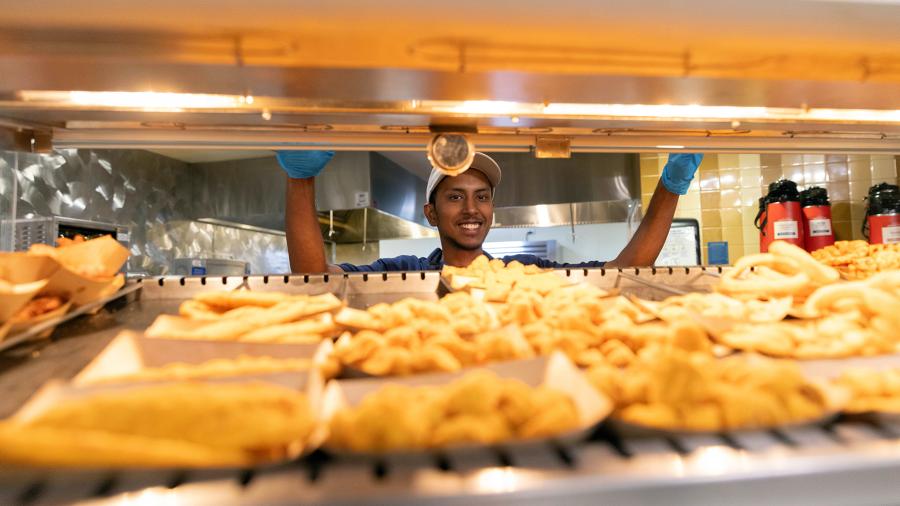 Dining Services, one of five self-managed units in the UW System, oversees 12 operations on campus:
Two student cafeterias, Merle M. Price Commons and North Point Dining

Three sites in the Memorial Student Center, the Fireside Café, Blue Devil Market and Brew Devils coffee shop

Three grab-and-go locations, Harvey Hall Express in Harvey Hall; Jarvis Express in Jarvis Hall; and North Point minimart.

University Catering, a service for the university and region, including for special events, conferences, weddings and more.

Concessions for UW-Stout and Menomonie High School football games at Williams Stadium.

Hot lunches for the Child and Family Study Center, a child care facility on campus

Snack vending machines
Employees include many levels of university staff: managers, chefs, cooks, retail and catering leads, production assistants, and food service and office leads, along with hundreds of student employees.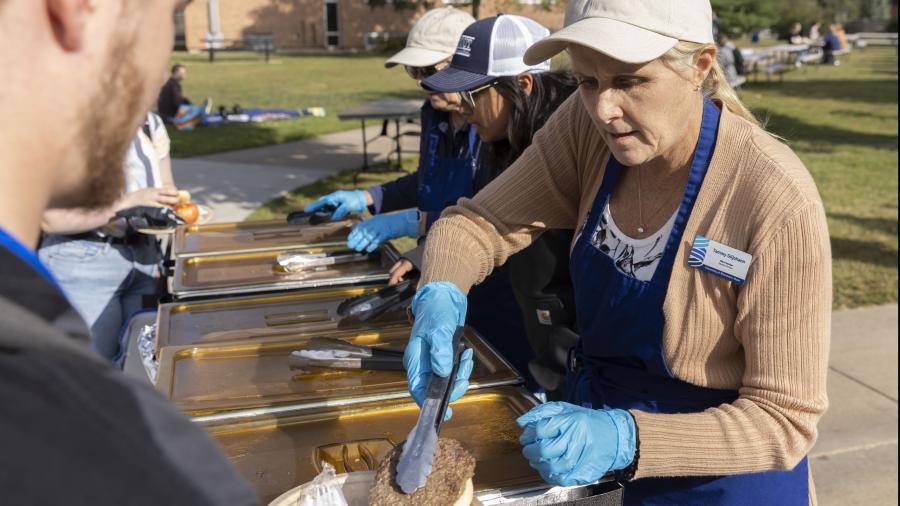 It is one of five self-operated dining services in the UW System, meaning revenue is retained on campus. Dining is aligned with university initiatives, including student experience. Student success is the leading goal of UW-Stout's FOCUS2030 strategic plan.  
Dining is at the forefront of several campus traditions:
The annual Great Stout Cookout. This outdoor campuswide event, where campus administrators serve traditional Wisconsin cookout fare in the first days of the semester to students, is a cultural tradition that helps welcome all students back for the academic year.

The Oktoberfest and holiday buffets bring faculty, staff, retirees and community members together to celebrate with traditional foods and cultural entertainment.

Preparing exam bags with healthy snacks and notes of encouragement that are distributed by administrators to students at the start of final exam weeks.
"University staff in Dining Services are professionals. They know that they do more than just feed students. They feed minds, they support learning, and they are often the front-line staff who notice and comment on students who need a referral for additional support," said Dean of Students Sandi Scott.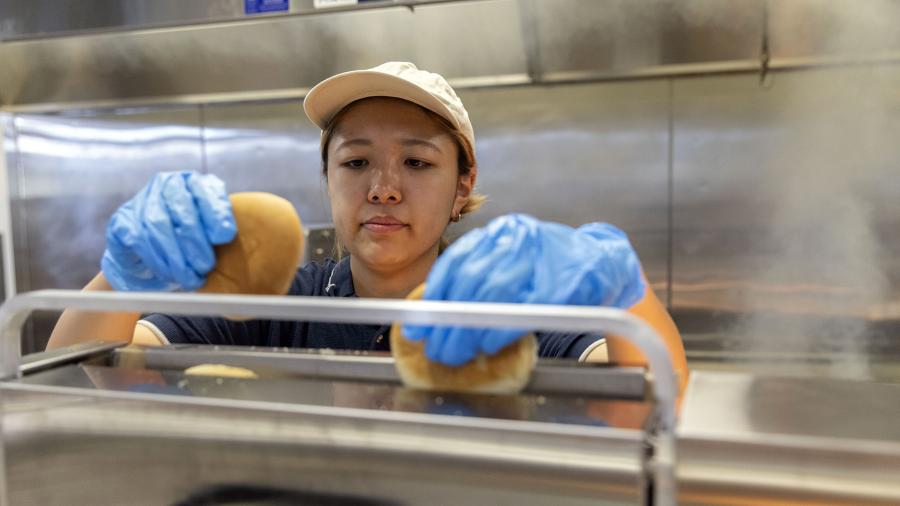 During the pandemic, University Dining developed: contactless ordering and delivery service for those in quarantine and isolation; TRANSACT, a mobile ordering application that allowed guests to order meals from their favorite venues and skip socially distanced lines; and a process of warehousing items to balance food shortages.
University Dining has received a gold and two silver awards from the National Association of College and University Food Services. In a recent student employee satisfaction survey, students rated Dining Service's full-time staff 100% helpful and friendly.
"Daily, the staff creates a space not only where students are nourished but where they can thrive in meeting their personal and professional goals. Consistently, they work to ensure that students are well-fed and that exemplary service is paramount in all their interactions," Scott said.
Among the nominees for System award was Cally Henderson, UW-Stout training and development coordinator with Human Resources.
The University Staff Excellence Program Awards, in their third year, are part of a group of Regents awards, including for teaching, academic staff and diversity.
###