University of Wisconsin-Stout alumni Nate and Danielle Goss enjoy socializing with family and friends over cocktails.
However, last year when pregnant with their first child, Macy, Danielle couldn't find alcohol-free and ready-to-drink mocktails in stores, taverns or restaurants. Nonalcoholic beers and wines that she found still contained a small amount of alcohol, which she didn't feel comfortable consuming while pregnant. Soda and sparkling water just didn't fill the void of having social cocktails.
Danielle, a Registered Dietitian and a 2013 UW-Stout dietetics graduate, spent summer and fall 2019 creating mocktails from scratch.
"All I wanted was for Nate to be able to head to the local store, grab a six-pack of something for him and a pack of something that tasted great and that gave me the same social experience I'd get from drinking a cocktail, but without alcohol," Danielle said. "Time and time again I said to Nate, 'How isn't there anything out there like this? Is it too much to ask?'"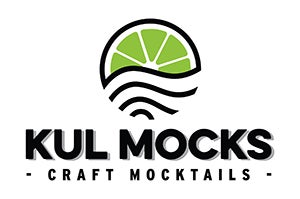 After extensive market research, focus groups and consulting with beverage industry experts, they found the demand for 100% alcohol-free options extended well beyond pregnant women. With the continued consumer focus on health and wellness, a growing number of consumers are fueling demand for low- and no-alcohol beverages, said Nate, a 2013 UW-Stout packaging graduate.
The Gosses, of Roberts, found their research convincing enough to start Kul Beverages LLC just months before becoming a family of three. Earlier this summer, they released a line of ready-to-drink mocktails under the brand name KUL MOCKS — pronounced "kool maaks."  
One of the first to market of its kind, the KUL MOCKS lineup includes a Strawberry Mock-arita, a Mock Mule and a Blackberry Mock-jito. Each of the hand-crafted mocktails has 50 calories or less per can and zero alcohol (0.00% ABV).
Created with health and wellness in mind, KUL MOCKS are also gluten free, caffeine free, have no artificial flavors or sweeteners and are not genetically modified.
Each ready-to-drink mocktail, in a sleek 12-ounce can, is infused with spirit notes to mimic the traditional cocktail experience. "We wanted to keep the label as simple as possible. We spent months in formulation to create great-tasting mocktails with the lowest level of sugar possible, without sacrificing any taste," said Danielle, CEO. "We were able to achieve this by mixing just a touch of real cane sugar with natural sweeteners stevia and monk fruit."
They chose the flavors based on what is most popular with consumers, Nate said. In the future, if there is interest in other flavors, they want to expand their offerings.
KUL MOCKS are available online and in more than 100 Wisconsin and Minnesota area stores, including Dick's Fresh Market in Menomonie.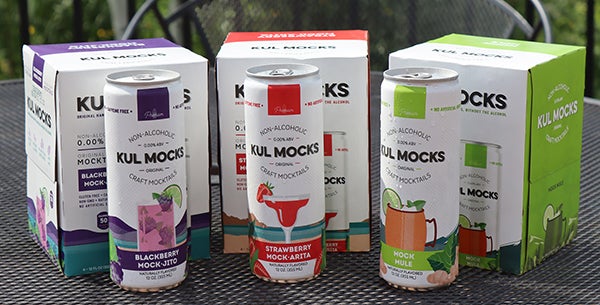 Brenna Ferguson, of St. Louis, who works at a domestic violence shelter and also as a photographer, loves the Mock Mule flavor. "It is tasty, refreshing and a great conversation starter," she said. "The design of the cans is what stood out to me the most."
Ferguson drinks the mocktails three or four times a week as a refreshing treat. "I would recommend KUL MOCKS to anyone in recovery, expecting, underage or looking for healthier options," she added. "I love how the brand is geared toward any and all demographics, and honestly who doesn't appreciate a healthier option.
"As a person in recovery, I enjoy having this option rather than always being forced to drink water, soda or tea at any social gatherings. This drink not only helps me share my testimony but gives me the confidence in doing so, and for that I am very grateful," Ferguson said.
A mix of skills, passion
Danielle, who grew up in Durand, has always been interested in health and wellness. She chose dietetics after learning about the program and its robust field experience opportunities compared to other universities.
"I knew nutrition and wellness were of interest to me," she said. "I've always had a passion for helping people. Learning how to teach others how to navigate a more healthful lifestyle through the dietetics program at Stout seemed like a win-win for me."
She also has always had an entrepreneurial spirit. In 2016 she founded Driven Wellness LLC and is a workplace wellness consultant. The company specializes in interactive workplace wellness programs, providing corporate and executive wellness consulting.
Nate, who grew up in Eau Claire, attended UW-Stout to study engineering technology but decided to major in packaging because he liked the atmosphere and job outlook. He works at Great Northern Corp. in Chippewa Falls as a packaging sales representative.
His degree and background in packaging helped build the KUL MOCKS brand. "Everything from the 12-ounce sleek cans to the consumer engaging graphics, I was able to apply a lot of my knowledge and understanding gained from my degree. And also my industry experience helped guide and critique the packaging to the final product you see today, which has been very well received," Nate said.
Starting a new business at a time when COVID-19 has been impacting the economy has changed the way the couple are marketing KUL MOCKS. Traditionally they would have held tastings and given out samples. They are turning to social media channels and social influencers to help share the message.
The couple understands the importance of being self-motivated and working hard to promote their new business. At UW-Stout they learned the importance of applied learning and credit the university for many lifelong friends they made. UW-Stout also is where they met.
"If you can go to college and experience what you will be doing in the field, it gives you a whole new perspective on how the classes apply," Nate said. "We wouldn't be here without Stout."
###
Photos
KUL MOCKS  logo
KUL MOCKS are available in three different flavors.