At first glance, Jessica Cook's career and education don't seem like a match. She designs golf apparel for the trending, Minnesota-based company Swannies Golf but has a degree in business administration.
Cook's career and degree link together nicely, however, because she took advantage of the Polytechnic Advantage at UW-Stout. When she graduated in 2021, she had an emphasis in apparel design, taking hands-on courses in what is now the university's fashion and retail program.
Like a matching golf polo and shorts or skirt, she paired two programs and used that power to  jump-start her career. "I genuinely love my job. It's awesome to be part of something that's really grown the past few years, apply my education to a company and see the impact it has made," Cook said.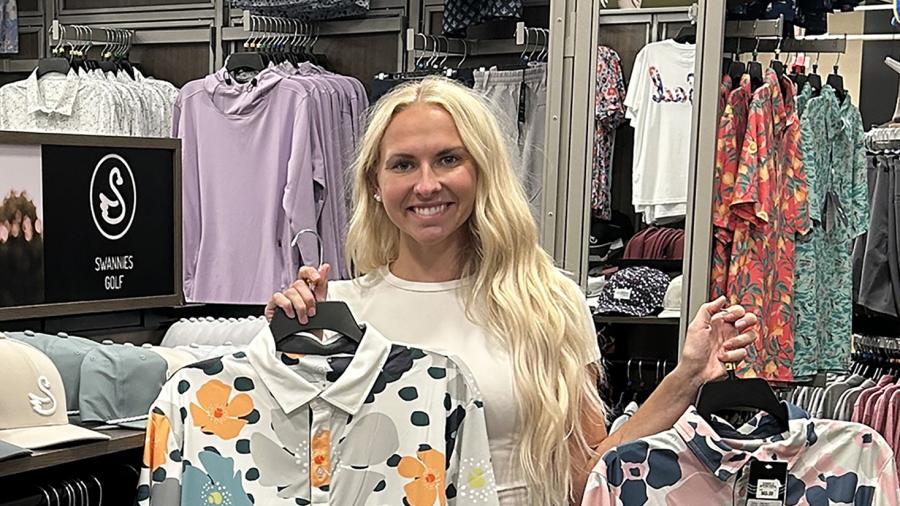 Business administration majors at UW-Stout often tailor their degree to their personal career interest. It could be a concentration, minor or double major in areas such as supply chain, property management, hospitality or sales and marketing. UW-Stout has more than 50 career-focused majors and 100 minors, certifications and certificates than can boost graduates' career options and focus.
About 100 business administration program graduates each year specialize in an interest area, like Cook. "The business administration program at UW-Stout has built in flexibilities so students are able to do something similar to what Jessica has done," said Professor Mark Fenton, program director. "Students earn a minor or emphasis as part of their degree. This helps them to specialize in an interest area of study."
Cook also has put her business degree to good use at Swannies, including marketing, social media, website design and market research prior to working in design. The duties helped her see the company's big picture. "I've done almost every role imaginable, except for finance," she said.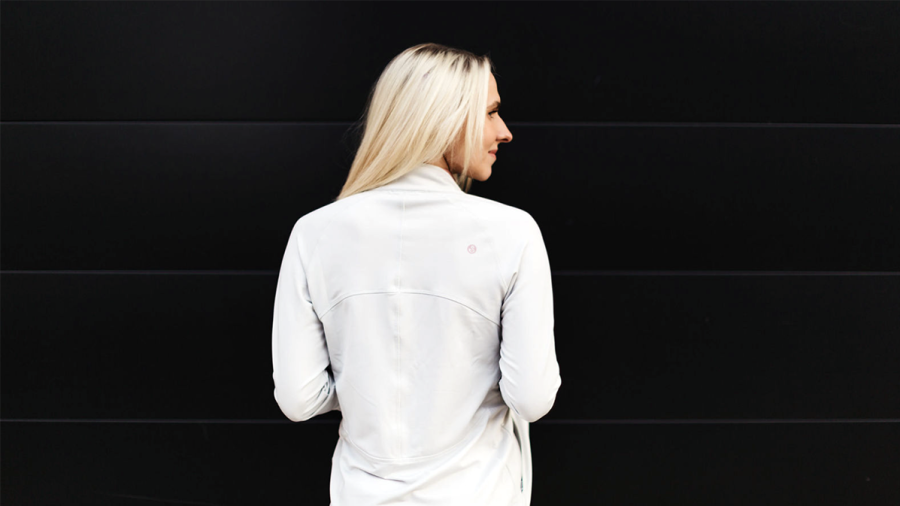 On a course to success
Cook, a Menomonie native, landed in the golf industry although she wasn't a golfer and did not connect with UW-Stout's golf enterprise management program — another route she could have gone. She did, however, drive a beverage cart at the local Tanglewood Greens course and liked the sport's demographic and camaraderie. She also was a part-time Blue Devil Athletics staff member while in college, and at Menomonie High School she was a track athlete and on the dance team.
She knew even as a child that she wanted to design clothing. In second grade, her dad, Steve, a businessman who is a former co-owner of Northtown Ford in Menomonie, took her to an apparel class at UW-Stout. "I always knew I had a creative side," she said.
Still, it took a bit of serendipity for her apparel design career to tee off. She attended a Career Conference in 2020 on campus and met the manager of the Oak Glen course in Stillwater, Minn. By chance, Swannies had started in 2015 in the basement of the course by making and selling a soft spike golf sandal. The course manager, aware of Cook's interest in apparel, passed along her name to the Swannies team.
Soon, Cook had a Career Services co-op position at Swannies — earning academic credit, getting paid and getting experience. After graduating, she was hired full time with Swannies. She was employee No. 15. The company now has more than 70.
"It's crazy to think that if I had not gone to the Career Conference I wouldn't be in the position I am today," she said. "The education from Stout has truly helped me so much. My experience was amazing."
Designs go national
Cook's work has gone national. Swannies' wide range of apparel and related golf products can be found in 2,000 golf course pro shops across the U.S. and Canada, as well as in major retail chains Nordstrom, Scheels and Dick's Sporting Goods.
The company has become a major player in the highly competitive golf apparel industry, especially with the under 45 crowd by positioning its products with a slightly lower price point than most golf apparel. "Swannies wants to make golf a little bit more fun, make it more of an inclusive sport," she said.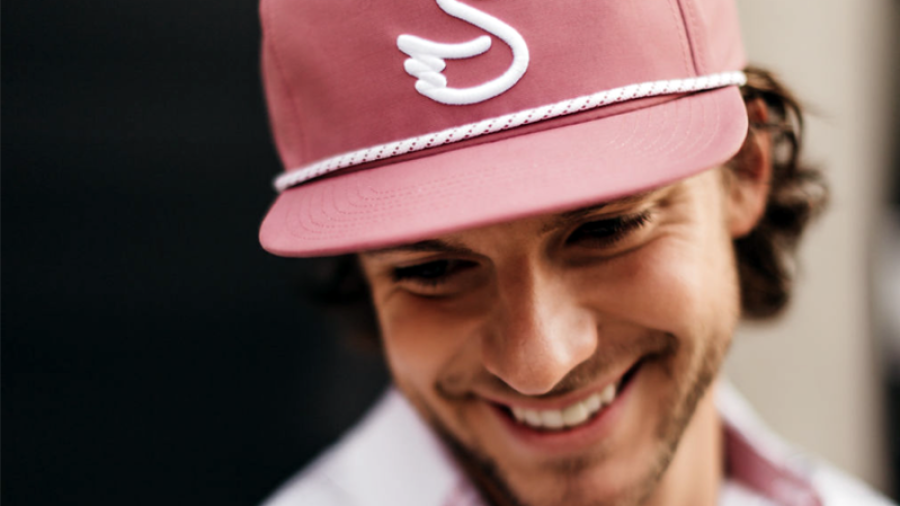 Swannies, with a swan logo, also is committed to reducing waste and being carbon neutral, including donating part of its profits to offset carbon emissions. It uses recycled fabric and recycled plastic in its clothing.
"We use materials that are sustainable, breathable, stain-resistant and easy to care for," she said. "I'm making an impact in the way I wanted to and with a company that's conscious of how we can improve in those areas."
Cook's edgy designs are inspired by people-watching and fashion trends — she's already designing for 2025. Her prototypes undergo a companywide review before hitting the market. She is one of two members of the design team.
"We make sure we create something everyone is excited about. Each season we try to do something different. I'm lucky to find a position where it's fun for me to develop these things. It definitely doesn't feel like work, and not everybody can say that about their job," she said.
"The polytechnic aspect truly gave me an advantage in the industry by having an understanding of fabrics and access to how print-making and pattern-making work, how fabric is tested and more," she said.
Cook promised hometown friends that she would name some of her designs for them someday. True to her word for example, the Jordyn, a polo, is named after high school friend Jordyn Keyes. The Maguire polo is named after former Tanglewood Greens General Manager Jim Maguire, who now owns the Wilson Creek Inn in Menomonie.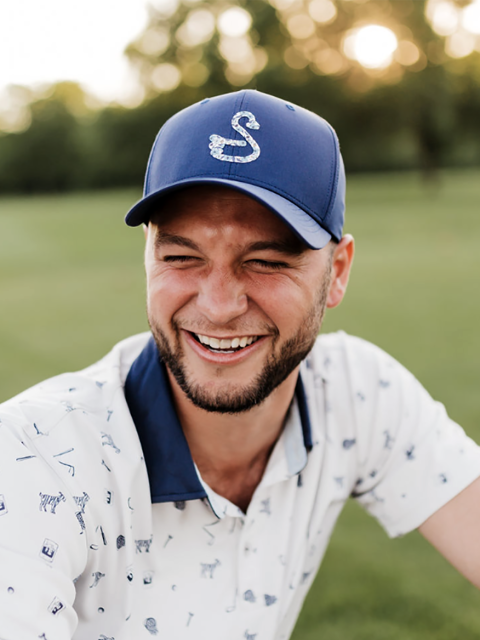 Some UW-Stout athletes that she got to know while working in Athletics also have been used as Swannies models, such as Connor Bump, Dylan Zins and Brandyn Christman.
Her work includes creating custom prints for specific golf courses, or Swannies' "green grass" accounts. They include the course logo and are sold in the pro shop.
Swannies sponsors a group of men's professional players, such as David Lingmerth of Sweden. They wear the clothing in competitions around the world.
Cook and colleagues attended the late summer FedEx Cup BMW Championship at Olympia Fields in Chicago, part of the PGA Tour playoffs. Cook created five custom designs on four polos and one hoodie for the event. They included the BMW logo, Chicago skyline, Chicago flag stars and the iconic Olympia Fields clock.
The custom designs sold out in the spectator merchandise tent after two days, and all of Swannies' merchandise sold by the end of the four-day tournament. "It was insane. To see the end piece in the consumer's hand and their reaction was pretty exciting. It was very reassuring of what I'm doing and nice to get that feedback," she said.
At one point, Cook was walking the course and saw a father and son wearing shirts she designed. The father was taking a picture of the son high-fiving star player Tommy Fleetwood of England. "It was cool to see," she said.
Cook works remotely and lives in a golf-centric region in Charleston, S.C., but UW-Stout and Menomonie are never far from her thoughts. Her father is a UW-Stout alum, and her mother, Tammie, used to work at the university. 
"Stout has always been a big part of my family. I was proud to receive an education from such an amazing school."
###