Name: Zoe Foster
Hometown: River Falls
Major: M.S. school counseling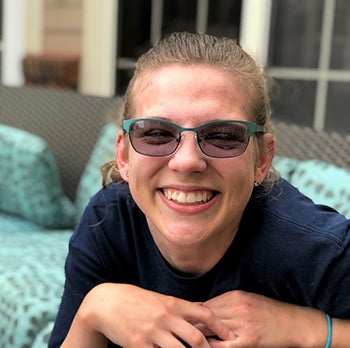 Involvement: Stout Council on Family Relations-Student Advisory Council, English as a second language tutor, Student Support Services intern and graduate assistant, Disability Services intern, diversity conference speaker, Spreading Beautiful Body Image Summit speaker.
What is the biggest challenge you've faced in earning your degree? It was being a first-generation college student. I am the first one in my family who graduated with a bachelor's degree and who is graduating with a master's degree. When I came to college, I was lost for a couple of weeks trying to figure out the ins and outs of higher education, and I have a disability as well that made some things more challenging. I started reaching out, and with the support of family, friends and professors, Student Support Services and Disability Services, I was able to thrive here on campus and find my way.
What will you appreciate most about your UW-Stout experience? The experiences that I most appreciate by far are meeting and getting to know so many amazing people who I was able to learn from while sharing so many laughs along the way. They definitely played a big part in helping me become who I am today.
What's next in your life? Finding a job in school counseling or student services.
###