UW-Stout Chancellor Bob Meyer kicked off the 2019 spring semester at 8:30 a.m. Monday, Jan. 14, when he welcomed back faculty and provided updates on a variety of university issues. Meyer spoke to faculty and staff for about 20 minutes in the Great Hall of the Memorial Student Center.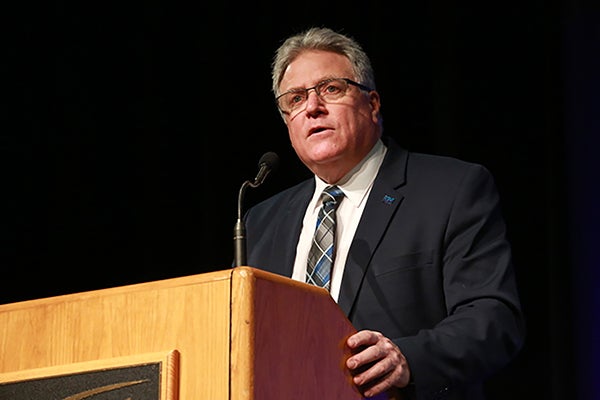 Monday marked the return of faculty to campus after the semester break. Classes for the semester begin Tuesday, Jan. 22. The university is closed Monday, Jan. 21, for Martin Luther King Jr. Day.
In reviewing 2018 accomplishments, Meyer highlighted the fact that the 2016-17 employment report for recent graduates indicated that 98.2 percent of them were working within six months of leaving campus, which is a record. Meyer also said that the employment rate has increased each year since he took office in 2014.
Other topics included:
Two career conferences attracted a record number of employers.

The 50th undergraduate major was added in October when the Board of Regents approved the video production undergraduate program. The M.S. in healthcare administration, a collaborative online graduate program, begins this semester.

Renovation projects are continuing in Bowman Hall, North Hall and Merle M. Price Commons.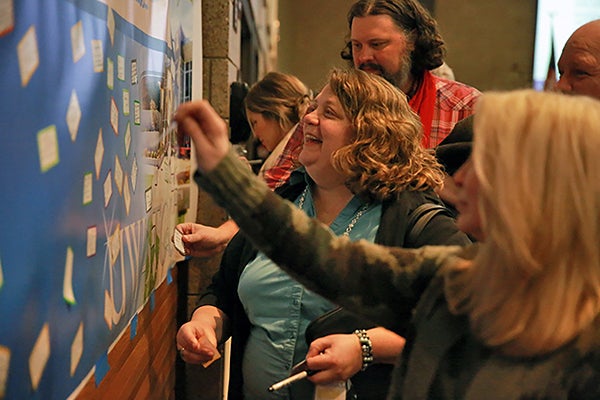 Meyer also updated the campus on the comprehensive fundraising campaign, noting that as of Dec. 31 the campaign has raised $33.6 million of the $35 million goal. The Stout University Foundation Board of Directors has approved an "aspirational goal" of $40 million, however.
Meyer also thanked Vice Chancellor of Advancement and University Marketing Mark Parsons for his service to the university. Parsons, who began at UW-Stout in October 2011, has announced he is retiring as of April 1, and a search is underway to find a replacement.
Finally, the chancellor provided some good news on the enrollment front, saying that the preliminary numbers for the fall 2019 freshman class are promising, thanks in part to the new Blue Devil Guarantee scholarship program.
His address was followed from 9 to 10 a.m. with You Said ... We Did. The program, presented by the Office of Planning, Assessment, Research and Quality, explained initiatives UW-Stout has undertaken or is developing in response to employee suggestions during the fall Engagement Sessions.
UW-Stout graduated 763 students in two commencement ceremonies Dec. 15. Winterm classes began Jan. 2 and end Saturday, Jan. 19.
###
Photos
Chancellor Bob Meyer addresses faculty and staff Monday, Jan. 14, to kick off the spring semester at UW-Stout.
Faculty and staff take part in the You Said ... We Did program in the Great Hall of the Memorial Student Center.