A University of Wisconsin-Stout building has been renamed to honor the accomplishments, leadership and legacy of late Chancellor Emeritus Charles W. Sorensen, Chancellor Bob Meyer announced Monday, Aug. 27.
Meyer told an annual gathering of faculty and staff that the UW System Board of Regents on Thursday, Aug. 23, unanimously approved renaming Millennium Hall as Sorensen Hall. The renaming is effective immediately, although it will take time to erect new signs.
"This is an extremely fitting honor for a great chancellor, a great leader and a giant in higher education in Wisconsin," Meyer said of Sorensen, who served UW-Stout for 26 years before retiring in 2014. "I want to thank the Board of Regents for approving this renaming."
A renaming ceremony is scheduled Monday, Oct. 29.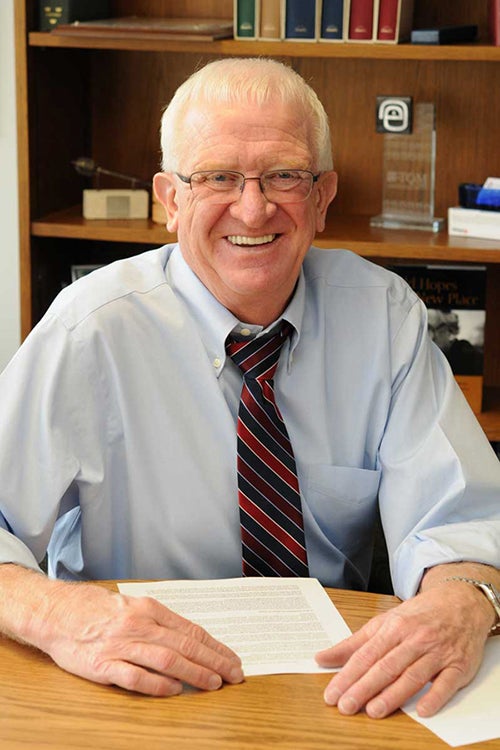 Sorensen passed away Feb. 23 in Florida of complications from a stroke. He is the longest-serving leader in the university's 127-year history.
"I am very pleased that the Board of Regents was able to join with UW-Stout in honoring the tremendous accomplishments and legacy of the late Chancellor Emeritus Sorensen," said John Robert Behling, president of the Board of Regents. "Sorensen Hall will now stand for decades as a testament to the passion, innovation and leadership that Chancellor Emeritus Sorensen brought to campus each and every day."
Sorensen's wife, Toni Poll-Sorensen, also was pleased. "Our family is extremely grateful for this tribute honoring Chuck's accomplishments at UW-Stout," Poll-Sorensen said. "He loved UW-Stout and was passionate about ensuring that the university change to meet the challenges of the future. He was devoted to the idea that UW-Stout was a great university and that it should be on the cutting edge of innovations in education."
The 35,000-square-foot Millennium Hall was built during Sorensen's tenure and was dedicated May 4, 2001. It replaced the outdated Communications Center and houses the Learning and Information Technology Department, the Nakatani Teaching and Learning Center, the ASK5000 Help Desk and the Admissions Office.
Meyer said renaming the building to honor Sorensen was appropriate for a number of reasons:
Sorensen led the effort that resulted in UW-Stout, in 2002, becoming one of the few campuses in the country to ensure that each first-year student would have access to the same type of technology, through its eStout, or laptop lease, program. The program continues today and has allowed the campus to become a leader in digital technology. The administration of the eStout program is in Millennium Hall.

Working with faculty and staff and the division of Academic and Student Affairs, he presided over a doubling of the number of undergraduate majors offered at UW-Stout. The result was an enrollment increase of about 2,300 students or 32 percent, which made for a busy Admissions Office. Sorensen also approved the move of the Admissions Office to more inviting offices in Millennium Hall from its former cramped quarters in Bowman Hall.
The renaming proposal that went before the Board of Regents was approved by UW-Stout's Memorials and Honors Committee.
Millennium Hall is directly south of Bowman Hall, facing Broadway Street.
More on the late Chancellor Emeritus Sorensen is available here.
###
Photo
Charles W. Sorensen