A three-part community program on the basics of journalism and the profession's value in a democracy will kick off Thursday, Oct. 4.
Knowing News: Elements of Journalism, sponsored in part by UW-Stout, is built around a community read of the book "The Elements of Journalism: What Newspeople Should Know and the Public Should Expect," by Bill Kovach and Tom Rosenstiel.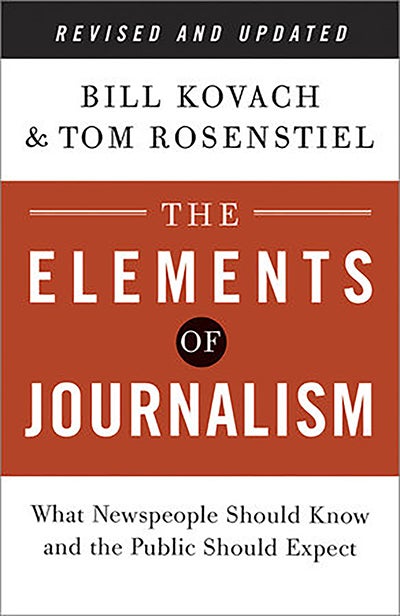 The events, free and open to the public, are:
Thursday, Oct. 4, 7 p.m., Jan Larson, chair of the communication and journalism department at UW-Eau Claire, will introduce the book at the Menomonie Public Library, 600 Wolske Bay Road

Thursday, Oct. 18, 7 p.m., UW-Stout Associate Professor Kate Edenborg will lead a discussion of panelists who work in journalism, in ballroom A on the second floor of UW-Stout's Memorial Student Center, 302 10th Ave. E. Edenborg teaches mass communication and journalism.
The panelists include Keith Edwards, WQOW TV 18 news anchor; Chris Ison, University of Minnesota School of Journalism and former Minneapolis Star Tribune reporter; Rich Kremer, Wisconsin Public Radio; Barbara Lyon, Dunn County News editor; and Pam Powers, UW-Stout communications specialist and former Eau Claire Leader-Telegram reporter
Thursday, Nov. 1, 7 p.m., Larson will lead a community discussion of "The Elements of Journalism," at the Menomonie library
"I'm grateful to be part of this series and to be able to contribute to this discussion. It's a great opportunity for the community to learn more about what it means to be a journalist today," Edenborg said. "There are many assumptions about what happens in newsrooms, and this allows the public to ask questions and hear what journalistic processes are in place."
The program is supported by a grant from the Wisconsin Center for the Book and by the Wisconsin Humanities Council, with additional support from the Dunn County News.
UW-Stout offers an undergraduate program in a professional communication and emerging media, with concentrations in applied journalism and digital humanities; and a graduate program in technical and professional communication, an online degree for working professionals.
A similar program, Beyond the Headlines, is being sponsored by the L. E. Phillips Memorial Public Library in Eau Claire.
###