If you've seen an ugly Christmas sweater this holiday season or purchased one, there's a chance it was designed by a University of Wisconsin-Stout graduate.
Kurt Anderson is the lead costume and apparel designer for Fun.com, a leading maker of specialty clothing.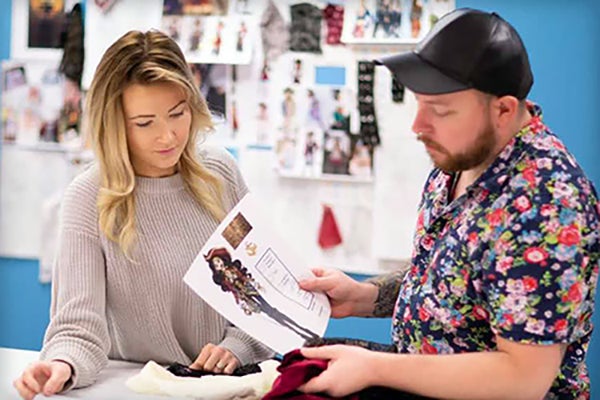 The Mankato, Minn., company is known as one of the world's largest Halloween costume retailers. In recent years with the ugly sweaters craze, Fun.com has transitioned quickly from Halloween to Christmas sweaters.
"The Christmas sweaters have really evolved for us. More and more we're creating products to cater to all different types of people and all types of holidays," Anderson said.
Anderson, a native of Waunakee, graduated from UW-Stout in 2011 in apparel design and development and has worked at Fun.com since 2015. He was the first designer the company hired.
"We now have four designers and a product development team," he said.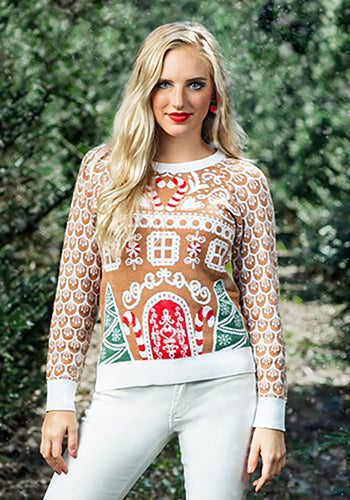 Fun.com's dozens of Christmas sweaters aren't all of the ugly variety. For example, Anderson designed a gingerbread house sweater for women that's more stylish than ugly. It was featured recently on an episode of the "Jason Show," a Twin Cities talk show, while he and a colleague were interviewed and their designs were modeled.
"We want to branch out to people who don't want to look so crazy," Anderson said of Fun.com's fashionable but fun designs.
"Jason Show" host Jason Matheson said of the gingerbread sweater, "That's actually not even ugly. That's cute."
The show also featured Fun.com sweaters with a flickering fireplace, controlled by a smartphone app, and one with a removable toy squirrel perched on the shoulder. "Right after that show, our social media blew up," Anderson said.
The company's products also are sold through Amazon and Walmart.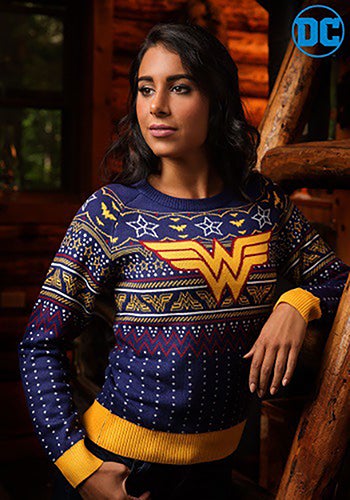 Fun.com licenses with famous brands such as Disney, Marvel and DC Comics to create products for well-known characters and shows such as Batman, Wonder Woman, "Star Wars" or the "Little Mermaid." The company also makes NFL-themed products, office products, sleepwear, toys, T-shirts, party supplies and more.
Anderson creates many of the themed apparel items, such as a Christmas sweater this season based on "Sailor Moon," a Japanese cartoon show that's a favorite of his. He wore that sweater on the "Jason Show."
Some of the apparel Anderson and colleagues create is only slightly nerdy. Fun.com makes men's and women's suits, for example, that might only have an embroidered Batman on the sleeve or has the theme hidden in the lining.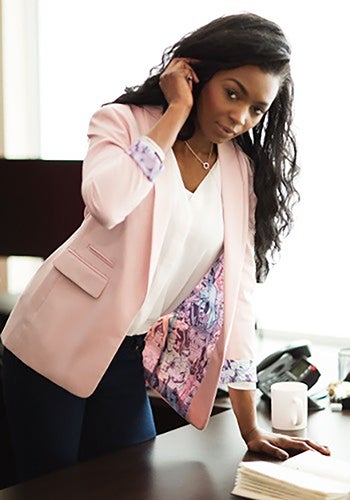 "People just love that — fandom stuff. They want anything with their favorite character on it," he said.
He has created a women's suit collection with a horror movie theme, and a Batman sweater he designed showed up on national TV when a celebrity wore it to a red carpet awards ceremony.
A fun place to work
Fun.com, a family-run business noted for its employee-friendly work atmosphere, started in a garage in the early 2000s. It has grown to a 200,000-square-foot warehouse in Mankato and nearly 200 year-round employees, along with thousands of seasonal workers.
On a recent day, many employees were out of the office at the latest "Star Wars" movie.
"The whole premise of Fun.com is nerdy, goofy fun. I grew up on video games, horror movies and anime. And that's a huge brand demographic for us," he said.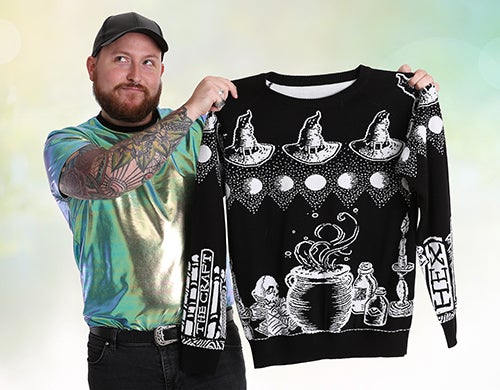 Many of the company's designs start with Anderson, who draws his ideas either by hand or with computer-aided design before refining them for production. "Pretty much I draw all day. That's what I've wanted to do since I was little," he said.
His duties also go beyond designing. On Saturday, Dec. 28, he leaves for China to work with pattern-makers at a factory where many of Fun.com's products are produced and to purchase fabric.
He's already working on ideas for Halloween 2020. One of his previous designs, a witch sweater sold out when it hit the market before it was restocked.
Anderson said he uses the creative and technical skills he learned at UW-Stout every day in his job.
He remembers finding the Fun.com job on Craig's list. "I love the job," he said. "It's always different, not just costumes but apparel, purses, the whole gamut. My portfolio is chocked full of every type of product."
###
Photos
Kurt Anderson, right, is a designer at Fun.com, a Mankato, Minn., company that makes specialty apparel and other products.
One of Anderson's Christmas designs this year is a fashionable gingerbread sweater.
Another of Anderson's Christmas designs this year is a Wonder Woman sweater.
Anderson also designs traditional apparel with a twist, such as this women's blazer with a liner made up of DC Comics characters.
Anderson is proud of a witch sweater he designed that was a hit during Halloween for Fun.com.