Kim Uetz enjoys the challenges of working at the University of Wisconsin-Stout University Library and helping faculty and students with their textbook needs.
Uetz, a library services assistant-advanced acquisitions specialist, recently received the 2021 University Library's Barnard Outstanding Service Award.
"I get a chance each day to work with a team I enjoy," said Uetz, of Knapp, who has worked at the library since 2008. "We work hard but we have a lot of fun. It is a pleasure to come to work every day with my Instructional Resources Service family."
The Barnard Award recognizes a library staff member who exemplifies collaborative initiatives with the larger UW-Stout community, engages in leading-edge efforts, enhances library services/resources and exemplifies outstanding customer service efforts. The recipient is chosen based on nomination statements submitted on  their behalf by faculty, staff and students.
"At first I was surprised," Uetz said of winning the award. "Then I was overwhelmed with happiness, excitement and yes even tears. I am honored to receive the prestigious Barnard Award. I extend my sincere gratitude and thank the Barnard family for making this award possible for our university."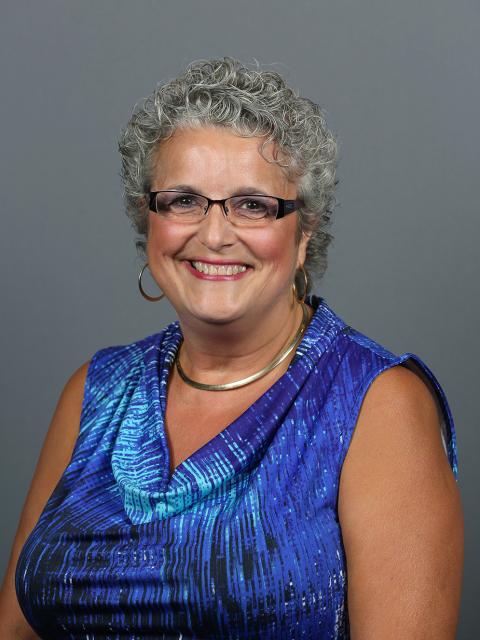 Heather Stecklein, university archivist and area research center director, said Uetz deserves the award for her exemplary service to faculty, staff and students throughout the COVID-19 pandemic.
"While the library and many campus buildings were closed to the public, Kim was a reliable physical presence," Stecklein said. "As one of the library's essential workers, she ensured that faculty and students were able to access and return textbooks throughout the closures. She and the Instructional Resources Service staff streamlined returns and distribution to work effectively within social distancing restrictions, which was no small feat. Kim and the IRS staff handled the adjustment beautifully and provided certainty of service during very uncertain times."
Uetz is a positive, outgoing person who makes everyone feel welcome at the library, Stecklein said.
"She is a strong, empathetic presence for the library in her partnerships with faculty and UW-Stout departments," Stecklein said. "So many UW-Stout community members recognize Kim as their go-to resource for assistance with textbooks. Kim also takes a leadership role in many community activities within the library and the UW-Stout community. As an organizer for the annual E"ffordability Summit that welcomes educators, librarians and educational resource experts from a local, regional and international stage, Kim thoughtfully arranges social and collaborative events that are meaningful and entertaining to a diverse array of participants."
Uetz also looks to the future of the Instructional Resources Service. To help keep student textbook fees low, she maintains strong working relationships with textbook publishers.
"Kim has made many contacts in the publishing industry, which has helped her forge those relationships that expedite transactions and ensure that students and faculty alike are taken care of efficiently and with a high degree of respect," a nominator noted. Nominators are not disclosed under the guidelines of the award.
Robert Butterfield, assistant library director in Instructional Resources Service, said Uetz is the bread that keeps the sandwich of his department's services together and is very deserving of the award.
"Kim is the epitome of this award," Butterfield said. "Her dedication to helping students is amazing. Kim's friendliness, concern and passion to providing the best service possible for our students is an example to us all."
Uetz noted the textbook and resources rental program has been in operation for over 125 years.
"Students rent their resources for each semester and return the print textbooks to our office. We also provide digital resources, open educational resources, lab kits, electric kits and other resources for our students," Uetz said. "Students value our rental program, as they do not need to purchase their textbooks on their own each semester. This is a substantial cost saving to our students."
The David P. Barnard Family Endowment and Stout University Foundation support the award. David Barnard, retired dean of Learning Resources, and his wife, Kay, established the award in 2000.
The University Library is part of the Robert S. Swanson Library and Learning Center. The library also has a listing of all past recipients of the Barnard award.