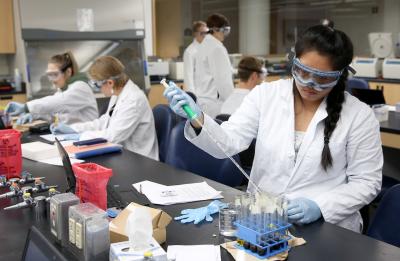 Your minor in Chemistry will provide you with an understanding of the fundamentals of chemistry and experience with organic, analytical, inorganic, biochemistry or physical chemistry. 
Students will:
Gain an understanding of the fundamental concepts, theories, and principles in chemistry.
Relate chemistry to daily life and environment.
Apply scientific method in gathering, interpreting scientific data and in solving chemical problems.
Acquire knowledge and hands-on experience of experimental methods, techniques and instrumentation used in chemistry.
Develop competence in oral and written forms of scientific communication.
This minor could prepare you for a career or graduate study in life sciences, medicine or other health-related fields.
To declare a minor, complete the "Applying for a Minor" survey online, and you will be given further instructions. Once this has been processed you will receive an e-mail confirmation from the Advisement Center.