From lions and lambs to gothic and medieval royalty to mental health awareness, there is no inspirational ground left uncovered for UW-Stout fashion and retail students as they prepare to grace the runway at the WEAR Fashion Show.
As part of UW-Stout's Showcase of student-centered events in April and May, fashion and retail students' clothing collections will be featured at WEAR at 2 p.m. on Saturday, April 29, in the Memorial Student Center Great Hall. Tickets are available online.
Juniors and seniors will show approximately 36 pieces in women's and men's collections, modeled by the designers themselves, their brothers and sisters and alumni.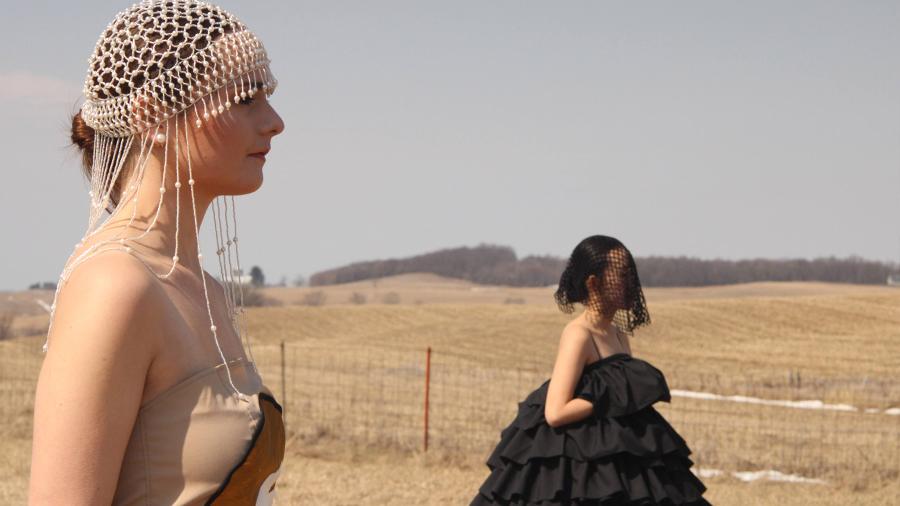 For their capstone course, seniors developed full collections, complete with brand names; marketing materials, such as photos, videos and postcards; and business plans, which they will display at a trade show-style exhibit after the runway show, in the MSC ballrooms.
The event is hosted by the WEAR Fashion Association student organization. This will be the second in-person event since COVID, when two virtual shows were presented.
A professor's pride in students' persistence
The fashion and retail program began in fall 2022, with the merging of the apparel design and development program; and the retail merchandising and management program.
Among the seven apparel design seniors who will exhibit their collections after WEAR, are Brenda Givens, of Minneapolis, and Grace Wilsmann, of Waconia, Minn.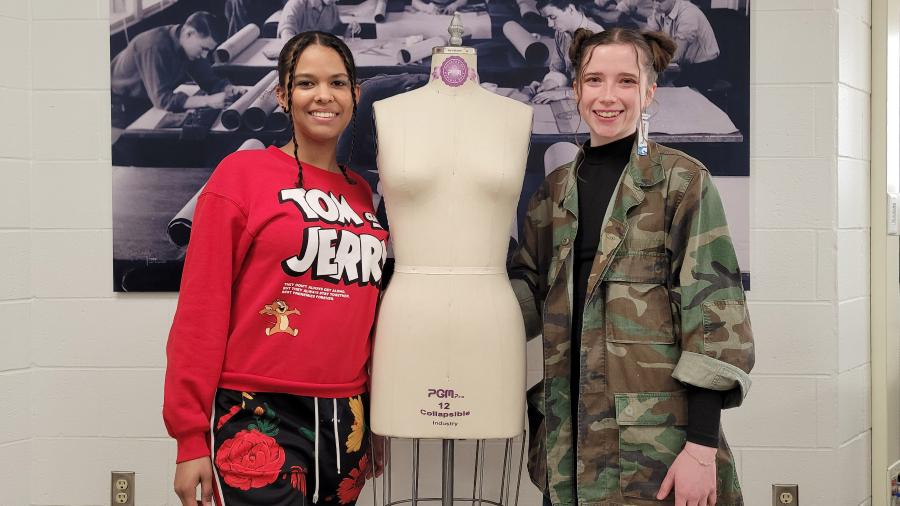 Givens' collection, "Dissimulation," is a representation of the mental health condition of concealing one's thoughts, feelings or character, and of how emotional suppression can lead to depression.
"People who are depressed may wear a mask of happiness to disguise it and to uphold a 'perfect image," Givens said. "Masking their pain leaves them to sit in sorrow when they're alone, leaving their depression untreated. This collection is a tribute to those people. You are seen."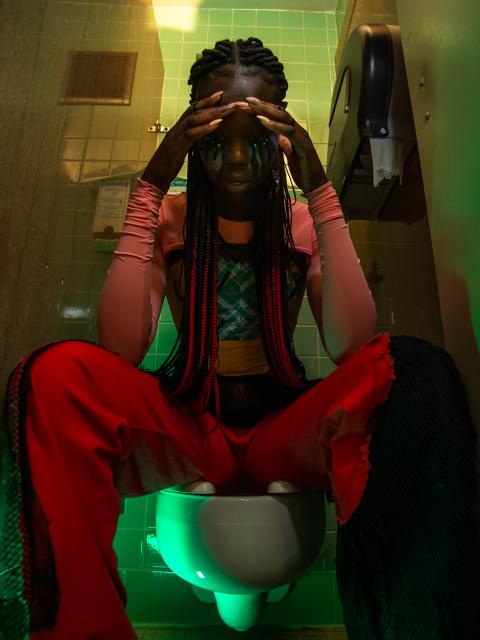 Givens would like to develop a second part of her collection, "Expression," reflecting the possible regrowth as a person finds their self-expression again. Her passion for the industry is in "making others feel confident in their skin. No matter how down I am, putting on a certain outfit can completely change my mood," she said. "Fashion has a way of uplifting and bringing people together. It is my aspiration to serve up options for anyone who feels like they don't have them."
Wilsmann's collection, "Lion and the Lamb," is inspired by hope. "Despite life's inevitable roller coaster of ups and downs; all of the fears, change, self-discovery, nostalgia, identity crisis, trauma, depression, you name it, there is hope," she states in her exhibit biography.
Wilsmann joined the apparel program because of her love for science and engineering. "I knew I wanted to be in that realm, but my lack of math skills held me back," she said. "Apparel design was my way in. It just clicks, and I love that. It fuels me and pushes me to go beyond my limits. It merges all of my passions into something I can comprehend – history, science, engineering, art."
Professor Jongeun Rhee instructs the apparel design and development capstone class. She has been instructing the seven seniors since their first year when there were originally 40 students in the cohort. The class was directly hit by COVID, as universities across the country shifted to alternative learning methods in spring 2020, Rhee said.
"All our classes are lab-based and hands-on. Learning topics online during COVID was very painful for both students and instructors," she said. "Afterwards, it came down to the seven seniors. I am extremely proud of them. They have been strong and persistent, completing their degrees and capstone projects. These students are special to me in that sense."
Givens' and Wilsmann's hope of returning to the hands-on polytechnic learning environment at UW-Stout after the pandemic helped them push through the alternative learning period.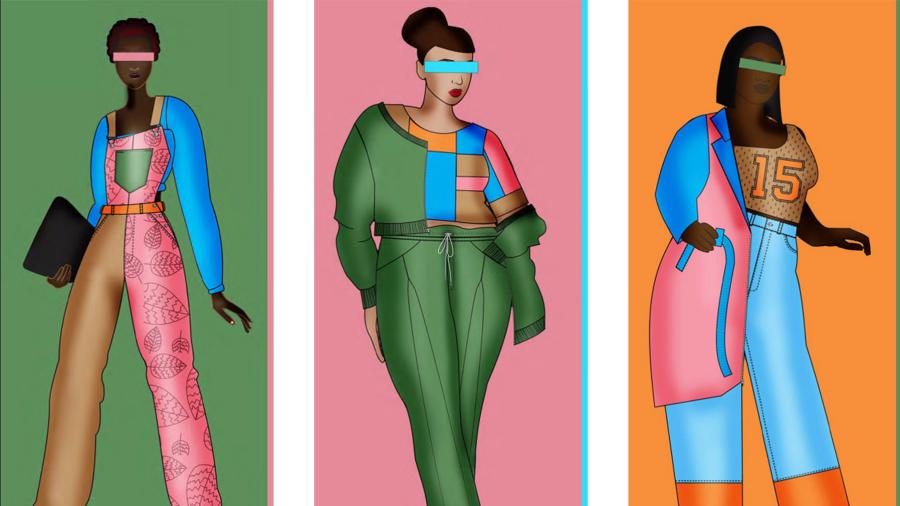 "Once I start something, I can't quit," Givens said. "My classmates and professors were facing the same struggles as me and we were supportive of one another. The hands-on learning style is why I chose to come to Stout, so there was no other option but to push through."
"I grew a lot from self-teaching and when we returned to in-person labs again, I had the determination to milk everything I could learn at Stout. I knew Stout had it, I just had to grasp it," Wilsmann added.
A close-knit community of creators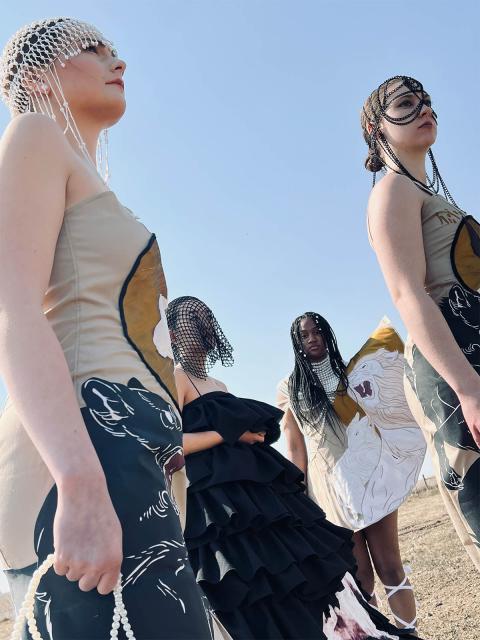 Wilsmann called the Maker's and Knitting labs second homes, creating team environments. "The labs encourage you to create. We do not feel limited here. We get to work in a space that is designed to make something happen. It is a very liberating feeling," she said.
"A lot of colleges claim to be hands-on because they have internship requirements or have 'labs,' but Stout takes it the extra mile when it comes to hands-on learning," Wilsmann added. "In the apparel program, hands-on experiences mean sewing on your first day as a freshman, learning how to drape directly on a mannequin, feeling the fabric swatches and analyzing them under a microscope to see what that fiber looks like on the microscopic level. It's not just talking in theory."
Givens agreed, stating that the fashion program built her skills from the ground up. "Other fashion programs make it difficult to enter the industry if you have no experience," she said. "That's why I love the program here. Without the accessibility of this program, I wouldn't have had the opportunity to explore this career field."
Givens has grown an appreciation for the hands-on experience, as she learns better by doing. "The lab spaces aren't like traditional classrooms," she said. "We all have the opportunity to work together with our classmates and assist one another with assignments. I love that we are all learning together and cheering each other on."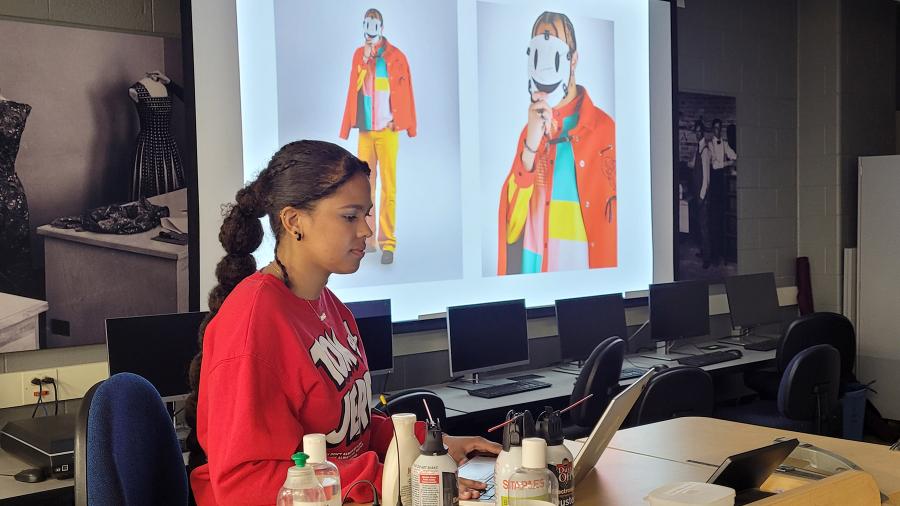 It was a unique experience for Wilsmann to see the apparel and merchandising programs merge into fashion and retail.
"It has evolved toward something better," she said. "Our program members and professors are a close-knit community. I feel seen by my professors, which is uncommon in the college world. I do not think this is limited to the apparel program; I think this is more of a Stout-thing and it is pretty remarkable to see."
Futures in sustainability and intentionality
After graduating on Saturday, May 6, Givens plans to work in the corporate end of the fashion industry. She then hopes to run her own sustainable streetwear brand to "enable others to express their individual personalities.
"There isn't enough affordable fashion that isn't detrimental to the environment and has a unique or artistic touch," she said. "Everyday fashion has become dim and neutral. I would like to bring more color and unique styles to the scene, while also doing my part to minimize the negative effects that the fashion industry has on our environment."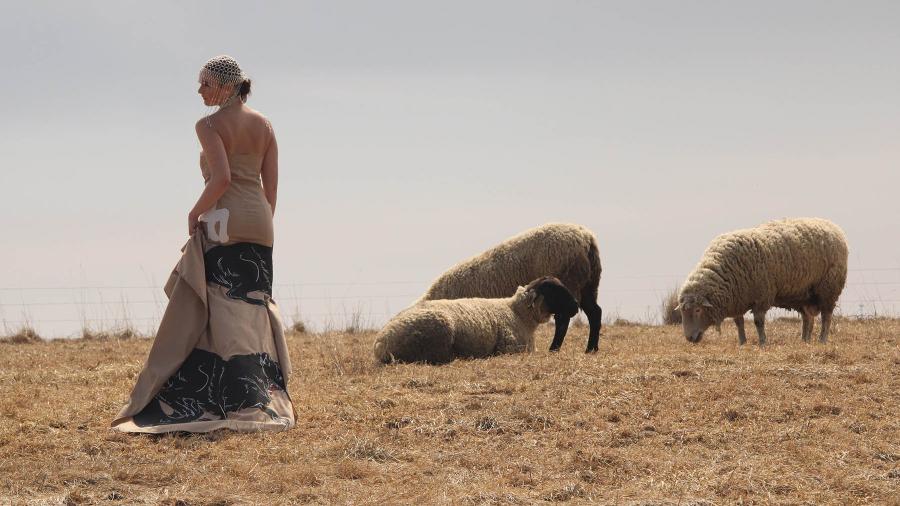 Wilsmann will graduate in August after completing her internship at Powertex Group, in the apparel and graphic design departments. Powertex Group does full-service merchandising locally and internationally.
"I am excited to be able to blend my passions of apparel and illustration," Wilsmann said. "I love that they are a local company with a rich history of grit and determination. They are all about intentionality. The apparel industry has a lot of different avenues one can take, and I really like that."
The fashion and retail program offers three concentrations to match students' career interests: fashion design and development; fashion marketing; and retail analytics.