What's a fashion show without the thrill of seeing a live model pirouette in the spotlight wearing an eye-catching new design?
That's the conundrum the apparel design and development majors at University of Wisconsin-Stout were faced with this spring when their annual WEAR Fashion Show was canceled because of the pandemic.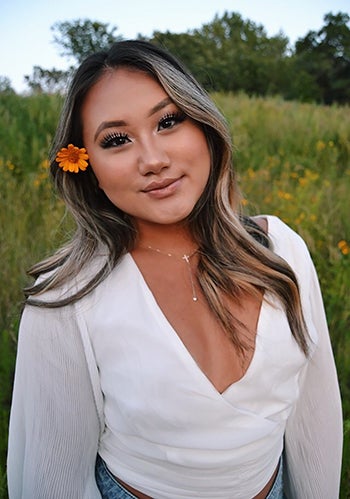 For WEAR, students design and construct their apparel. The cancellation robbed seniors of the chance to see their final collections take center stage on campus. The show typically sells out.
"It was incredibly hard to announce to the club that there would be no show this year. We had anticipated that it would be one of the biggest yet," said senior Angel Yang, president of the student WEAR Fashion Association.
"The show is a monumental and celebratory moment for the students, so not being able to host it this year was heartbreaking," said Yang, of Minneapolis.
The show wouldn't go on, yet seniors in the program are required to exhibit their work to the public in some way.
So, the 21 seniors went back to work and found another way. They each created a mini-fashion show from home or another space they secured featuring their designs, their models and their "runway." And they each made a video.
The 21 videos were combined and edited down by show director Cambia Sinclair, a senior from De Pere, into a 38-minute video. The video shines a light on the diverse, professional-level designs students worked on for about 10 months.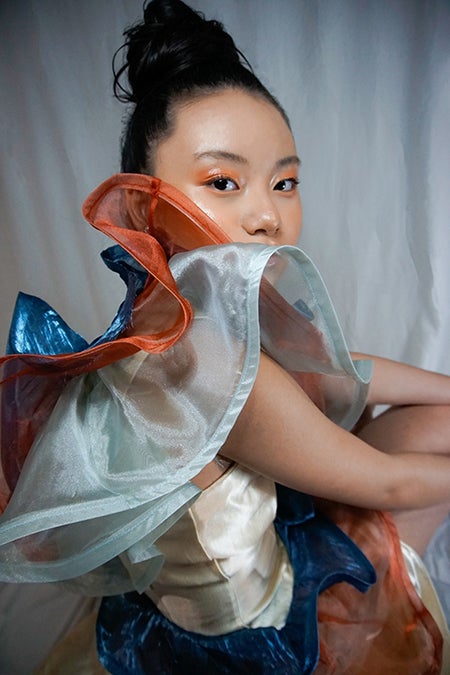 "Being able to put together a final 'fashion show' video was a way to still showcase to the other WEAR members and our friends and families the countless hours that had been dedicated to our collections," Yang said. "It was still a success that I think we all appreciated."
The individual segments include video; still photos with pan zoom or the Ken Burns effect; and animation, all set to music tying to the theme of each collection. Students also had to conduct photo shoots of their designs.
Locations for the segments included a city street, a barn and a lake featuring a water ski team.
"Some students had to completely reconstruct some garments to fit themselves or whoever they could find. Many students who could not find any models had to hang their garments on cloth hangers or lay them on floors. These do not show garment fit and silhouette very well," said Professor Joan Rhee.
Making alterations
Yang, like her classmates, had to improvise. Her collection, "Oasis," inspired by the ocean, was almost ready for the WEAR show before the pandemic.
When students left for home in mid-March, however, she had to find new models close to home and refit some of her designs. Luckily, several cousins and a younger sister were available and, for the most part, fit into her creations.
Her collection includes 15 ensembles; several were shown on the video. They were made of medium and lightweight fabrics, such as silk, organza and woven fabrics with various textures.
"Like the abstractness of the ocean, I wanted to create pieces that replicated different aspects of the ocean and the shorelines. I've always had a love for asymmetry, volume and femininity. The favorite technique I used was draping. I was able to drape many different aspects of my collection to build volume and ruffled details," Yang said.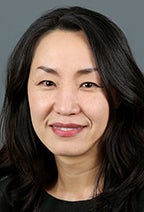 Rhee was impressed with how students adapted and the made the most of the situation. "Our virtual show clearly tells each student's design story. Every component in a garment collection is interwoven based on their inspirations. I really like this year's show as everyone's collection states what the designer wants to communicate with the world."
The seniors graduated May 9 in a virtual ceremony.
Beginning in the fall, the apparel design program will be part of the new fashion and retail Bachelor of Science program. It combines apparel and the retail merchandising and management program. Rhee is the interim program director.
WEAR is a student-run organization. Members raise funds to enable them to hold the annual fashion show, with support from the Stout Student Association.
Yang is ready to begin her career in the apparel industry, thankful for her experiences at UW-Stout, including the last one that forced her to problem-solve and provide leadership for WEAR.
"I will remember my classmates and the dedication of my professors the most. I think that is the beauty of being a part of a smaller fashion program — getting to know your classmates and your teachers on a personal level," Yang said.
"I will always be grateful for the endless opportunities that Stout has given me to develop my leadership and professionalism."
###
Photos
Angel Yang
Faith Yang models a design from the senior collection by UW-Stout's Angel Yang, an apparel design and development graduate. Faith Yang is Angel Yang's sister.
Joan Rhee