After the closing of schools because of COVID-19, educators across the country began to share e-resources with their students, parents and families to continue to provide learning materials.
Sharron McElmeel an instructor in UW-Stout's teaching, learning and leadership department, is a nationally known children's and young adult literature specialist and literacy advocate. She understands the importance of making resources readily available and appreciates the time and effort educators are putting in to ensure their students' success while learning from home
Yet, even though McElmeel has taught at all levels of education, from early childhood education to university, she was surprised by the plethora of online sites available to young learners and their families.
"I am a parent and grandparent; educator and librarian and I was overwhelmed," she said. "I wanted to eliminate some of the chaos that I was encountering with the overload of resources. I wanted a selection of sites that parents, grandparents and caregivers could utilize without feeling overwhelmed."
Out of chaos, McElmeel strove to find clarity for herself and noneducators alike. In March 2020, she developed McBookwords, a gateway to free, accessible elementary-level learning sites.
McBookwords: an early childhood education resources site
McElmeel had a specific vision in mind when gathering sites for McBookwords. They needed to be of quality and be organized in such a way that young learners could navigate them without help.
"Children can handle technology but need direction to be where they are supposed to be. I decided the youngest students, even if technologically savvy, needed more structure," McElmeel said.
After looking into pay sites like ABCmouse.com and Epic! and knowing many families cannot afford subscriptions, McElmeel chose free sites in McBookwords.
"I tried to stay very strict about the free part," she said. "I wanted a list of resources that carried no strings." Some of these sites include ABCya!, Scholastic Learn at Home and Storyline Online.
Another priority for McBookwords was to include sites geared toward curriculum with a balance of literacy, math, arts and science.
A companion page for first-grade learners
For years, McElmeel visited elementary classrooms near her home in Cedar Rapids, Iowa on a weekly basis. During the 2018-19 school year, she visited different kindergarten classrooms nearly every day to read to the students for an hour. She loves to know what children are reading and what they are learning.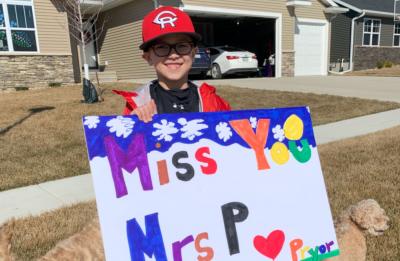 "This year, I was in my grandson Pryor's first-grade class," she said. "When school was closed, I knew there were several programs that I wanted him to have as part of his daily structure."
To recreate Pryor's classroom structure, McElmeel built a companion page for first-grade learners. She designed the page to be a guide for Pryor, his first-grade friends and their families as they navigate learning from home.
McElmeel included a learning schedule for families with standard topics of reading, writing, word work and teacher time. Families can adapt the schedule to best fit their household routine. She also included a library link and other sites specific to Pryor's classroom and school. These links, however, can be switched out to personalize a child's learning experience.
"I posted the page online as a general model, a template, for parents, grandparents and caregivers to use for creating their own page for children in their care," McElmeel said.
Focusing on family
McElmeel believes her grandson is fortunate to have parents who are vested in continuing his education from home. But she knows the strain his parent's feel. Between hands-on science projects, math, reading and playtime, Pryor's mother, Aubrey Balkman, tries to keep his learning routine interesting while balancing homelife and work.
"I am trying to do everything I can to ensure my child is still learning what he would be if he were attending school," Balkman said. "I certainly was not prepared for homeschool for weeks on end. I am feeling the pressure of working full-time from home, giving him nutritious meals, explaining why he can't go see his family, but still giving him the attention he deserves. That is my focus every day."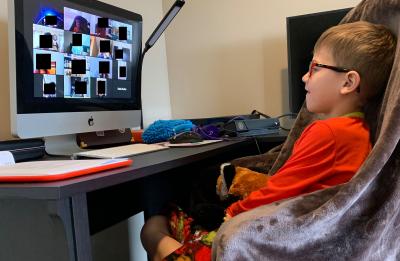 McElmeel connects with Pryor over Facetime, reading him stories like his favorite, "Pigeon Needs a Bath" by Mo Willems. And his teacher has remained involved in her students' education at home, sending activity sheets and holding Zoom meetings so classmates can talk virtually.
"He really enjoyed that experience and I did appreciate that, as a Mom," Balkman said. "It was great to see someone else care just as much about his education and also about him as a child—to see how he is doing during these tough times."
Like many children, Pryor misses his friends. This spring he would have played baseball and soccer. He would have taken his spring school pictures and sang in the music concert.
"So many things he is not able to do that breaks my heart for him," Balkman said. "He is an energetic boy with a big personality whose life got flipped upside down."
But through all of this, Balkman is able to find the bright spot in her days.
"Hearing my child laugh or be proud of something he has created makes all the other stressful items of the day melt away," she said.