In "Big Fish" Edward Bloom tells tall tales of a witch, a giant, a mermaid and a werewolf.
Yet in those fantastical stories, Bloom, performed by University of Wisconsin-Stout senior Gus Johnson, is sharing his love of life with his son, Will Bloom, portrayed by fellow senior, Kevin Pelzel.
University Theatre is staging the musical "Big Fish" at Harvey Hall Theatre. Show times are 7:30 p.m. Friday, April 6, and Saturday, April 7, as well as Thursday, April 12, through Saturday, April 14. A matinee will be at 1:30 p.m. Saturday, April 14.
Tickets are $12. For those under age 12 tickets are $6. They can be purchased online at https://uwstout.universitytickets.com and at the Memorial Student Center Service Center, 715-232-1122.
The family-friendly play, based on the novel by Daniel Wallace, is set in Alabama where Edward Bloom, a traveling salesman who lives life to the fullest, is aging. Will Bloom, a reporter and a bit of a cynic, sets out to find the truth about his father's tales, after he finds out he is to have a son of his own. The story is about fathers, sons and the stories people use to define their identities.
 "The truth in tales or the moral of the stories is really what the play is about," said University Theatre Director Paul Calenberg. "Overflowing with heart and humor, "Big Fish" is the musical that reminds us why we love going to the theater -- for an experience that is richer, funnier and bigger than life itself."
Calenberg first fell in love with the film of the same title directed by Tim Burton when it came out in 2003. When Calenberg heard it was going to Broadway as a musical, he knew he wanted to direct it one day.
"It's a story about a father and his son and fishing," Calenberg said. "It is the quintessential American tale.
"It has such a wide variety and style of music," Calenberg said. One song "Be a Hero" focuses on taking control of your story. "The music helps reinforce the uplifting and life affirming message of the show," Calenberg added.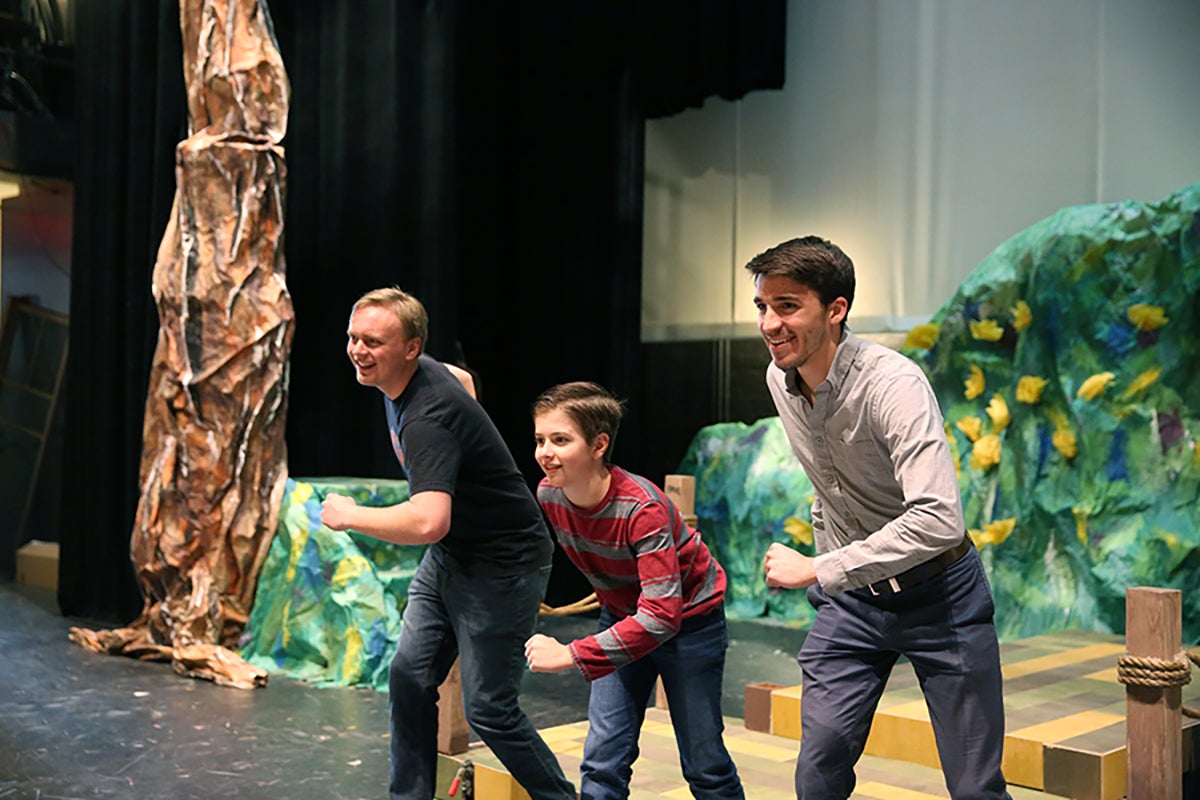 The music is what attracted Pelzel, 22, a senior majoring in computer engineering to try out for the play.
"I fell in love with the music," Pelzel said. "It's really modern. The music feels fresh and new. It's really a fun, lively, animated show."
Johnson said the music also attracted him to want to perform in "Big Fish."
"It's funny, it's light and suitable for all ages," Johnson said of the show. "There are a lot of beautiful love songs and upbeat ones."
Gavin Hall, 12, a Menomonie Middle School student, performs as young Will. Hall said he has enjoyed being in the musical production with older students and getting a chance to meet the members of the cast.
"I really like it," he said. "Young Will is very skeptical. This is a kid who was born into the wrong family. His dad lives with his head in the clouds."
With a southern influence on the staging, including Spanish moss in the scenery, Calenberg said he believes it will provide a magical feel for the audience.
"It's going to be quite a ride for the audience," Calenberg said. "It is really about living life to the fullest and taking advantage of all that it has."
The cast and their majors are:
Riley Dunham, Bloomington, Minn., entertainment and design – comics and sequential art
Matthew Matysik, Sheboygan, hotel, restaurant, and tourism management
Natalia Vignieri, Kenosha, apparel design
Maisie Cramer, Marshfield, graphic design and interactive media
Bria Weyker, Random Lake, hotel, restaurant and tourism management
Kevin Pelzel, Hudson, computer engineering
Ryan Vanden Boomen, Green Bay, software development
Hannah Schoening, Big Lake, Minn., psychology
Kayla Boyd, Hammond, applied science: biochemistry and molecular biology
Jonah Brandt, Janesville, real estate property management
Daniel Her, Burlington, food science and technology
Dylan Judge-Steuck, St. Paul, Minn., psychology
Christian Krohn, Oakdale, Minn., game design and development
Lois Cassell, Abidjan, Cote d'Ivoire, psychology
Jane Gadbois, North St. Paul, Minn., studio art
Joseph Ceranski, Fredonia, game design and development - art
Theo Linder, Minneapolis, game design and development
Ira Hoffman, Morris, Minn., game design and development – computer science
Gus Johnson, Grantsburg, entertainment design
Gavin Hall, Menomonie, 6th grader, Menomonie Middle School
Stage management includes:
Annalise Mark, Vadnais Heights, Minn., business administration
Megan Grindeland, Eagan, Minn., environmental science
Elizabeth Jeppesen, Sunburg, Minn., hotel, restaurant and tourism management.
Scenic and lighting design are by Assistant Professor Jennifer Sansfacon. Costume design is by Barb Weisenberger of Eau Claire.
Harvey Hall Theatre reopened in 2011 after renovation and reopened again in 2016 after the renovation of Harvey Hall, which is over 100 years old. The theater is in the League of Historic American Theatres.
###
Photos
Gus Johnson, at left, as Edward, practices dance moves with Gavin Hall, young Will, and Kevin Pelzel, as Will Bloom, during a rehearsal of the UW-Stout University Theatre musical "Big Fish" opening April 6. UW-Stout photo by Brett T. Roseman