High school students, transfer students and others who would like to know more about attending University of Wisconsin-Stout have some perfect opportunities coming up.
UW-Stout Preview Days and Stout Saturdays events, designed for interested students and their families, are scheduled in late October and early November.
"They are a great way for a prospective student to get a sneak peek of UW-Stout," said Erin Konsela, an Admissions Office counselor and recruiter who oversees the events. "These events are comprehensive visit programs where prospective students spend a day learning what UW-Stout has to offer."
The Preview Days are Thursday and Friday, Oct. 21-22; Friday, Oct. 29; Friday, Nov. 5; and Friday, Nov. 12. Stout Saturdays are Oct. 23, Oct. 30 and Nov. 13. Weekday campus visits also are available in November. The events take three hours.
Register for the events here or call 715-232-1232, email admissions@uwstout.edu or text a counselor at 715-602-8088. UW-Stout also has virtual tour options.
Students learn about academic programs, tuition, housing, involvement, financial aid, admissions, scholarship opportunities and more. Current students are available to answer questions during a panel discussion, Konsela said.
The events end with a campus tour, led by student guides like Connor Johnson. For the past 1½ years, Johnson, a junior from Algonquin, Ill., has led walking tours while working for Admissions.
"I really enjoy connecting with prospective students and families. I like to share my story and why UW-Stout is a great place to come to school," Johnson said.
He chose UW-Stout largely because it offered the major he wanted, computer and electrical engineering, but also because he was attracted to the compact, friendly campus and its location next to downtown Menomonie, he said.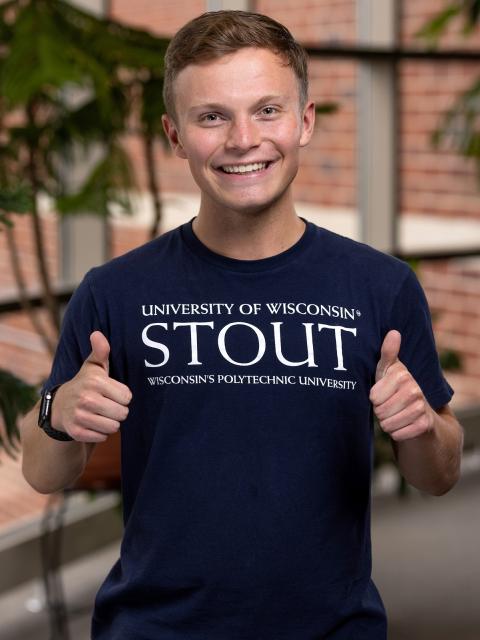 He leads tours that stop at the student center, library, classrooms and labs, a residence hall, dining center and fitness center.
"I'm very passionate about Stout, and I want to share that," he said, noting that he also serves on the student panel during Preview Days. "My goal is to make someone's day, make them feel comfortable and have a five-star experience."
Johnson often is asked what students do outside of school and on weekends, what he calls "the other half" of going to college.
"I tell them how great the Involvement Center is, show them the Connect app and all the events going on any given day, and most of them are free," he said.
He points out not only the opportunities with many student clubs and organizations — he's vice president of the chapter of the Institute of Electronic and Electrical Engineers — but the many options for recreation.
An avid runner, Johnson mentions Stout Adventures, which has an indoor climbing wall, equipment to rent and sponsors trips; and the city's trails and nearby Red Cedar River and Lake Menomin.
UW-Stout, Wisconsin's Polytechnic University, has 47 undergraduate majors and 24 graduate programs, including one doctoral degree. UW-Stout, established in 1891, prides itself on the success of its students in the workplace, with an employment rate above 98% for recent graduates.
The Admissions Office at UW-Stout is on the second floor of Sorensen Hall, which is at the northeast corner of 10th Avenue E. and Broadway Street.
###