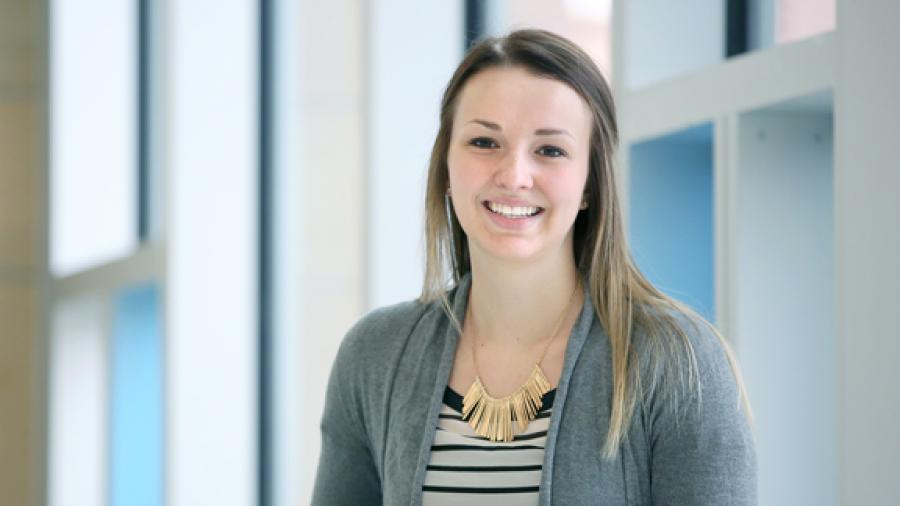 University of Wisconsin-Stout undergraduate Samantha Martell has been selected to receive the National Business Education Association Award of Merit for outstanding achievement in business education.
Martell was chosen for the award by faculty in UW-Stout's marketing and business education program because of her leadership skills and commitment to excellence. As an awardee, she will receive a one-year professional membership to NBEA, a year's subscription to NBEA publications and recognition in the fall issue of Business Education Forum.
Martell, of Somerset, transferred to UW-Stout after two years of studying business at UW-Eau Claire. She loved her business courses but "still had the passion to become a teacher," she said. After contacting her high school business education teacher, she was advised to look into the MBE program at UW-Stout.
She is happy she did. "This major suites me well because I am allowed to combine my passion for business into my love for education," she said.
At UW-Stout, Martell has been elected as the financial specialist for MBEA, UW-Stout's Marketing and Business Education Association, was selected as an MBE program ambassador and as the Wisconsin Educators of Business and Information Technology student representative.
"She is an up and coming leader in the program and has potential to become a leader in the field of marketing and business education," said Professor Debbie Stanislawski, director of the marketing and business education program.
Martell will receive the award in April at the MBEA's annual banquet. The award is given annually to an outstanding student majoring in marketing and business education.
For more information, refer to marketing and business education program.
###