The 50th anniversary of the first moon landing will be celebrated in music by the Symphonic Singers at University of Wisconsin-Stout.
The choir's winter concert, Stars I Shall Find: A Musical Celebration of Astronomy and Space Exploration, will be at 7 p.m. Friday, Dec. 6, at Our Savior's Lutheran Church, 910 9th St. E.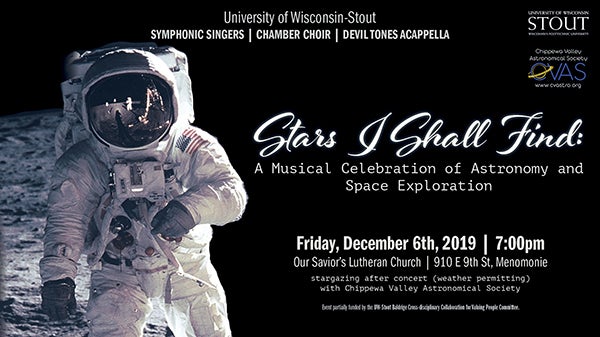 Tickets are $5 and are available online at the Service Center in the Memorial Student Center, 715-232-1122, and at the door.
"This year marks the 50th year since the moon landing, as well as the year we first took a photo of a black hole. Our concert thus celebrates everything the night sky inspires in humankind through a wide spectrum of musical genres," said Associate Professor Jerry Hui, Symphonic Singers director.
Along with the music, an educational script has been created as a semesterlong collaboration of a student team. The project is supported by the Baldrige Cross-Disciplinary Collaboration Committee. Members of the team include:
Sarah Dickson, 2018 alumna, entertainment design

Shane Ender, of Eau Claire, computer science

Amara Miller, of Andover, Minn., environmental science

Laura Moran, of Euless, Texas, retail merchandising and management

Charlie Peavey, of Minneapolis, graphic design and interactive media

Ethan Stewart, of Eau Claire, computer networking and information technology

Casey Tilkens, of Green Bay, group leader, science education
A reception will be held after the concert, including star-gazing led by the Chippewa Valley Astronomical Society.
UW-Stout offers a minor in performing arts.
###
Photo
The poster for Stars I Shall Find, the UW-Stout Symphonic Singers winter concert.