The UW-Stout Symphonic Singers and Chamber Choir will mark the end of the semester with a concert that considers one of humans' age-old questions: Time.
 
The groups will perform their spring concert at 7 p.m. Friday, April 27, at Our Savior's Lutheran Church, 910 9th St. E., Menomonie. Tickets are $5 and can be purchased in advance at the Memorial Student Center, 715-232-1122, online and at the door.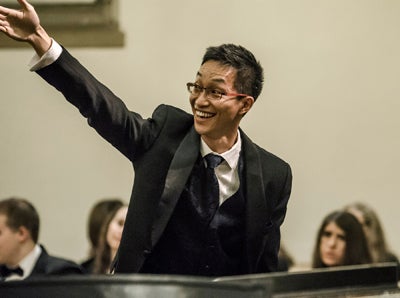 The concert, "A Matter of Time," examines the idea of passage of time in the eyes of poets, composers and comedians. Selections include a set of musical birthday presents, music inspired by clocks and eternity.
Featured composers include Bach, Chatman, Henry VIII, Mechem, Morley, Barnum and many more. "There Was a Time" is from Eric Barnum of UW-Oshkosh. The composer of the four-movement "Time Pieces" is former Madison resident Stephen Chatman.
Ten members of the choirs are seniors and will be graduating Saturday, May 5. They are:
Alexandra Fischer, of Sussex

Brynn Wildenauer, of Minneapolis

Angela Heiting, of Menasha

Danielle Toman, of Rice Lake

Elizabeth Bronk, of Kasson, Minn.

Laura Meeker, of Mount Horeb

Maria Kastello, of Muskego

Michael Loes, of Anoka, Minn.

Natalie Steiner, of Alma

Sarah Huberty, of Inver Grove Heights, Minn.
The Symphonic Singers and Chamber Choir are led by choral director Jerry Hui, an associate professor.

###
Photo
Jerry Hui is the director of choral activities at UW-Stout.