For University of Wisconsin-Stout students in a mechatronics class, the sweetest part of their semester involved creating a candy machine that required all the elements they had learned.
Mechatronics 371 students taught by Kevin Dietsche, a senior lecturer in the engineering and technology department, unveiled their candy dispensing machines on Nov. 18 in person with masks and social distancing.
Each dispenser had to be programmed with an input sensor, motor, lights, sound and output of a piece of candy. Another twist is there had to be an element of a game during the dispensing of the sweet treat.
"In general, this is a lab that is all about experimenting and learning," Dietsche said, noting most students will go on to be middle or high school technology education teachers. "Do it. See it. Fail. Fix it."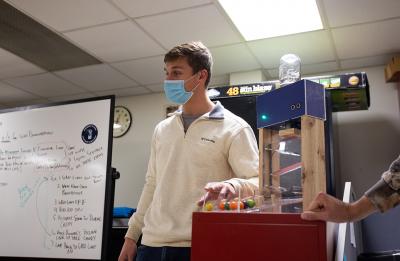 Technology education seniors Travis Revolinski, of Green Bay, and Keegan de Boer, of Appleton, created the Monster Machine.
With red fuzzy eyes and lips, the monster held a miniature candy bar in its mouth. Those brave enough to grab it had the candy pulled away. "It's his candy," Revolinski quipped. "He is very temperamental. He doesn't like to give out candy."
Those able to grab the candy were treated to a nasty buzzing sound and red flashing lights from the monster's eyes. "He gets upset when you get his candy," Revolinski noted. "We thought it was fun."
Dietsche attempted to grab a piece of candy from the machine. "It's fast," he exclaimed.
A sensor with two popsicle sticks holds the candy and pulls the treat away from the player, de Boer noted.
De Boer said he enjoys the class. "It allows us to have a lot of creative freedom as long as you meet the criteria of the project," he said.
Revolinski agreed. "It involves everything we learned over the semester. It's hard because you have to make sure you have everything set up right, connecting the wires and make sure your computer code is working and then it still might not work and you have to figure it out."
Other machines incorporated catapults and one machine used a spoon to toss a piece of candy.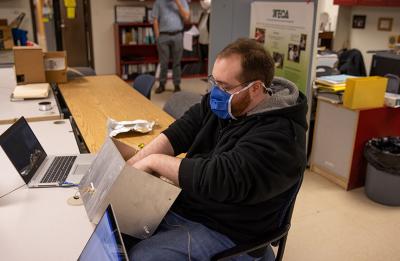 Students agreed one of the problems with using candy is that there isn't uniformity in candy weights, even when the same candy is used in a machine.
Senior technology education students Nicholas Wasieleski, of Hudson, and Cody Lohrenz, of Hortonville, built a candy machined that dropped a gumball into a Plinko game. The gumball bounced around wooden pegs and eventually landed in a slot at the bottom. The machine was to play bossa nova music while dropping the gumball, a feature that failed during the class.
"I started with the ramp and the idea to make a pinball game with the gumball as the ball," Wasieleski said. "Then, I decided to create the Plinko as the amusement factor. You had to be creative. You wanted to make it unique and different. This is a great project. It makes you create something out of materials you find and make it into something useful."
Wasieleski reused broken plastic sheets once used in the Hudson High School cafeteria to separate tables as the exterior of the game.
Planning a career as a teacher, Wasieleski said he could see incorporating a project similar to the candy dispenser into a high school technology education class. "It is a great activity for using different systems," he noted. "I think it is just a fun, hands-on class where it is up to you and your creativity."
Lohrenz said he loves being part of the mechatronics class. "A lot of people don't get the exposure to work on robotics," he noted. "I feel thankful we are able to make the connection with what we are learning here and what is happening in the real world. I'm glad we're able to understand robotics and have that working knowledge when we go out to teach and pass that knowledge on to our students."