The women's basketball team at UW-Stout made a statement on Feb. 15. In soundly defeating UW-Eau Claire, 63-45, the Blue Devils claimed their first regular season conference title in 16 years.
Punctuated with an on-court celebration and resounding cheers in a packed Johnson Fieldhouse, this was about more than becoming co-champions of the highly competitive Wisconsin Intercollegiate Athletic Conference. It also was about a group of players who have made winning and a dedication to excellence their mission.
When the Blue Devils host a WIAC tournament semifinal game at 7 p.m. on Friday, Feb. 24, they will look to extend their success.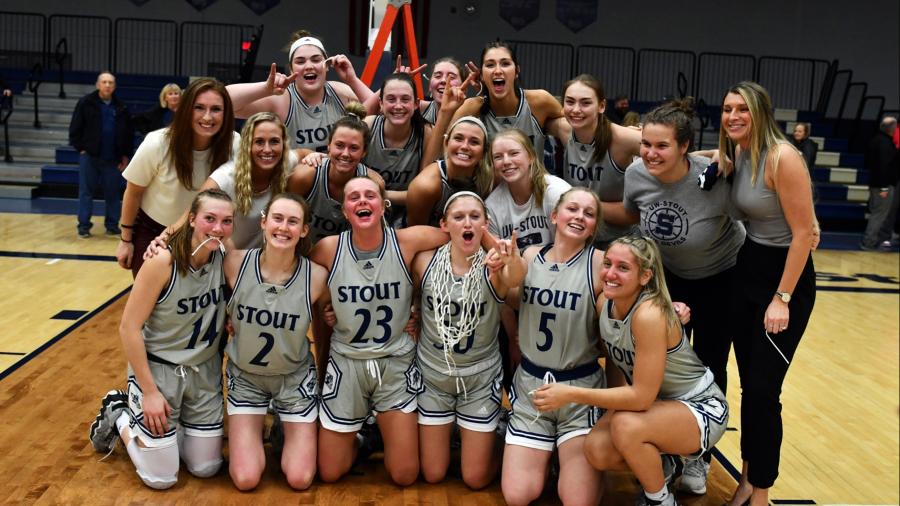 "What makes this team special is the culture that we have created and nurtured," said junior Anna Mutch, from Apple Valley, Minn. "We all share one thing in common, which is the determination to win. We wear our heart on our sleeve and compete with grit. We strive to become the best versions of ourselves for one another."
Junior Amanda Giesen, from New Prague, Minn., agreed. "I have been on a lot of different basketball teams in my career, but this team has something special that sets it apart from the others. We compete at a high level every single day and then walk off the court as best friends. We are like a family, which makes showing up every day and working hard worth it."
Coach Hannah Iverson is proud of her players achieving one of their season-long goals but more importantly how they have come together as a team to make it happen.
"At the end of the day, I want these girls to remember and be proud of what they gave for each other. To do something great is fun, but to do something great with people you love and respect, that's something you never forget," Iverson said. "I want them to enjoy every moment because you can't get them back. And I want them to be proud of the legacy they leave for the teams to come."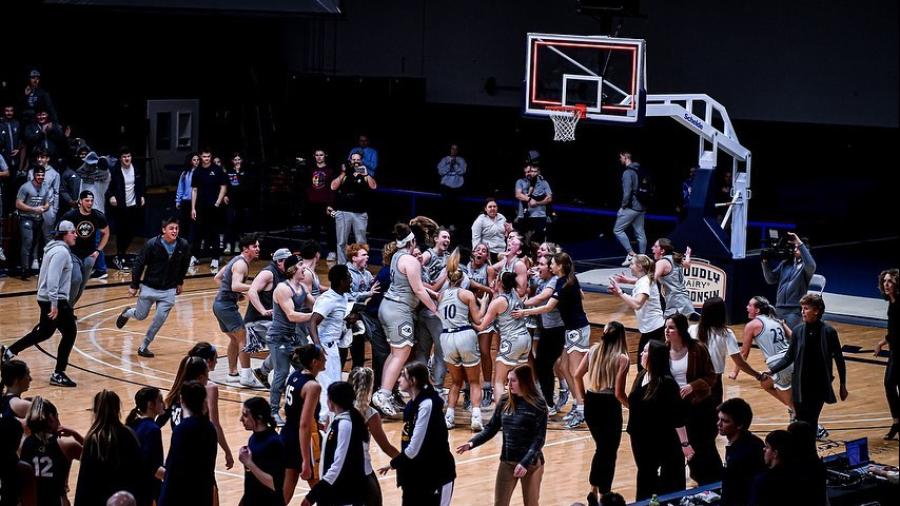 Iverson took over as coach in 2018. Last year the Blue Devils were 13-11, including 8-5 and fourth place in the WIAC. This year they are 18-7 and 10-4 in the WIAC.
Iverson and assistant coaches Kyleigh Fanning and Alexis Foley have the Blue Devils playing hard and well every time they take the court.
"The coaching staff has evolved this program into a place where competitiveness is the standard," Mutch said. "Our goal from the beginning of the season was to win the WIAC, and we've held ourselves to that caliber of play our entire season thus far. We are never satisfied and will do anything to win. The spirit of this team is something you cannot find anywhere else."
Giesen said the coaches "have so much passion for the game that it allows us to buy into what they are coaching us. Coach Iverson not only pushes us to be great basketball players, but she is committed to making us better people than before we came to Stout."
Iverson was a standout high school player at Eau Claire North, played for the NCAA Division I UW-Green Bay team that made the national tournament four times and was an assistant on the UW-Green Bay, University of Illinois and Ashford University staffs before coming to UW-Stout.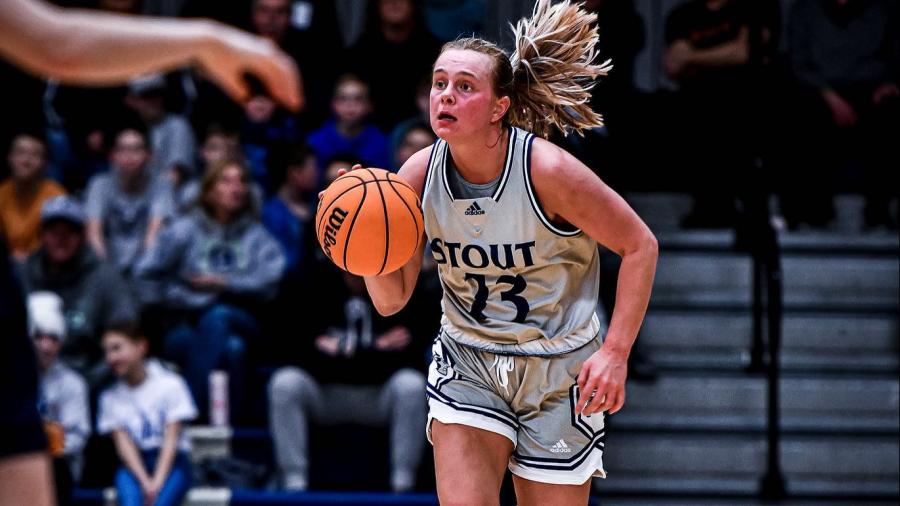 Mutch calls Iverson a role model who pushes them to reach their full potential as players and people. "She's the root of all our success," Mutch said.
Success on and off the court
Iverson believes that how players perform on the court is a mirror of how they conduct themselves in the classroom and in their personal lives.
"I am a firm believer in that you can't live one way in one part of your life and a totally different way in another part. We demand effort in the classroom just has much as we do on the court. We want these young ladies to value the opportunity to be a student at Stout just as much as their opportunity to be an athlete here," Iverson said.
The Blue Devils had a fall semester team grade-point average of 3.75, including seven players with 4.0 averages.
It so happened that the game against UW-Eau Claire was Faculty and Staff Appreciation Night. Mutch, a psychology major, and Giesen, a business administration major, said university support, including faculty who are flexible with student athletes' schedules, has been great.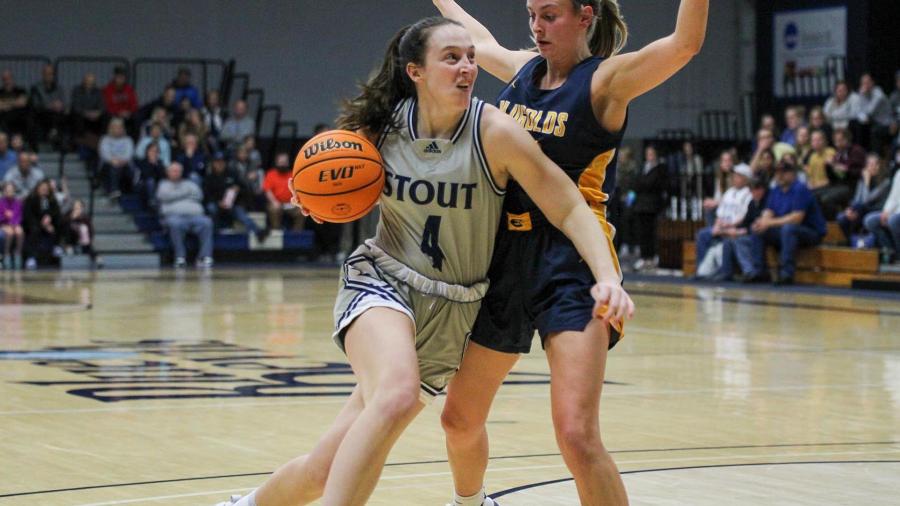 "If it weren't for the amazing faculty and staff here my experience would be much different," Giesen said.
Iverson also credits university support for the team's success. "We could not do what we do without them on our side. The support from this campus this season has been second to none. We have felt it from our professors and faculty here on campus, from our administration, from Chancellor Frank and from our student body. They have all made this season so fun and memorable," she said.
A special win but looking for more
The stakes weren't just high for the Feb. 15 game, but the Blue Devils were trying to avenge a loss to UW-Eau Claire just a month earlier. UW-Eau Claire also could have shared the WIAC title with a win.
"It was a very special night for our team and a huge testament to all the hard work we have put in the past few months," Giesen said. "The feeling at the end of the game when we found out we won a share of the WIAC title was truly indescribable and something we will all remember for a very long time."
Blue Devil video highlights of the win over UW-Eau Claire.

/

UW-Stout

Mutch, a 5-foot-8 guard, had 11 points, 9 rebounds, 2 steals and 2 blocked shots. Giesen, a 5-11 forward, had 6 points, 5 rebounds and a steal. The Blue Devils were led by 5-7 sophomore guard Reagan Sorensen, of Centuria, with 20 points.
"The feeling Wednesday night was nothing short of amazing, and the joy that was felt was enough to last a lifetime. We have worked so hard all year, and to see it pay off is extremely rewarding," Mutch said.
"The best part about this team is the love we all share for the game and, most importantly, each other," she added.
The joy of winning the title was shared by Blue Devil fans. The game drew more than 1,300 people.
"Being able to play in front of a packed Johnson Fieldhouse was special and something that we will never forget. We are truly blessed to have such a great community that comes out and supports us," Mutch said.
Iverson called the atmosphere at Johnson Fieldhouse "electric" and is hoping for more of the same in the WIAC tournament game Thursday, Feb. 23.
Although one title is in hand, the season isn't over.
"This group of girls has no quit. I am so proud of them and so excited to see what more they can do," Iverson said. "Competing at the level we compete at takes everything. It's hard. But that's why this is so special. The sense of accomplishment and pride you feel keeps you hungry for more."
Stout Scholar recruited for women's basketball, finds new support system away from home
Continue Reading