Few people may realize that within a two-hour drive of UW-Stout is the corporate headquarters of the nation's leading manufacturer of nonresidential air movement, control and conditioning products. The Greenheck corporation in Schofield, near Wausau, is the market leader in its industry, thanks in part to more than 75 UW-Stout alumni employed by the company.
Founded in 1947, Greenheck has a long history of innovation, thanks to co-founder Bob Greenheck, whose game-changing design of fan products shaped the industry. Continuing this spirit of innovation, in 2015 the company built a 69,000-square-foot Robert C. Greenheck Innovation Center as a space for collaboration among manufacturing, engineering, marketing, testing and machine development teams.
The center includes state-of-the-art testing capabilities for air movement and control products of nearly all sizes. Not often visible, Greenheck products are installed worldwide within and atop large hospitals, high-rises, factories, schools, business centers, sport complexes, airports, data storage centers and tunnels.
Mark Belke, general manager of the industrial fan business unit and a 1996 UW-Stout graduate, recognizes the value of the Innovation Center. "This facility was developed so we could better collaborate for product development," he said, noting the goal is to create efficient, energy-saving products for customers and to maintain Greenheck's competitive position in the marketplace. "Compared to prior facilities, the center promotes cross-pollination of ideas among engineers from various business units."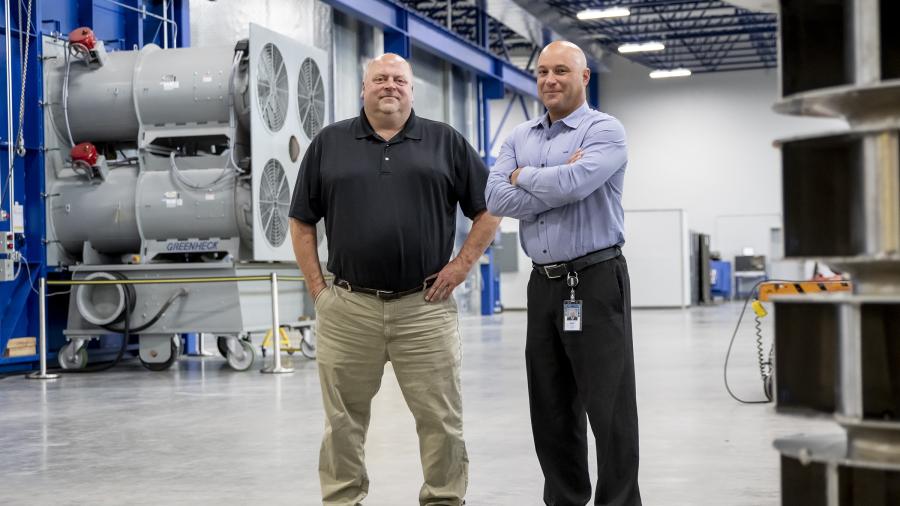 In his 21 years at Greenheck, Belke has completed business trips to 49 states and 14 countries and has taken advantage of the continuing educational opportunities offered to employees. "There is so much growth opportunity for people at Greenheck, and the company is very committed to continuing education and leadership training," he said.
It's not just innovation that led Greenheck to become a respected worldwide company. It's also its people. "Greenheck's success and continued growth really come down to having a great team," said Jim McIntyre, president and CEO. "We are so fortunate to have UW-Stout right between two of our major locations, Schofield and Minneapolis. We now have 80 UW-Stout alumni in our workforce, and through the years many have grown into key leadership positions."
Jeff Lamer, a 1984 alumnus with a degree in industrial technology focusing on manufacturing engineering, is director of manufacturing excellence. The focus on innovation and company growth attracted him to Greenheck. "I just believe that with growth comes opportunity for employees. I could see that at Greenheck," said Lamer, who has been with the company for 30 years.
Beth Brinkmann is a human resources manager and 1992 alumna, with a degree in business administration and a concentration in human resource management. "When I am interviewing students, I often tell them that if you like constant change, then Greenheck may be right for you."
In her 13-year career with the company, Brinkman has recruited at UW-Stout and is proud to see many students join the company with a co-op or internship, then continue full time after graduation. "I hired our first person for a new leadership development program from Stout because I know the high quality of the education," she said.
Alumni include chairman of the board and former CEO Dwight Davis and his spouse, Linda, 1966 and 1967 graduates, respectively. The couple annually supports several scholarships for UW-Stout students and in 2009 established an endowment for transformational leadership, enabling the university to carry out initiatives to maintain education excellence and relevancy.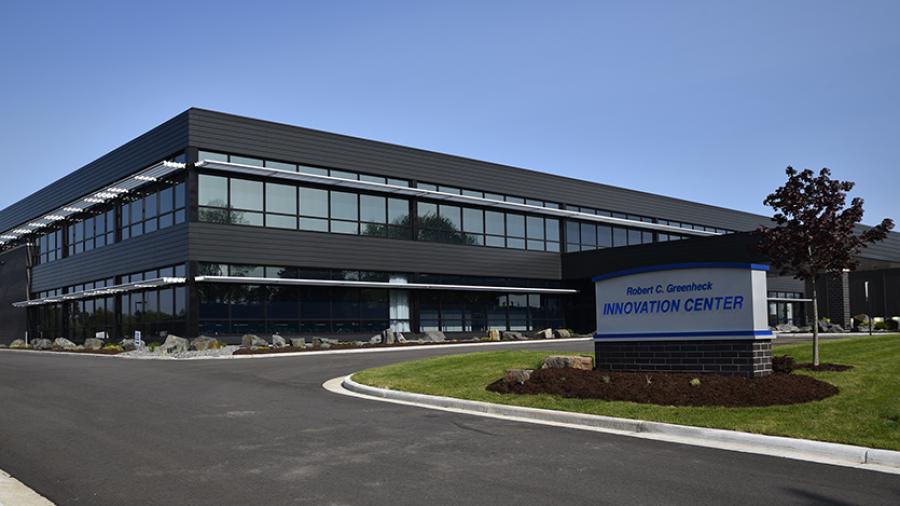 Greenheck doesn't just rely on testimonials to showcase its commitment to innovation and investing in employees; it has the accolades to prove it. Four years running, 2015 to 2018, Greenheck has won the Bubbler Award from the Milwaukee-based young professionals group Newaukee, given to Wisconsin's best places to work for young professionals. Greenheck is the only state business to win the award all four years since its inception.
The company was selected in 2016 as Wisconsin Manufacturer of the Year in the Mega category, which comprises the state's largest corporation. The company also received the award in 2004 and 2012.
Today in its 70th year of operation, Greenheck employs more than 3,700 people worldwide. Aside from its corporate headquarters and facilities in Schofield, it has manufacturing locations in Minnesota, Kentucky, North Carolina, California, Tennessee, India, Mexico and soon a new campus in Oklahoma.