Over his three-plus years at UW-Stout, Phil Schmit has developed a method of study that he believes will be helpful as the university moves to alternative learning methods through the summer semester.
 
"I will be preparing by giving myself a clean and clutter-free workspace to work from my home and by setting and sticking to a daily routine," Schmit said. "I have developed habits over my three years as a student athlete that have kept me on track and focused in a short period of time to get work done efficiently.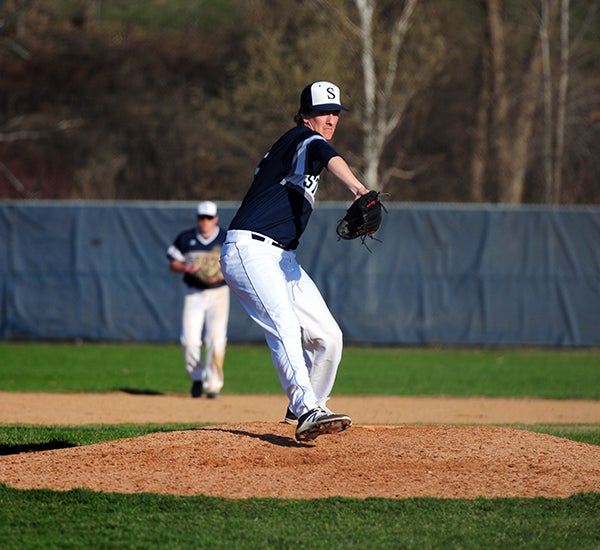 "One of those habits is a concept called Working in Sprints. I start with 90 minutes of phone off, music off, distraction-free work, and then once that is done I give myself 30 minutes of free time. This method has helped my scattered brain relax and push out assignment after assignment."
 
There is no question that being a college student took a different turn in the past couple of weeks. With the COVID-19 coronavirus pandemic dominating the nationwide picture, colleges and universities were caught in the middle of the storm – and it wasn't just the cancellation of March Madness that affected student athletes as well as all students.
 
UW-Stout announced that the school would not conduct face-to-face instruction until April 5 but then extended to include not only the spring semester but the summer session as well. On March 16, the Wisconsin Intercollegiate Athletic Conference announced that had canceled the spring sports season.
 
There is some trepidation about going to all alternative learning methods by some student athletes.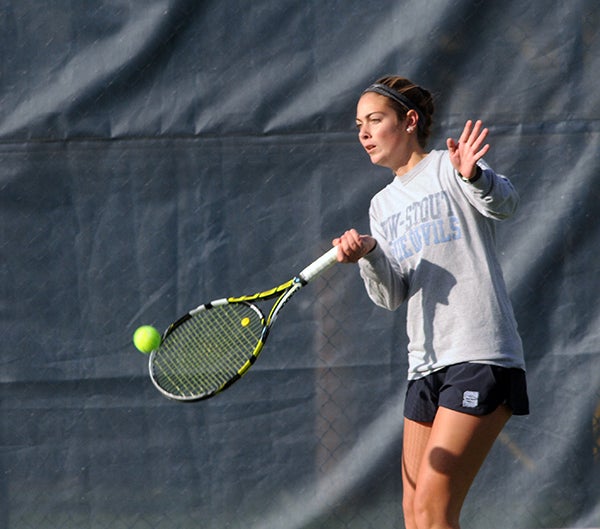 "I've taken a few online classes at Stout but find them challenging," said Mariah Kent, a sophomore tennis player from Eau Claire. "I definitely learn better when I'm physically in a classroom and have a teacher lecturing me. Personally, it's difficult for me to learn online as you don't have immediate access to ask questions.
 
"I can manage one online, but I'm nervous about managing five."
 
Schmit, a senior baseball player from Chaska, Minn., has had a mixed bag when it comes to taking alternative learning methods classes.
 
"I have taken online courses before and have had good and bad experiences with them," Schmit said. "But for the most part they have been extremely convenient for summer terms and in-season semesters to limit the amount of classes missed due to travel."
 
Kent knows there will be adjustments.
 
"When you're on campus, it's easy to go to the MSC (Memorial Student Center) or library between classes or study with friends after class," Kent said. "Being on campus just puts you in a learning mood, and everything changes when you're confined to your house or apartment.
 
"As I prepare to switch to online for the rest of the semester, I'm going to have to find a way to stay organized and on top of assignments."
Advice from professors

"I would suggest students regularly check their email and Canvas (a classroom management tool) for course updates and assignments," said Mike Bird, kinesiology and health department chair. "Communication from both perspectives is going to be very important, especially if students have questions on how to complete assignments and projects."  
 
"It's important to ask for help if students are having difficulty navigating the course," said Mary LaRue, director of the health, wellness and fitness major. "In addition, if they are struggling with course content, the earlier they can communicate questions to their instructor the better."
 
"Get into a routine for checking on the week's expectations for all their classes," LaRue continued. "Try to set a consistent schedule for completing assignments. Make sure to be aware of due dates, deadlines and put them in a calendar. Also note that the actual time things are due may vary between instructors, so don't assume things are due by midnight. Instructors will vary on this."
 
Kent wonders how lab courses will be maintained.
 
"As a packaging major, over half of my classes this semester are lab-based, and I'm curious as to how my classes are going to be taught," Kent said.
 
Schmit is looking at the total picture as he nears completion for a degree in business administration with an emphasis in sales and marketing.
 
"I realized very shortly after my sophomore year that my education and what I take with me after Stout is completely up to me," Schmit said. "So instead of worrying about grades and GPAs, I spent that time asking the questions that I could take and apply to myself and, oddly enough, better grades followed by taking this approach."
  
Whether on the baseball field, in a physical classroom or now in a virtual classroom, Schmit, who is scheduled to graduate in May, takes pride in his time at UW-Stout.
 
"I'm looking forward to seeing my hard work and habits that I've built up as a student athlete pay off in the start of my career," Schmit said.
 

For the latest information about UW-Stout and the COVID-19 situation, please visit: https://www.uwstout.edu/coronavirus
###
Phil Schmit, baseball player
Mariah Kent, tennis player