The golf enterprise management program at University of Wisconsin-Stout was recognized twice at the recent fall meeting of the Golf Course Owners of Wisconsin.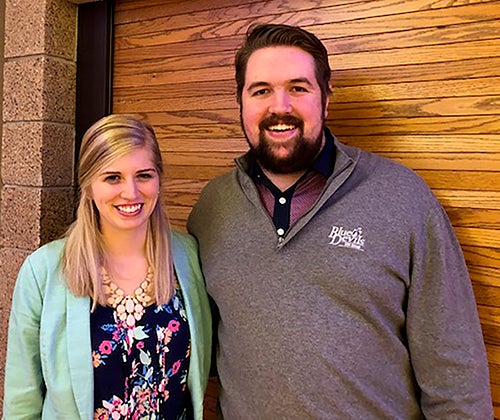 GCOW, a nonprofit founded in 1984 to represent and advocate for course owners and operators, donated $1,000 for scholarships to UW-Stout. It also presented Associate Professor Kris Schoonover with its Friends of the GCOW award.
The annual GCOW Scholarship, $500, was presented in September to two golf enterprise students at the annual Stout University Foundation scholarship program. They are Rachael Leystra, of Cambria, a junior; and Taylor Hakes, of Chippewa Falls, a junior.
To be eligible, students must be Wisconsin residents, work in a golf-related industry and have a minimum 2.5 grade-point average.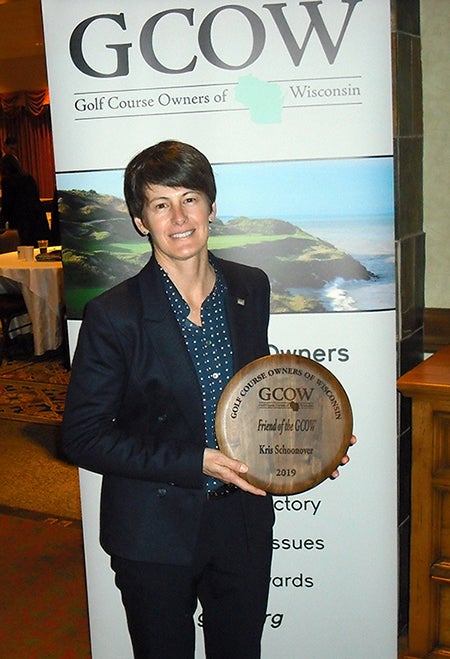 Schoonover teaches in the golf enterprise program, and she conducts research in the areas of customer experience management, human capital development, and training practices for the golf industry. She works closely with the National Golf Course Owners Association and GCOW, regularly speaks at national and international conferences and has participated on industry advisory boards.
Schoonover has worked more than 25 years in the industry as a coach, teacher and in golf operations. She is director of operations/assistant competition director at Erin Hills and helped the USGA host three championships there: the 2008 U.S. Women's Amateur Public Links, 2011 U.S. Amateur and 2017 U.S. Open. 
She has a Ph.D. in Sport Management and Leadership from Concordia University of Chicago, a master's in education from UW-Oshkosh and bachelor degrees in education and in marketing from UW-Eau Claire.
Students in UW-Stout's GEM program, which also is available online, take courses in all aspects of golf course management. The Bachelor of Science program is endorsed by NGCOA and GCOW.
###
Photos
Students Rachael Leystra and Taylor Hakes are this year's recipients of the Golf Course Owners of Wisconsin Scholarship at UW-Stout.
Associate Professor Kris Schoonover recently received the Friends of the GCOW award from the Golf Course Owners of Wisconsin.