Two Wisconsin state secretaries looked out at the hundreds of Regional SkillsUSA competitors at the University of Wisconsin-Stout Memorial Student Center Great Hall and saw the future.
Secretary of Safety and Professional Services Dawn Crim said those employed in the trade industries are graying and it is important to educate and expose students to those jobs that offer good wages and benefits, which is what SkillsUSA does.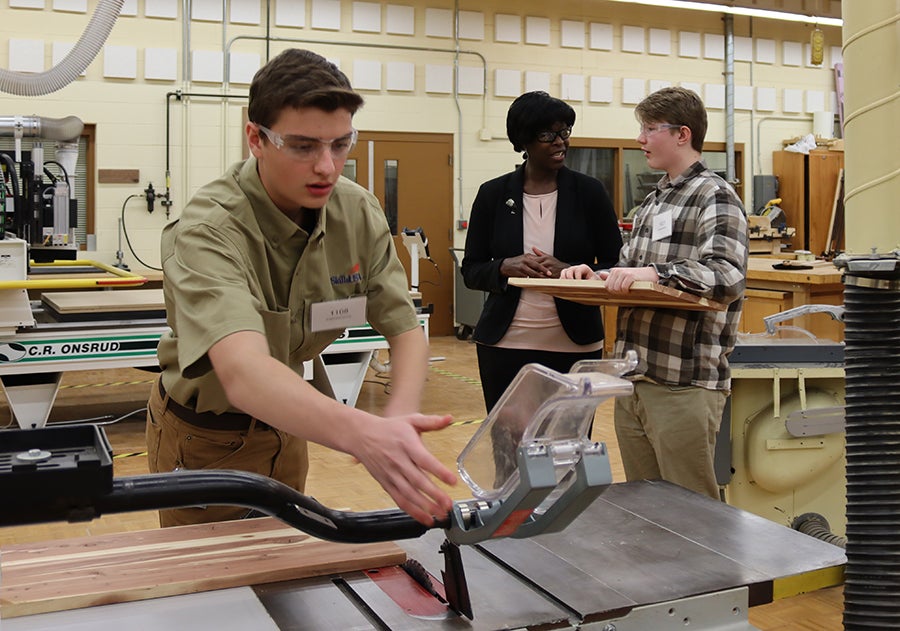 About 475 students from across Wisconsin were at UW-Stout Thursday, Feb. 27, and Friday, Feb. 28, for the Regional SkillsUSA event. The regional event will help competitors prepare for state and national SkillsUSA events. SkillsUSA is based in Virginia and has more than 365,000 students and adviser members.
Crim helped judge cabinetmaking. Wisconsin Secretary of Workforce Development Caleb Frostman helped judge the welding competition.
"I see the future of our workforce and the future of our economy," Frostman said. "There are really strong economic opportunities in the trades, and we must meet the demand for the future."
This is the 37th year UW-Stout hosted the regional event. Students competed in 20 categories such as urban research and rescue, photography, precision machining technology, technical drafting and first aid/CPR. The College of Science, Technology, Engineering, Mathematics and Management sponsored the event.
In the welding lab, students worked in individual booths doing several different welds to show their skills.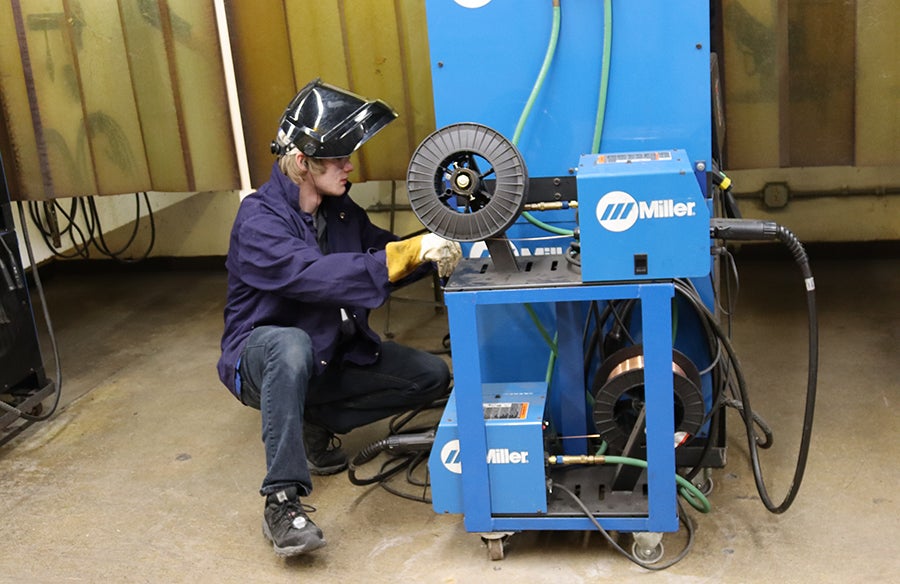 Adam Nelson, a senior at Wausau West, said it is his second year to compete in SkillsUSA. He has been welding for about five years.
"I started welding in my garage," Nelson said. "I love it because you can make stuff that no one else has."
Nelson, who is a fabrication and welding youth apprentice at Greenheck in Schofield, welded a model of a Japanese type 5 heavy tank. The WWII-era tank was never built. Nelson created it from blueprints.
In the woods lab, students worked on building a side table during the cabinetry competition. Students planed and cut mixed wood as they made the tables.
Tommy Gustafson, a senior from Lincoln High School in Wisconsin Rapids who was part of the cabinetry competition,  has been involved in SkillsUSA for three years. "I just love it," he said. "It helps you learn about and focus on jobs and discover what you want to do."
Gunderson plans to study urban forestry but will continue to work on wood projects. "There are so many variations of wood and it looks awesome," he said. "Furniture is such a big part of our lives."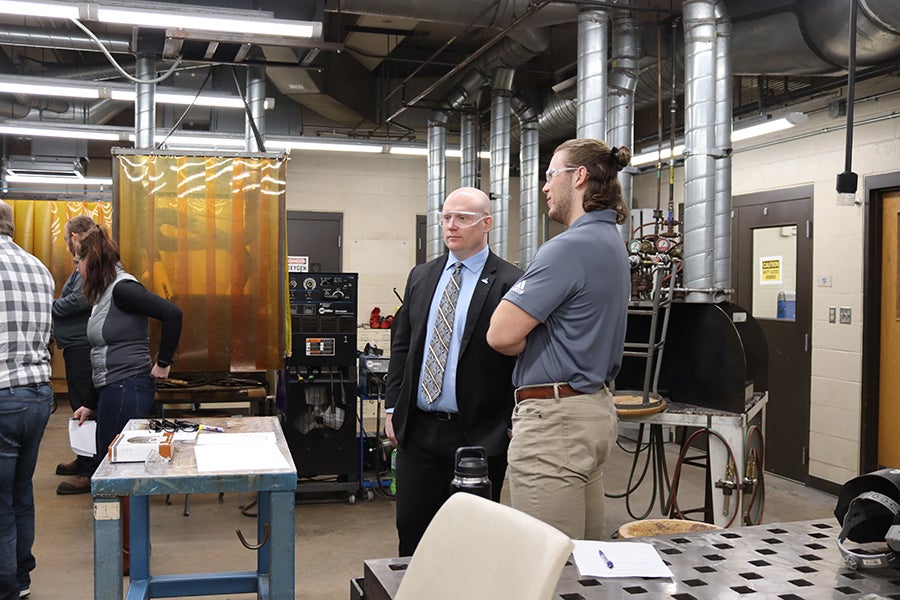 Spencer Tennies, a senior at Slinger High School, is participating in SkillsUSA for the first year. He plans to study mechanical engineering after high school but wants to continue woodworking as a hobby. "I love the precision of woodworking," he said. "You have to be exact."
Renee Rider, a senior at Winter School District, is in her fourth year of being a part of SkillsUSA. It was her first year participating in the cabinetry competition. She was excited to get to use all the equipment in the woods lab at UW-Stout.
"I like SkillsUSA because I get to learn new things," she said. "I like getting feedback on what I'm doing so I can fix it and improve."
Crim said it is important to have partnerships with education, industry and youth. "An event like SkillsUSA on UW-Stout brings all three together," she said. "I can gladly say I have met the future of the trades."
###
Photos
Adam Nelson, a senior at Wausau West, adjusts a welding machine during the Regional SkillsUSA competition.
Wisconsin Secretary of Safety and Professional Services Dawn Crim, in center, talks with students during the Reginal SkillsUSA competition.
Wisconsin Secretary of Workforce Development Caleb Frostman, at left, helped judge the welding competition during the Regional SkillsUSA.