A senior from Spooner took first place in University of Wisconsin-Stout's first WiSys Quick Pitch competition held May 2 at the Memorial Student Center.
Richard Shipman presented on "Small, Bioactive Protein and Peptide Isolation from Crab Shell Byproducts Using Dialysis and Tricine Gel Separation."
The elevator-pitch-style competition invites students to present their research and its relevance in three minutes. The event serves as an opportunity for students to practice relaying the importance and impact of their research in an effective way that is understandable to a broad audience.
Shipman's project, a collaboration with the University of Maine, involves extracting proteins from crab shell waste and enriching them because they could have calcium-binding functions and antimicrobial properties. His goal is to see if the proteins have properties that could help prevent tooth decay.
The process is "done by replicating a paleontology paper that detailed the extraction of proteins from dinosaur bones. This method allowed us to successfully extract the proteins from the shell and separate them out for analysis with tricine gel, which allows use to identify proteins based on molecular weight," Shipman said.
The study is still ongoing, Shipman said.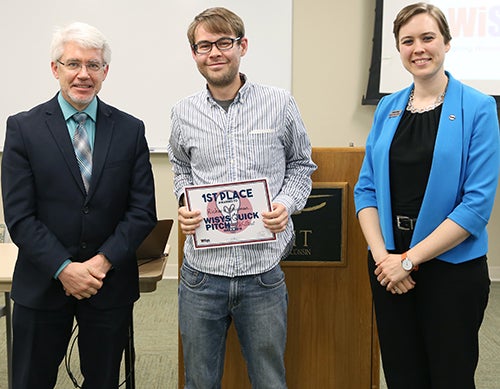 Winners of WiSys Quick Pitch competitions at each UW System campus are invited to the state final during the Wisconsin Science and Technology Symposium on Monday, July 30, and Tuesday, July 31, at UW-Parkside. They will have a statewide audience of more than 200 UW System faculty, staff, administrators, students and community members. Nine UW comprehensive campuses held Quick Pitch competitions this year.
Shipman graduated May 5 with a Bachelor of Science degree in applied science.
Second place at UW-Stout was awarded to Cambria Sinclair, of De Pere, apparel design and development, on "Green Fabrics: An Analysis of Top Sustainable Fabrics."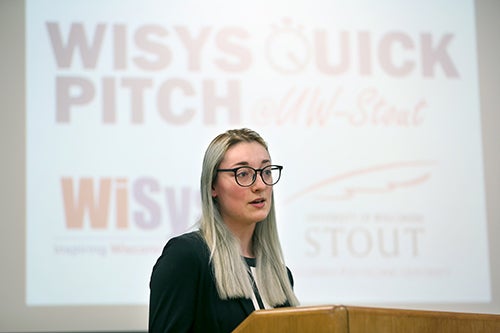 The People's Choice Award went to Sabina Bhaktaraj, of Ilam, Nepal, food science, "Effect of TSS and Different Flavors on the Physical, Mechanical and Sensory Properties of Ginger Candies."
Other UW-Stout participants included:
Kayla Ignasiak, Muskego, science education, "Toxicity and Function of Hydrophobic Coatings"
Sindhura Lingampally, Boduppal, India, food and nutritional sciences, "Antimicrobial Property and Shelf Life Studies of Curry Leaf (Murraya Koenigii) Extract on Red Meat"
Devon Manuele, North Prairie, applied science, "Increasing Access to Electricity in Malawi Africa by Increasing the Efficiency of a Hydroelectric Generator"
Amanda Schroeder, Menomonie, entertainment design, "Le Ossa"
Kylie White, Excelsior, Minn., food and nutritional sciences, "Development of a Tea Infused Shortbread"
Johnathan Williams, Rice Lake, applied mathematics and computer science, "The Evolution of Education and Research"
Pratiksha Timalsina, Murli Chowk, Nepal, food science, "Optimization of Sweet Potato Chips Processing Parameters Using Response Surface Methodology"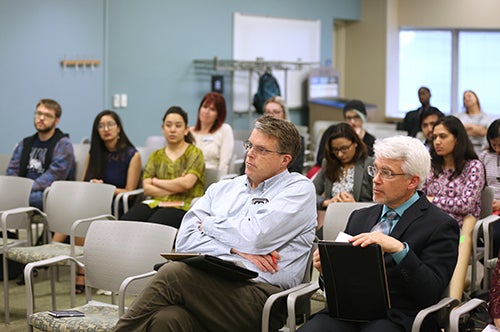 Judges were Jennifer Cook, associate director of WiSys; Randy Hulke, executive director of the Discovery Center at UW-Stout; and Patrick Guilfoile, UW-Stout provost.
###
Photos
Richard "D.J" Shipman, at center, with UW-Stout Provost Patrick Guilfoile and Kristen Ruka, regional associate for WiSys Technology Foundation. Shipman won the UW-Stout WiSys Quick Pitch competition May 2. /UW-Stout photos by Brett T. Roseman.
Cambria Sinclair, at center, won second place in the quick pitch competition for her research on sustainable fabrics.
Two of the judges were, at left, Randy Hulke, executive director of the Discovery Center at UW-Stout, and UW-Stout Provost Patrick Guilfoile.