Josh Schram has received the University Staff Employee Appreciation Award for December at University of Wisconsin-Stout.
Schram, of the town of Spring Brook, is a facilities maintenance specialist advanced for Facilities Management. Chancellor Katherine Frank presented Schram with the award. He has worked at the university since 2012.
Schram's nomination stated: "Josh has an energetic approach to keep things moving forward here at the university. He has been handling the University Staff Senate chair position as well as keeping up on his regular job at the Memorial Student Center. Josh is always fixing broken things and is good at it. When visitors come through the MSC and he notices they look lost, I've seen him direct people to where they need to go. He volunteers even when he isn't asked and attends and recruits for UW-Stout at community events. Josh has an ongoing willingness to provide help whenever needed, on the Senate, and in his campus job. Josh provides ideas and an alternative approach to problem-solving that is really needed. Josh is totally customer service based. He reminds us that we all are recruiters for our campus, and we all make a difference in the life of the campus."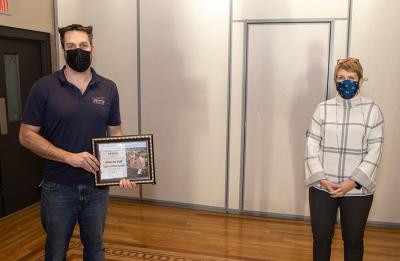 Schram dedicated the award to all university employees who have not been recognized but are working hard during a difficult time with the COVID-19 pandemic. "There are people who are doing things above and beyond their duties and no one else is aware of it," he said. "I know one staff member who has filled out 100 virtual hug cards for students who were in COVID-19 isolation, information technology support staff working diligently as we have moved to online learning and professors who are going above and beyond teaching with online learning."
Each winner receives a certificate of recognition, a UW-Stout travel mug and a UW-Stout blanket.
Students, faculty and staff may nominate university staff members who demonstrate a commitment to excellence and the university community at the University Staff Employee Appreciation Award nomination form.
The award, in its 15th year, was established by the Chancellor's Office and is co-sponsored by the University Staff Senate.