An entry built for the runway was named the grand prize winner in the annual Fashion Without Fabric student show held recently at University of Wisconsin-Stout.
A design called "Kissing the Runway," by Andrew Bogard, of Oronoco, Minn., and Chloe Halverson, of Hudson, took the Scholarship Award. Each student will receive a $1,000 scholarship from Stout University Foundation.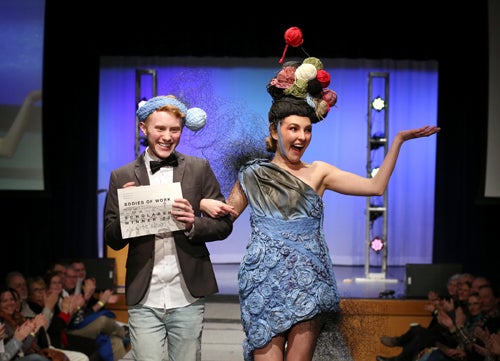 Designs for this year's show were based on the works of 27 contemporary sculptors. The show featured approximately 100 entries by 200 students from 3D design classes in the School of Art and Design.
The entries could be made of anything but traditional fabric.
"Kissing the Runway" was based on a sculpture by Jessica Stockholder called "Kissing the Wall #5 with Yellow." The dress and cape featured handmade craft paper flowers that were spray-painted. The cape also was made of clear plastic wrap and foam. The dress base was made of chicken wire and featured rubber elastic resistance bands, yarn and black garden fencing.
"We spent hours upon hours over our piece, and it really paid off," Halverson said.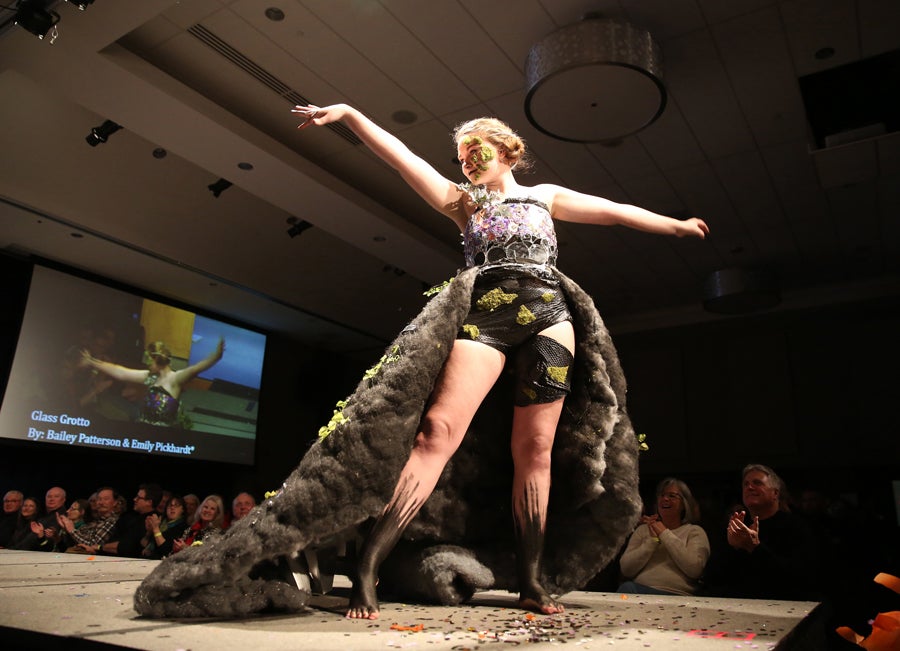 Other award-winners were:
First place, "Glass Grotto," by Bailey Patterson, of Superior, and Emily Pickhardt, of Anoka, Minn.
Second place: "Garden of Eden," by Jewel Fredrickson, of Boyd, and Hailey Pfister, of Oconomowoc
Third place: "Cosmic Racer," by Ryan Kilmer, of Stillwater, Minn., and Kiersten Ziegler, of Burnsville, Minn.  
A sellout crowd of more than 600 people attended the show in the Great Hall.
The judges were faculty members Darren Tesar, David Richter O'Connell, Shelly Pecha and Sheri Marnell.
The show director was Brynn Wildenauer, of Minneapolis, an industrial design major.
###
Photos
Andrew Bogard and Chloe Halverson walk the runway at Fashion Without Fabric after receiving the Scholarship Award for their design, worn by Halverson.
Emily Pickhardt models "Glass Grotto," during Fashion Without Fabric. The design by Pickhardt and Bailey Patterson took first place.