Collecting and saving water during the wet season in Urubamba, Peru,  could help a group of local, organic farmers continue their livelihood and traditions into the future.
Devin Berg, University of Wisconsin-Stout associate professor and program director of mechanical engineering, as part of a sabbatical, studied how to develop appropriate technology for sustainable agriculture in the Andes region of Peru. Berg and his family traveled there in the summer of 2019.
Berg met with the Canastas Verdes, a collective of women farmers who grow organic. "They use techniques passed down through oral tradition from their ancestors and sell products in the local market," Berg said, noting there are now five members.
Using roughly 30-by-90-foot plots called chakras, the farmers grow produce to help support their families, Berg said. The collectives help each other, including making organic fertilizer and sharing their message of growing healthy, nutrient-dense food without pesticides or chemical fertilizer.
"One of the main challenges for the chakras is keeping them watered, especially during the dry season when water is rationed," Berg said. "Water access is limited and sporadic. There is a series of canals – many built by the Incas --  that run over the entire valley."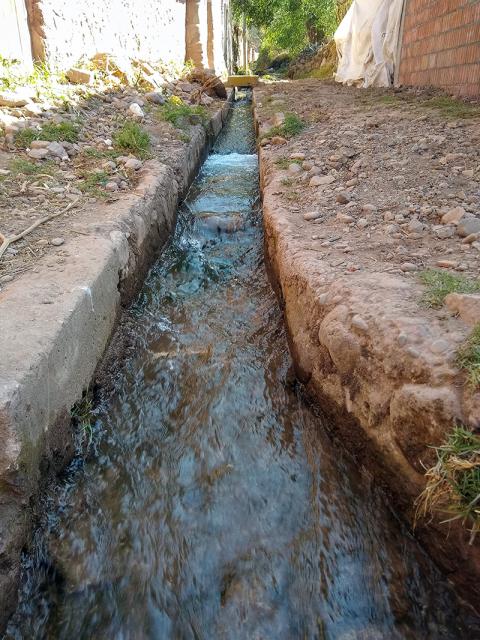 The gates to the canals, some of which are metal and others formed from rocks, must be manually opened, bringing water to a region for two to four hours every two to three weeks, Berg said. "That results in flooding," he said. "They get more water than they need and it is lost to evaporation. The daily water needs could be met in about 4½ minutes."
Megan Youngmee volunteers with the chakras to help them maintain a market and think about the long-term sustainability of the group. She said the glacier that holds and stores rain for the dry season has receded by one-third to half in seven years that she has lived in Peru with her family because of drought.
Agricultural lifestyle is water dependent
"The agricultural lifestyle is so connected to and dependent on consistent rains," she said. "Water storage is crucial with the coming and already happening drastic changes in climate coming for the women and the entire community of farmers here in the Andes.
"Luckily, the climate of the Sacred Valley allows for yearlong growing, but it is starting to change as the rains come later and later, for shorter seasons, and less quantity of rainwater. As the glacier runoff is decreasing substantially, we are seeing a perfect storm of water issues for the entire area," Youngmee said.
Having backup water would ensure drinking water for residents and the ability to grow agriculture year-round, Youngmee said. "We'd like to explore water capture from rooftops, tank storage as well as pond backup and grey water systems in the long term," she said. "Backup tank storage to start can be the difference of losing an entire crop that took months to seed, compost and sprout, saving the women from months of lost work and future profits as well as the ability to feed their families.
"Even with low water and drought-resistant crops, a few consistent watering (opportunities) during especially parched months can mean the entire farm is saved. It's really about applying some foresight, water conservation methods, the wise use of current resources using low tech, appropriate tech to maintain and save a lifestyle that has existed here for generations," she said.
Berg started working on the engineering to capture rainwater from chakra building roofs and, if allowed by local leadership, to collect excess canal water during the wet season, store it and use it during the dry season. He looked into using a hydraulic ram pump that would do both and require no electricity, only pressure that could be provided from the canals.
Youngmee said she was impressed by Berg's compassion, understanding, respect and desire to collaborate with the chakra owners. "He understood that simply throwing high tech engineering solutions was not what the women needed," Youngmee noted. "He took the time to get to know them, really understand the challenges and apply his wealth of wisdom and information to truly offer help and solutions that would affect the women's lives and the entire community. He has been a beacon of light in collaboration, transparency, integrity and using appropriate technology to not inflict damage or dependence."
After living in Peru for five months, Berg and his family traveled a bit before they ended up returning to Wisconsin because of the COVID-19 pandemic.
Pandemic delays return for pilot project
The pandemic also delayed Berg's plan to return to Peru this past August with two study abroad students to pilot the installation of a water catchment and storage system at one of the chakras and collect information needed to design systems for a few others , Berg said. He is not sure when that trip can take place but not until travel is safe again.
Berg traveled to Peru under the G.A. Taft Manufacturing Engineering Professorship, a three-year award. Professorships, for which professors must apply, allow faculty to pursue professional development in scholarly or academic areas aligning with the mission of the university. Use of the stipends must meet state guidelines. Award recommendations are made by the Named Professorship Committee and approved by Chancellor Katherine Frank.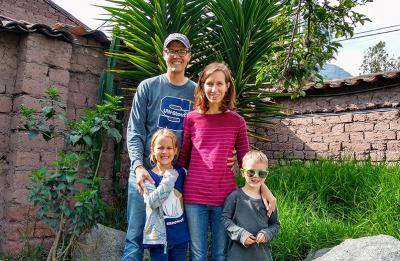 Berg hopes the project will lead into a study abroad program for engineering students eventually. "UW-Stout has hosted a few Peruvian students over the past couple of years and I'm hoping we can reciprocate that."
Some of the work developing water storage would also be a good fit for student capstone projects at UW-Stout.
He also hopes to take some of the farming practices he has learned in Peru to local, small farms and help develop partnerships with small producers.
Funding for professorships are through Stout University Foundation and are approved by the UW System.
Also while on sabbatical, Berg started Open Engineering Inc., a nonprofit to help develop and promote  open practices in engineering. It would provide resources and trainings for engineers to develop open workflows and participate more fully in the dissemination of engineering knowledge.
Open Engineering also will help support Engineering Archive, which Berg started as well.  Engineering Archive has partnered with the Center for Open Science to build a free, open access, open-source archive for engineering research and design. The initiative responds to the growing recognition of the need for faster, open sharing of research and design on a truly open-access platform for all engineering disciplines. Papers on the Engineering Archive will be permanently available and free to the public.
UW-Stout's engineering and technology department also offers degrees in computer and electrical engineering, manufacturing engineering, plastics engineering, engineering technology and packaging.