Alan Scott, a physics professor at University of Wisconsin-Stout, can remember watching on a black and white television the first step Neil Armstrong took on the moon July 20, 1969.
"I didn't comprehend the magnitude of the project and the momentous feat I was watching," Scott said.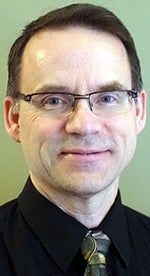 However, in 1975 when the Apollo-Soyuz mission occurred and for the first time an American spacecraft docked with a Russian one, Scott knew he was interested in space and physics. "The Apollo 11 mission encouraged people to go into science, technology engineering and mathematics careers."
Knowing the 50th anniversary of the first man on the moon was coming, two years ago Scott created a replica of the Apollo 11 spacesuits that he could wear. "I thought it would be exciting and fun, and very few people have done it," Scott said, noting outside of museums and space agencies few people have an Apollo moon-walking spacesuit.
He taught himself to sew watching instructional videos on social media and used pictures of the original suits. "It is made of a heavy canvas and has tube structures on it," he noted. "I used an old pair of sweatpants as a pattern for the bottom and a sweatshirt for the top. There is a lot of Velcro on the suit."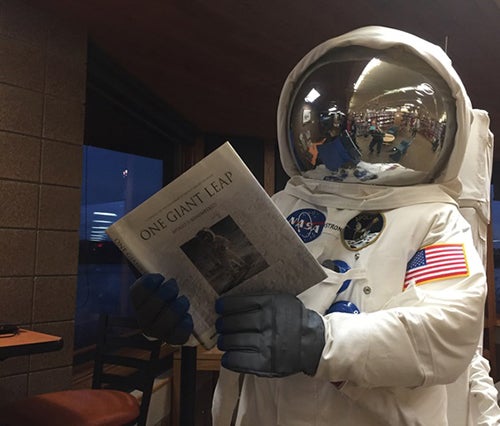 The helmet is a plastic sphere carved by Scott with a rotary tool, and he added reflective film to depict the mirrored astronauts' helmets. The suit has a ventilation system with a computer fan powered by a rechargeable battery in the helmet and a breathing tube. He also has a vest with ice packs inside to help him stay cool.
"It's kind of like a movie prop," Scott said.
The spacesuit took about 80 hours to make. Scott has worn it in parades, including the Menomonie Winterdaze Parade and recently in a parade in Botkins, Ohio, where he took first place for his float depicting Armstrong's first step on the moon. Botkins is about 10 miles south of Armstrong's birthplace in Wapakoneta, Ohio.
The spacesuit along with a 3-foot-tall Lego rocket Scott built will be on display at the Menomonie Public Library through Friday, July 19.

The Lego model contains 1,969 pieces and took Scott about 12 hours to build. It is a model of the Saturn V. Also on display will be a 6-foot by 6-foot high-resolution picture of the moon taken from Apollo 11 for people to take pictures with and a newspaper with the moon landing from 50 years ago.
Other events at the library include:
9:30 p.m. Thursday, July 11, star gazing with telescopes, weather permitting

7 p.m. Monday, July 15, a showing of the PBS NOVA presentation "First Man on the Moon," a portrait of Armstrong

7 to 8:30 p.m. Tuesday, July 16, Scott will host a model rocketry workshop. Middle school to high school students will build a model rocket. "Associated with the build, I am going to do a presentation on the science of rocketry and the Apollo 11 program," Scott said. Weather permitting the rockets will be fired up at 8 a.m. on Saturday, July 20, at Menomonie Middle School.

6 to 7:30 p.m. Wednesday, July 17, Scott will host a program on the Mars Lander. Elementary-age students will build a simple lander from a kit Scott developed. Using a paper cup, sticks and sand, children will be able to build an experiment showing negative and positive buoyancy.
On Wednesday, Aug. 7, John Heasley, who volunteers as a solar system ambassador master teacher with NASA, will present "Giant Steps."
To learn more about events, as well as the Apollo 11 50th  anniversary celebration, visit the library website.
Library Director Ted Stark said Scott has an affinity for space and NASA. "This programming is good to recognize there are young kids coming up and to encourage young kids to look into science as a career," he said.
For the future of the space program, Scott is not an advocate of returning to the moon. "We've been there," he said. "I would really like to see a manned trip to Mars. It would be expensive, but it would be exciting."
###
Photos
Alan Scott
Scott at the Menomonie Public Library in his spacesuit. The library is celebrating the 50th anniversary of the first man on the moon with special programming.
LEGO Saturn V model