This story comes from the Graffiti and Street Art course taught by Cynthia Bland and Wade Lambrigtsen. Students learn the history and differences between graffiti and street art—one unsolicited and often considered vandalism and the other, a commissioned public work or one produced with the property owner's consent. This is about the second student-painted mural on Applied Arts. (You can read more about the first mural online.)
---
Imagine this: A pure blue sky, no clouds. Bright, hot sun with a nice breeze. It's 75 degrees and Lynyrd Skynyrd's "Sweet Home Alabama" is playing on someone's Bluetooth speaker. (Feel free to play it while you read.)
It's the perfect day to paint a mural.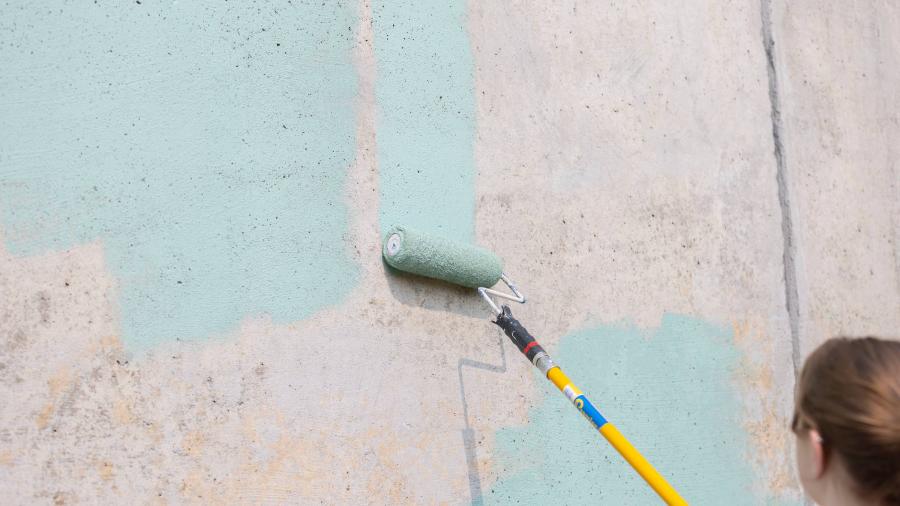 When you think of a mural, what pops into your head? 
Many are chipping off Main Street buildings in small Midwestern towns, but more are being painted on busy streets in large metro areas. In June 2022, Minneapolis added a new Prince mural near First Avenue.
Reader, we challenge you to keep your eyes on the lookout for the colorful moments of life.
While walking your dog. Getting lunch with friends. Shopping downtown. Keep looking!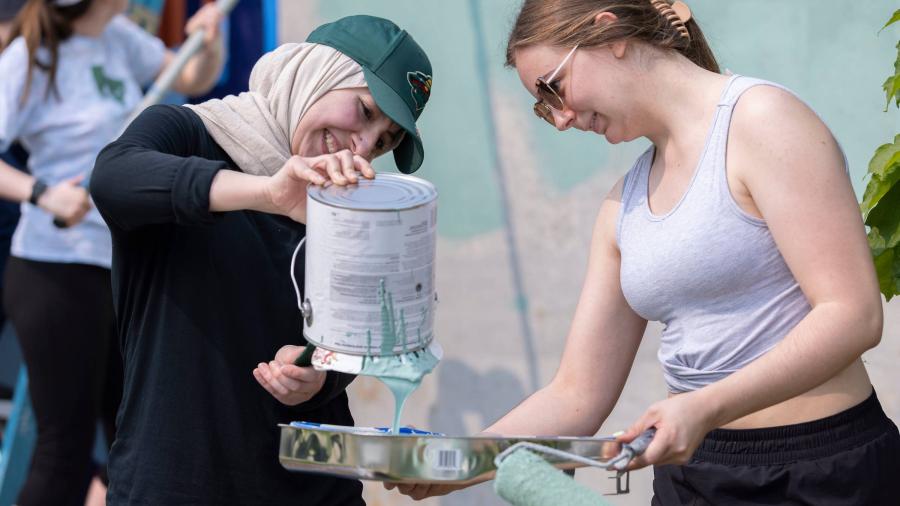 Fourteen students from the summer Graffiti and Street Art course, co-led by Professor Cynthia Bland and Lecturer Wade Lambrigtsen, have painted a new mural next to the one from last summer on the east loading dock of the Applied Arts Building.
Wade is the owner and proprietor of Vintage Sign Shop in Menomonie and has been hiring UW-Stout students for 20 years. This is his second year co-leading the class, mentoring students as they learn the ways of mural painting.
This mural magnifies art minors, while the mural from last summer depicts art majors.
Every art student builds their major on a strong foundation of art principles. Adding a minor on top gives our students the boldness to stand out as they venture into their careers.
The final design was the winner of a school-wide mural design contest. It was a collaborative design by four graphic design students from Design Professor Erik Evensen's Digital Illustration course. *snaps*
And this year, Cynthia and Wade were given a budget to commission the designers—Cha-ching!
We hoped to squeeze out some inspiration from Wade with an interview, but he only got a few words in as he was repeatedly pulled away to assist students.
That was all the inspiration we needed. It's hard not to admire someone who invests so deeply in our students' growth.
Wade shared that the hardest part of the mural is first day. Students agreed, saying the most challenging part was the prep.
Clean. Prime. Stencil. Project. Trace.
Student and mural painter Lainey Weix compared it to an artist getting to know their canvas.
Once the wall is prepped, Wade said the rest is "gravy."
Sure, murals are kinda neat. But, what's the point?
Beauty. Community. Creativity. Storytelling.
A mural doesn't sit quietly and wait for someone to see and admire it. It speaks all day, everyday to the passersby, the birds, the wind. It's always communicating something.
The student muralists are telling the colorful and exciting story of what goes on inside the building on the outside. 
In this case, they're giving everyone the chance to judge the book by its cover, because the cover is interesting and beautiful. Our art and design students are vibrant, professional, hardworking and creative.
If these deep greens and oranges don't speak to you…we've just got more painting to do. 
The week scheduled for painting truly was a gift from the mural gods. Low humidity, sunny and a nice breeze. While that sounds delightful, the painters were standing, backs, legs and necks to the sun. The risk of sunburn was real.
To be more efficient on the wall, the class was split up in two groups each day: morning and afternoon.
However, students always stayed later than they should have because they loved it. Lainey and fellow painter Jordan Miinch said the entire painting process was full of joy. Once everyone found their "flow," it was smooth sailing.
Since the completion of the first mural, everyone's been dreaming about the next campus canvas.
Jasmyn Sellner, a graphic design major and mural painter, said the Communication Technologies building would be a strong candidate since it gets overlooked sitting next to Bowman and Harvey Hall.
Art students, naturally, want more art in the Applied Arts building. If the outside says "artists are here," the inside should scream it.
When you work on a mural, everyone finds their place.
Some people discover their strength in pulling long lines of paint with precision, while others discover it in perfecting the details. Some painters even went freehand. 
It's a privilege to paint a mural. Helping create something that will outlast you is a special thing. A student from last summer's course, Camile Lemm, was awakened to the excitement of murals and is now working at the Vintage Sign Shop as Wade's apprentice.
Who said painting on walls wasn't a solid career choice? (Sorry, Mom.)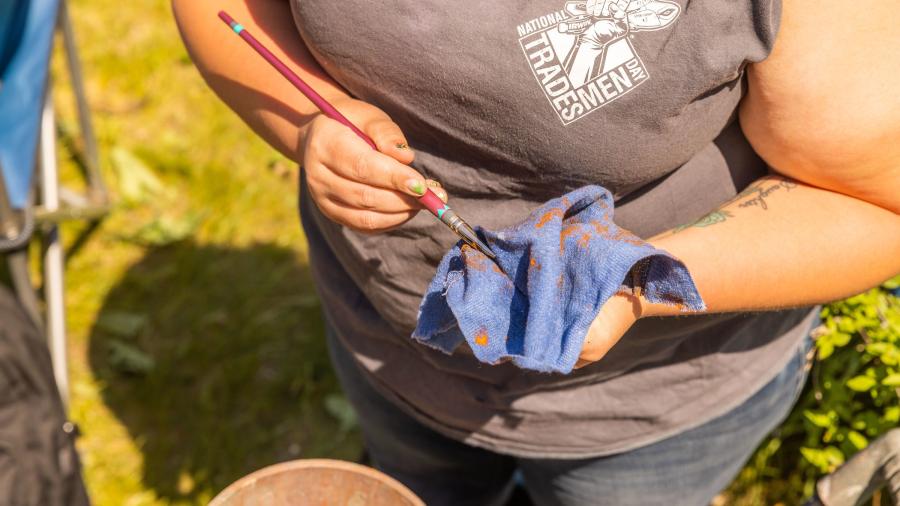 Despite how exciting we describe mural painting, not everyone thinks art provides a clear career path.
There are more than 10 million colors to ponder when looking for the perfect hue, tint or shade. How does an artist choose the color that will produce the feeling they intend?
Cue the magic.
Curious about color choice during the first mural, Cynthia asked the designer, "How did you come up with this orange?" The student said she went to the backside of the building during sunset, and the building was slowly being swallowed by a deep peachy glow. 
Imagine what would be lost if we didn't have artists. The world would be very boring indeed.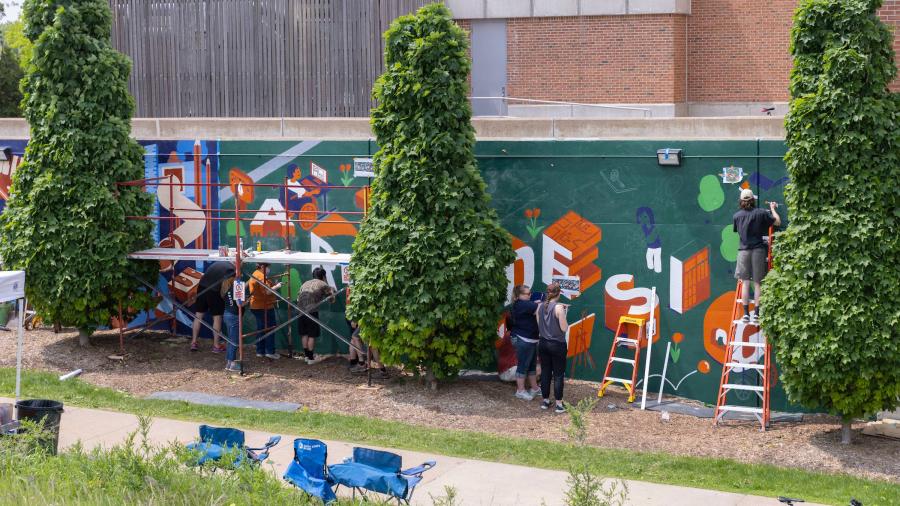 A good mural, Cynthia teaches, includes a message that can be understood by kids, and your grandmother. 
They need to keep fresh. The message requires longevity to stay interesting for years to come. 
That's not something we're accustomed to these days, are we? Culture seems to float from one trend to another, leaving behind what was all the rage two months ago to be put in the "this will be vintage in 10 years" compost bin. 
Next year, the plan is to finish painting the rest of the loading dock.
Students from any major can sign up for the class, which is a neat opportunity for non-art students to experience art in a fun, community-centered and hands-on way. 
We're not posting a finished photo so that you can experience the mural in person--how it should be experienced.
Join us on campus and check it out. Look at the fine details. Pick out your favorite part. Which color do you like best? 
Look for the beauty. 
Look for the flowers, the colors of a sunset, the shape of a cloud, or a local mural. Start literally anywhere.
What do they say? Just listen.
You might find the orange you've been looking for.