Two major benefactors spoke Friday, Sept. 14, about why they have made significant donations to the Stout University Foundation as the University of Wisconsin-Stout kicked off the public portion of its Pathways Forward comprehensive campaign.
Pathways Forward has a goal of raising $35 million, and $30.6 million has been raised so far. Chancellor Bob Meyer announced an "aspirational goal" of $40 million during festivities Friday. The campaign runs through June 30, 2020.
The benefactors, Meyer and a student spoke at a news conference in the Memorial Student Center.
Attending were Dallas and Edith Pankowski of Plover, who own a real estate construction management company; and Joe Pregont, president and chief executive of Prent Corp. in Janesville. Pregont and Dallas Pankowski are UW-Stout alumni, and the former Edith Rogers is from Menomonie.
"This is a really historic moment for the University of Wisconsin-Stout," Meyer said, citing the need for private funding to support the university's goals. "We have to make sure to continue to invest in resources to keep pace and keep the student experience state-of-the-art. We want to continue to deliver a graduate who is highly sought."
A $4 million estate gift, the largest single gift in UW-Stout history, by the Pankowskis was announced.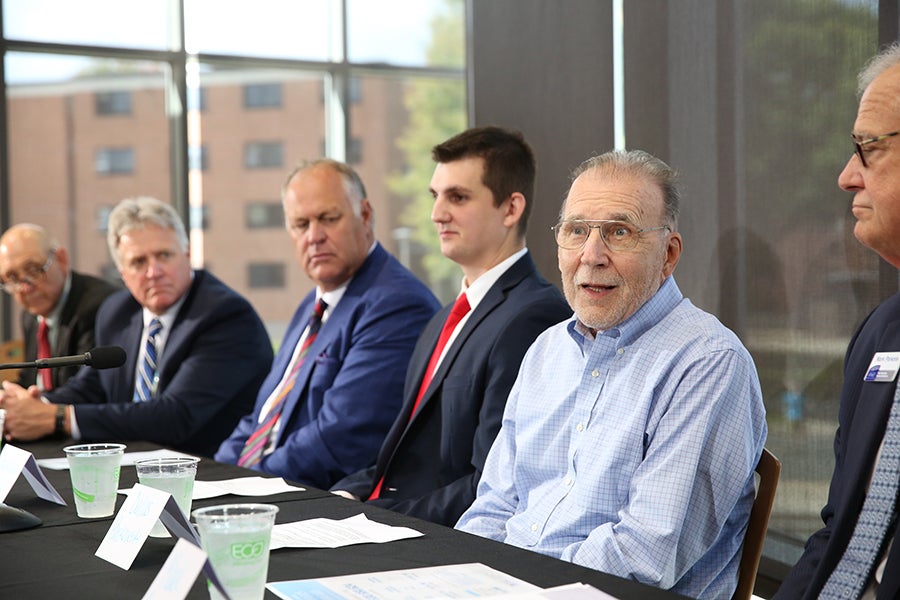 Dallas Pankowski expressed gratitude to the university for the education he received and the desire to help future students as the reason for the major gift. "I hope that possibly, someday, a young person like I once was can avail themselves of that special program we call a Stout education," he said.
"I've always had a warm feeling in my heart for Stout because of what Stout did for me," he said, noting when he came to UW-Stout in the mid-1950s it was the first time he'd ever set foot on a college campus.
"I want to ensure that Stout continues its role as a school of superior hands-on education, a school that combines technical and liberal arts education. What I remember most about Stout is working in the labs, doing real projects, doing real things with my teachers — that personal interaction," he added.
The Pankowskis established Pankowski Associates, a real estate construction management company in the late 1970s. Dallas, a native of Milwaukee, earned bachelor's and master's degrees in industrial education from UW-Stout in 1960 and 1961 and a doctorate from the University of Missouri. He taught electronics at State University of New York-Oswego before going into business in the Stevens Point area with Edye.
In addition to a new $4 million estate gift to UW-Stout, they previously created an endowed scholarship in their name at UW-Stout and are lead donors for a planned amphitheater at Schmeeckle Reserve in Stevens Point.
A gift of $1 million by Pregont also was announced.
"It brings me a lot of pleasure to be able to come back here and be part of helping pay forward what the university needs to do to improve themselves and be better," Pregont said.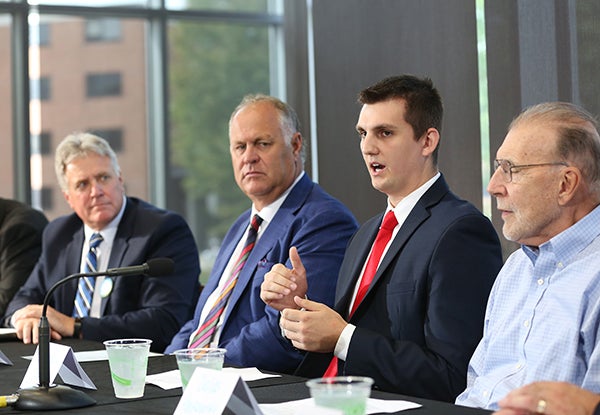 Joe and Tina Pregont, of Janesville, are principal owners at Prent Corp., which makes custom thermoform packaging for the medical, electronics and consumer industries. Their $1 million gift to UW-Stout includes $500,000 for the Prent Packaging Equipment and Technology Fund and $500,000 for the renamed Prent Packaging Laboratories, which was dedicated Friday afternoon.
"It's important that Stout is the absolute leader not only in packaging but in all the (programs) here," he said, challenging others to support the Pathways Forward campaign. "I'm very proud to have the lab named Prent Packaging Laboratories."
Joe Pregont is a 1981 UW-Stout graduate, with a degree in industrial technology and a packaging concentration. He became president of Prent in 1985, after the retirement of his father, Jack Pregont. The company, with sister company GOEX Corp., has facilities in seven countries and employs more than 2,000 people. Since 1967, Prent has 16 WorldStar medical packaging awards. 
Also speaking was Harrison North, of Rockford, Ill., a senior packaging major who will graduate in December. He already has seen the benefits of improved equipment in the Prent lab. "It will help make classes run a lot smoother and more efficiently," he said.
The Pregonts' donation makes UW-Stout's packaging lab state-of-the-art and one of the best in the U.S., North said.
Besides the news conference, the campaign kickoff included tours of various places on campus that will benefit from Pathways Forward, along with a late afternoon celebration in Harvey Hall Theatre.
###
Photos
Top: Dallas Pankowski, second from right, speaks at the Pathways Forward news conference.
Bottom: Student Harrison North, second from right, speaks at the news conference.