University of Wisconsin-Stout senior Josh Helmueller loves all the outlets in his residence hall room at North Hall and the flexibility of having moveable furniture to design the room the way he wants.
Helmueller, of Wausau, game design and development-art major, also likes the laundry facilities on each floor of the newly remodeled building and the updated bathrooms.
"I like the separate shower stalls with doors and a bench where you can set your clothes," he noted. "I'm super excited about the game room area and commons area because I like to set up Dungeons & Dragons games."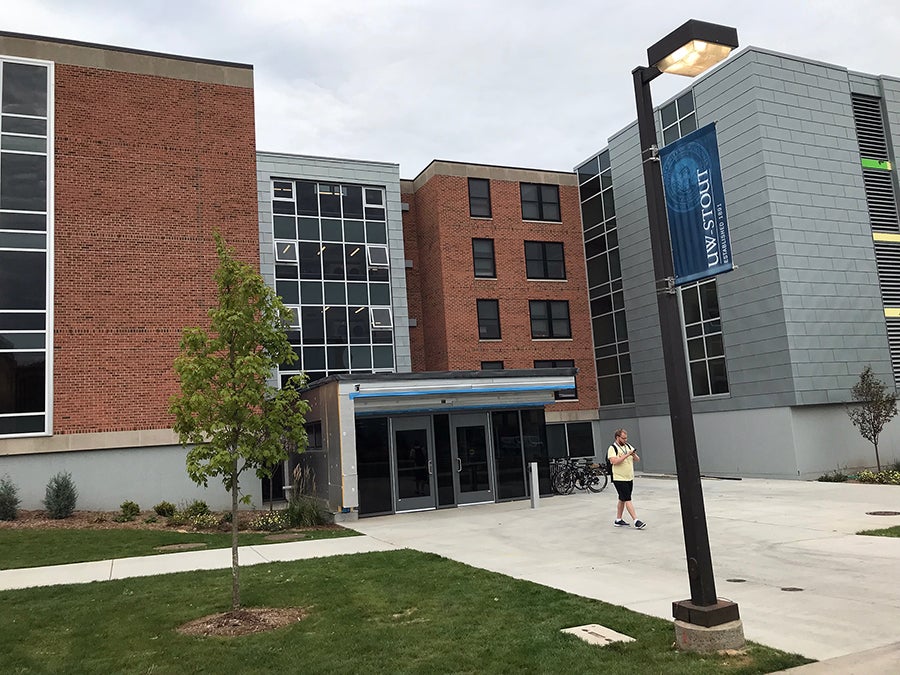 North Hall underwent a $21.74 million renovation, funded with student fees, that includes all new student rooms, bathrooms, common areas, entries and infrastructure. Built in 1967, the building has expanded 14,000 feet to about 90,000 square feet. It is home to 373 students.
The renovation began in spring 2018. North Hall was closed during the 2018-19 academic year.
The bathrooms were moved to the outer edges of the building, opening up space in the middle of each of the four floors for lounges with natural light. Each floor also has a congregate kitchen with a stove, refrigerator, sink and microwave as well as counter seating to look over the campus, said Justin Fults, assistant director of University Housing.
Signs throughout the residence hall welcomed students to their new home as they moved in Sunday, Sept. 1. "We want to make them comfortable and feel like this is their home," Fults said.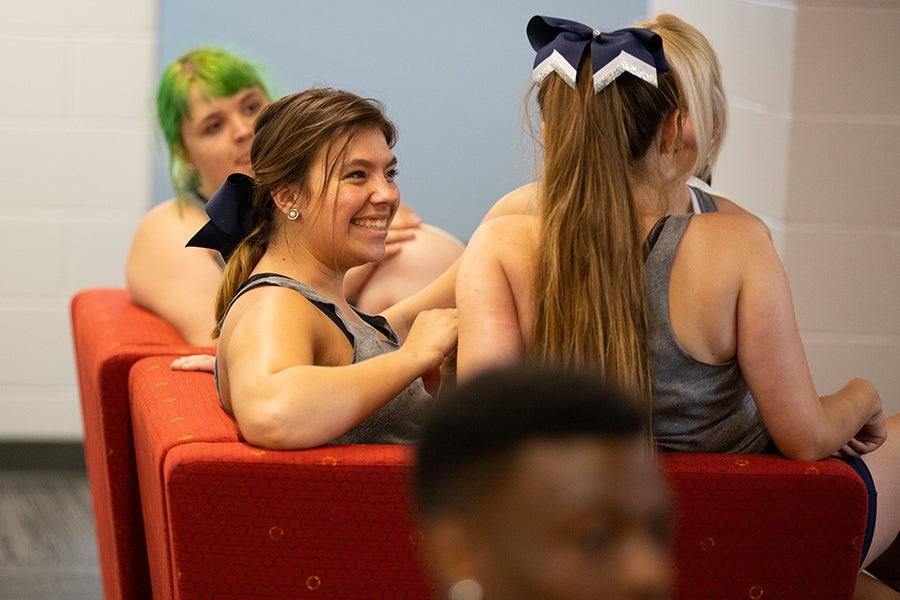 Featured in the common areas by the game room and lounges are wooden cloud ceilings of maple, ash and some oak, repurposed from the dozen trees that had to be taken down around the building for the renovation, Fults said.
The lower level features a conference room for staff or students and an area with private study corrals. Two rooms are equipped for easy Skype access to allow residents an opportunity to video chat with family and friends.
There also is a quiet area for meditation and contemplation. Private handicapped-accessible restrooms in the basement open with wave motion and have a bar so they don't close until the doorway is clear. Fifteen of the bathrooms are gender neutral.
The residence hall is largely made up of double-occupancy rooms, along with five four-person rooms. Each double room has eight outlets, and the furniture is moveable.
The double rooms have two open closets, and the lights are dimmable. The four-person rooms have moveable dressers with hanging space to allow for more flexibility and 16 electrical outlets.
Out@Stout, the LGBTQ inclusive community in North Hall, has space for 98 students. The university has offered such housing for about eight years. Students select the Out@Stout community when they sign up for housing.
All of the lighting in the building uses LED bulbs for energy-efficiency and to cut down on waste by having to replace bulbs less often, Fults said.
Different cubes of the building are either purple, green or blue to help students who may be visually impaired to locate their rooms.
"There is brand new heating throughout the building," Fults said.
Many international students will live in North Hall, which will add diversity, Fults said.
Eventually the plan is to add a patio space outside for students to gather or study, Fults said.
###
Photos
North Hall features energy-efficient lighting and wooden cloud ceilings in the lounge areas from repurposed trees that had to be removed for the renovation.
North Hall underwent a $21.74 million renovation that includes all new student rooms, bathrooms, common areas, entries and infrastructure.