Speaker after speaker — seven in all — cited Chancellor Bob Meyer's personal and professional skills as they looked back at his career at the University of Wisconsin-Stout.
When it was Meyer's turn to speak at his farewell event Wednesday, May 8, he chose to focus on the people who made those years impactful.
"A special thank you to our amazing staff and faculty, who have allowed me to share in your success and the impacts on our students. It has been an incredible privilege and honor serving as your chancellor," he said.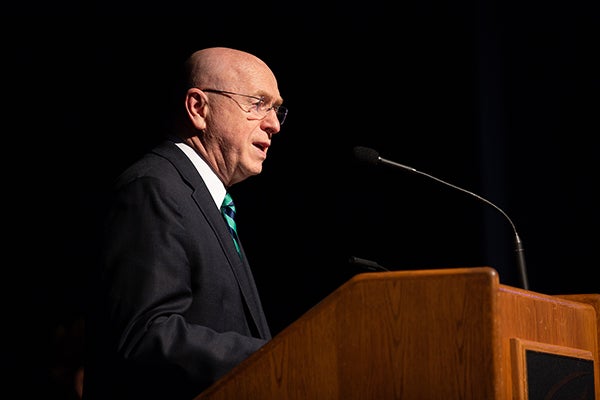 The progress made by the university the last five years was the result of "a faculty and staff who are engaged, focused on student success, committed to continuous improvement and not just 'inspiring innovation' but making it a way of business," he said.
Meyer took over as chancellor Aug. 16, 2014, and will retire Aug. 18. He replaced the late Chancellor Emeritus Charles W. Sorensen.
Meyer's career at UW-Stout has spanned 32 years, serving first as a professor and then in administrative roles. Those years don't include his years as an undergraduate and graduate student beginning in the mid-1970s.
More than 200 people attended the event in the Great Hall of the Memorial Student Center.
Along with faculty and staff and those who spoke on his behalf, Meyer thanked his family and other attendees, who included UW System, state and federal government and local officials.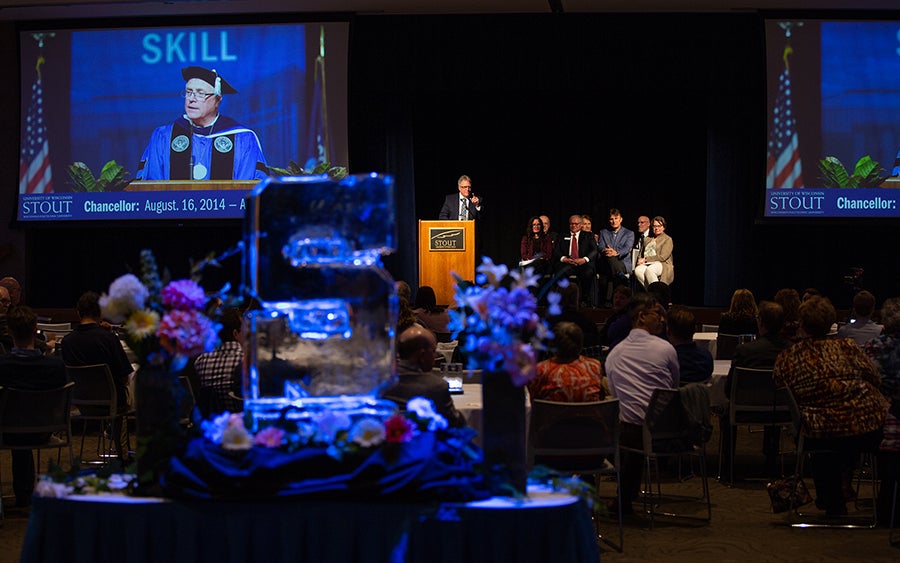 His initial retirement plans include traveling with his family around the country and internationally. "I'm OK with this strategic plan and am looking forward to executing it," he said.
Speakers talk about his impact, legacy
UW System President Ray Cross said Meyer was a perfect fit to lead UW-Stout, citing his background, listening skills and as a fundraiser, the latter which "speaks to his personal attributes."
"I hope that as you look back on your career, you will see the legacy you have left. Not just in the facilities and the support you've given to faculty and staff but also in students' lives," Cross said.
Cross also joked that he preferred to call Meyer's retirement a "vacation" because he'd like to convince Meyer to eventually return to the system in another capacity.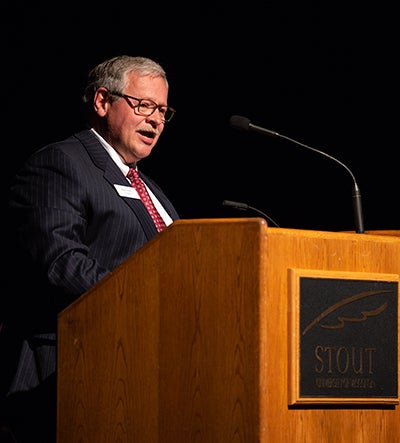 Mark Tyler, a UW System Board of Regents member and president of the Wisconsin Technical College System board, praised Meyer's collaboration and leadership skills. Meyer helped form the Northwest Wisconsin Engineering Consortium with UW-River Falls and UW-Eau Claire.
"When there is great leadership, you can see it. It's about results achieved. It's about continuous improvement of those results," said Tyler, president of OEM Fabricators. "He's lifted us by helping us lift ourselves."
State Sen. Patty Schachtner, D-Somerset, read a citation from the state Senate that cited many university accomplishments under Meyer's leadership and thanked him for his "long, exemplary service" to UW-Stout.
On a personal note, she thanked him for taking extra time to help her, as a new state senator, become more familiar with the operations and missions of UW-Stout and the UW System.
Meyer, the final speaker of the night, received a standing ovation when introduced by Scott Cabot, a friend and former classmate at UW-Stout from the late 1970s. Cabot said Meyer was the right person for the job at the right time.
One of Meyer's first challenges was dealing with a historic state cut to the UW System budget, including $5.3 million to UW-Stout. "Bob said engineers like to solve problems. I believe that nobody else had the combination of experience, institutional memory and credibility to navigate this journey. Stout came through stronger and better," Cabot said.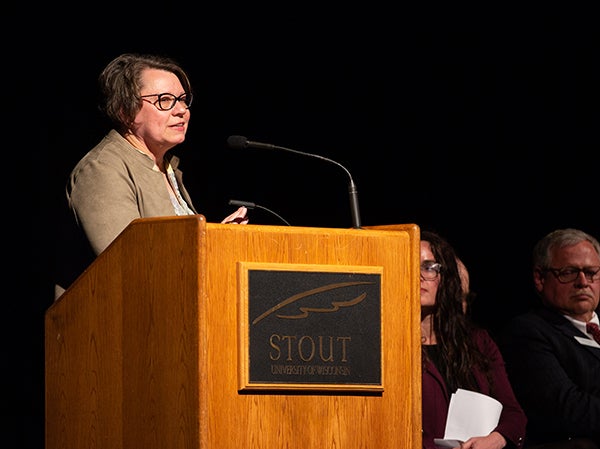 Cabot called Meyer "patient and optimistic. He can take the heat and simultaneously turn down the temperature" and that his greatest legacy will be "not what you did but who you are."
Faculty Senate Chair Petre "Nelu" Ghenciu thanked Meyer for his support of faculty in various ways and was impressed with his one-to-one interaction with members of the Faculty Senate. "We need to work together and respect each other. We're lucky to have him as our chancellor," Ghenciu said.
One of Meyer's first announced goals as chancellor was to double the assets of Stout University Foundation, said incoming foundation president Kim Polzin. The Pathways Forward comprehensive campaign has nearly achieved its $35 million goal ahead of schedule, but "it's not about our bank account. It's about innovation in programming, innovation in learning environments and enhancing students' experiences," she said.
She also praised Meyer's relationship skills. "Bob's leadership has been visionary and hands-on. For that we thank you," Polzin said, adding that Meyer has pledged to continue to meet with potential university donors after leaving the job.
The event emcee was Assistant Chancellor Meridith Wentz, who said Meyer has "impacted Stout in a profound way. What I most appreciate about Bob is his dedication to servant leadership, giving everyone a voice and making everyone feel valued."
###
Photos
UW System President Ray Cross talks about Chancellor Bob Meyer.
About 200 people attended the event in the Great Hall of the Memorial Student Center.
Longtime associate Mark Tyler speaks at the event.
Kim Polzin, president-elect of the Stout University Foundation board, praises Meyer for his work as chancellor.