Thirty years after he became chancellor at University of Wisconsin-Stout, the late Charles W. Sorensen was bestowed with an honor that should last for generations.
With a special ceremony Monday, Oct. 29, honoring his life and legacy, Sorensen Hall, formerly Millennium Hall, was christened. His wife, Toni Poll-Sorensen conveyed the feelings that she believes he would have expressed: "Chuck would be pleased and proud of this great honor."
A total of 14 family members from Florida and Michigan joined Poll-Sorensen, including their children and two of Sorensen's sisters. "UW-Stout was his life's work, and (he) loved this university. I simply can't put into words how meaningful Sorensen Hall is to each one of us," she said.
About 150 special guests, faculty, staff and community members filled the atrium of Sorensen Hall to pay tribute to the longest-serving leader in the 127-year history of the school, 26 years. He retired in 2014.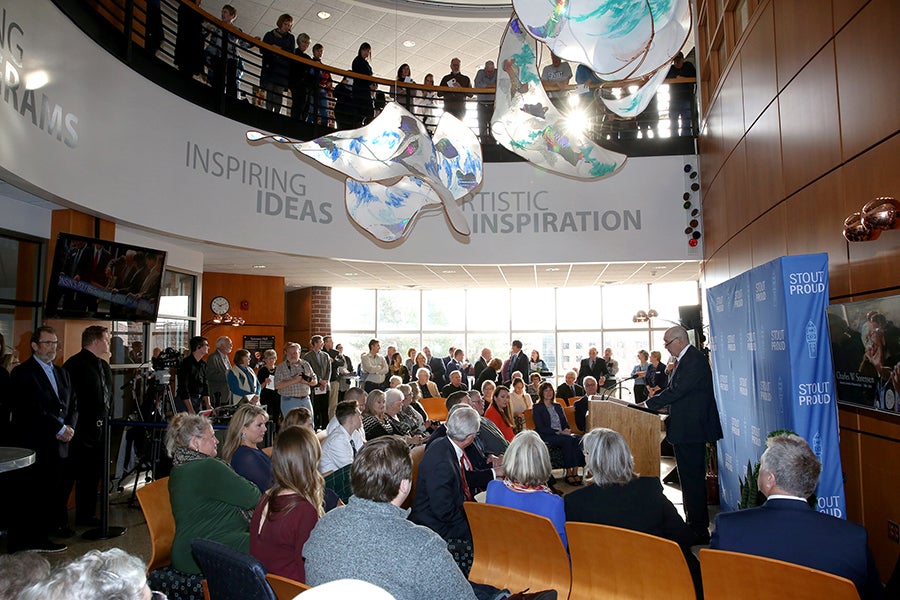 A plaque with a photo of Sorensen and highlights of his career has been installed in the second-floor atrium.
It was Poll-Sorensen's first trip back to campus since Sorensen died in February in Florida. She recalled, sometimes emotionally, how "the world to Chuck was full of possibilities." When they visited UW-Stout in 1988 before he was offered the job, he remarked, "This university is full of possibilities."
Sorensen took those possibilities and ran with them. Speaker after speaker listed the many ways the university progressed during his time as chancellor, including winning the Malcolm Baldrige National Quality Award, developing a laptop lease computer program for students, more than doubling the number of undergraduate majors, being named Wisconsin's Polytechnic University and updating facilities, including the construction of Millennium Hall in 2001.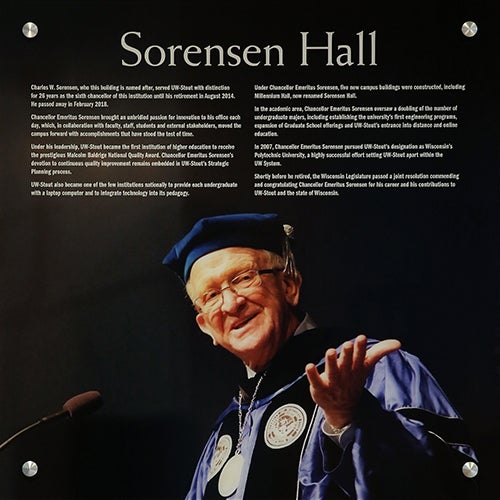 "It was a Renaissance period during which the university was reborn and revitalized," said John Murphy, a retired dean. "He drove innovation based upon the principles of communication, collaboration, inclusivity and data-driven decision-making."
U.S. Rep. Ron Kind cited Sorensen's "commitment to maintaining a very diverse and very pluralistic student body" and supporting need-based federal programs to help young people earn a degree.
An endowed scholarship in his name is awarded each year to a new, first-year student who is a first-generation college student.
"My hope and prayer for future students on campus is when they see the name on this beautiful building that they'll pause and think about his legacy for educational excellence here at UW-Stout," Kind said.
Mark Tyler, a member of the UW System Board of Regents, said Sorensen pushed to have the university recognized as a polytechnic because he believed in the value of applied learning. "When learning is in an applied setting, it's retained. This is Chuck's legacy, by institutionalizing and elevating applied learning," Tyler said.
Also attending was Ray Cross, UW System president.
Sheila Harsdorf, secretary of the state Department of Agriculture, Trade and Consumer Protection and a former state senator who represented UW-Stout, said Sorensen was passionate about higher education and providing opportunities for students. It's appropriate to name a building after him to continue his legacy, she said.
"He was a great collaborator and leader. He instilled a vision for this university. I feel privileged to have known him," Harsdorf said.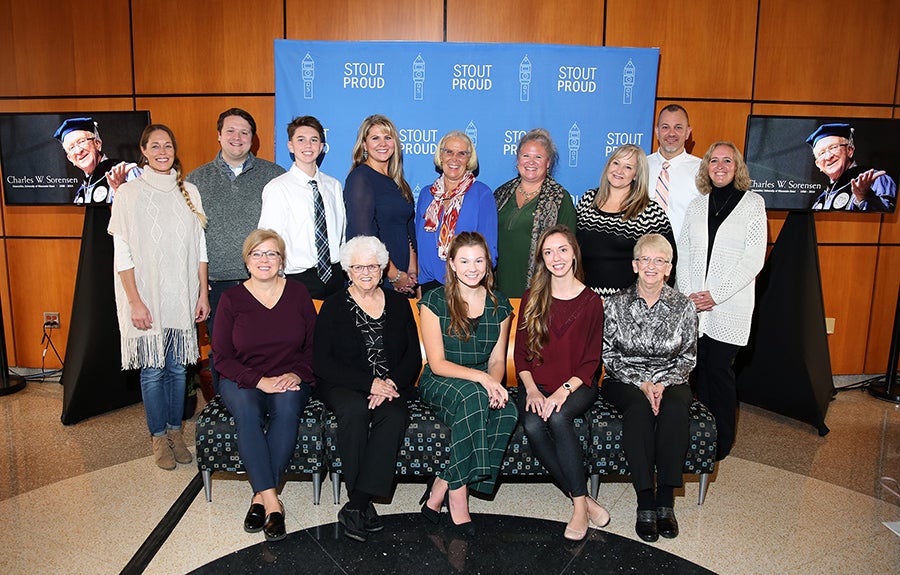 Chancellor Bob Meyer worked under Sorensen for many years and called him "a great person and leader. Chancellor Sorensen would be absolutely thrilled to see this turnout." As a technology building, Sorensen Hall "is a very appropriate place to honor Chuck's legacy," Meyer added.
Mark Parsons, vice chancellor for University Advancement and Marketing, said it was a historic day for UW-Stout. He called Sorensen's impact on the campus "transformational" and that he "blazed new pathways of opportunity for UW-Stout."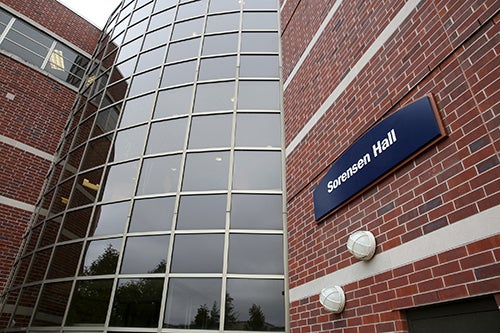 Phil Lyons, vice chancellor for Administrative and Student Life Services, remembered Sorensen's emotional final day as chancellor Aug. 13, 2014, and his final memo to faculty and staff that said, "You are all part of a fine university with unlimited potential."
Ceremony emcee Doug Mell, director of Communications and External Relations, recalled how Sorensen "had a healthy dose of stubbornness, and then some. That played a role in his success and accomplishments."
Julie Zack, executive staff assistant in the Chancellor's Office, recalled Sorensen's passion for history, his love for his family and his homemade pumpkin pies. "I was grateful to work for him and know him," she said.
Sorensen was a native of Moline, Ill. Read more about him here.
The UW System Board of Regents approved the building name change in August based on a recommendation by UW-Stout's Memorials and Honors Committee.
###
Photos
Top: The Sorensen Hall ceremony was held in the building's atrium.
Second: A plaque in Sorensen Hall details his career as chancellor.
Third: A total of 14 Sorensen family members attended the ceremony.
Bottom: Sorensen Hall, formerly Millennium Hall.