Heating Plant Superintendent Brian Lorenz maneuvered a front-end loader at about 9 a.m. Wednesday, March 4, and dumped a bucketload of coal onto a black iron grate.
The coal slowly sank below the floor of the plant, headed for the firebox in the boiler that converts water to steam to help heat 2.6 million square feet of buildings at University of Wisconsin-Stout.
The loader's scoop marked the end of coal as a fuel source at UW-Stout — and the end of an era.
By 3:20 p.m., the last of the coal had been burned through and the university made the switch to natural gas, its first new main fuel source in about 110 years, based on University Archives records.
The change took place as part of a mandate at state buildings, including other UW System schools. Reducing cost is the main push behind the switch to natural gas, with an eye on the future toward more sustainable energy sources.
The discovery of vast stores of natural gas in the U.S. and increasingly cost-efficient ways to mine it have made it less expensive than coal. "It will be the cheaper fuel for many years to come. Cost is the biggest factor," said Lorenz, who said he couldn't estimate how much the university would save because of varying natural gas prices.
Sarah Rykal, sustainability manager at UW-Stout, is pleased to see the last of the coal.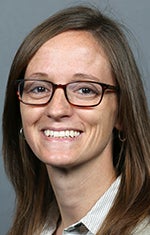 "For years we've had students and employees asking us to move away from coal, and we're very happy to be doing so now," Rykal said. "This is a big step in the right direction for our campus."
Rykal said natural gas is a "bridge fuel to a renewable energy infrastructure. While it isn't a renewable source of energy, it is cleaner to burn than coal. It will allow us to reduce our campus emissions as we continue to implement more projects and work on energy efficiency throughout our campus."
The heating plant's 204-foot smokestack no longer will emit a dark coal smoke but a white-colored water vapor that is a byproduct of burning the gas, Lorenz said.
Burning natural gas emits about half of the carbon dioxide, or CO2, as burning coal, Rykal said, citing information from the U.S. Energy Information Administration. A byproduct of burning natural gas, however, is methane, a greenhouse gas that is much more powerful than CO2.
Long-range, the university has looked into the possibility of a geothermal heating system for north campus, but it's cost-prohibitive at this time, Rykal said. She would like to see the state and UW System begin to collaborate on solutions to heating campuses with renewable energy.
UW-Stout's goal is to be carbon-neutral by 2050. Energy-saving projects on campus include solar panels on Merle M. Price Commons, with more panels to be installed this year, and a plan already underway to replace traditional lighting with LED lighting across campus.
Learn more at the Sustainable Stout website.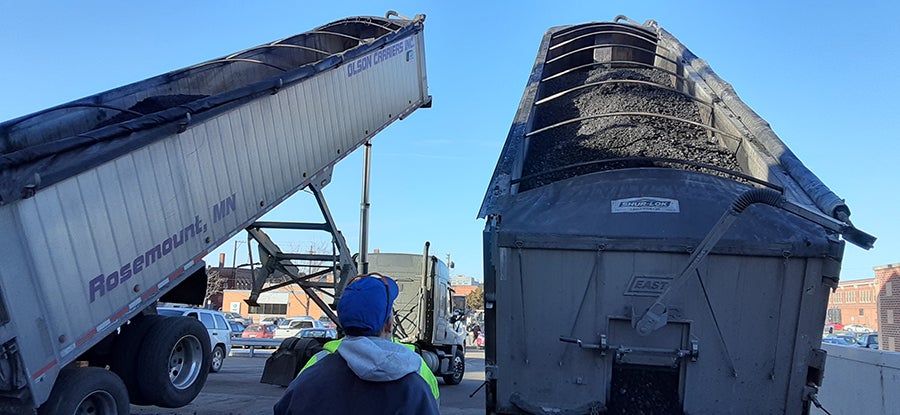 Heating plant changes
From 10 to 15 semitrailer loads of coal were being delivered per week to UW-Stout, about 1,200 tons a year. The loads were dumped at street level through a manhole into a coal-blackened holding room at the plant on Third Street E.
The coal used by UW-Stout and at other state buildings is purchased by the state, Lorenz said.
"Using natural gas will be much less mess. We'll need less equipment to operate and maintain the system. It will make everything easier, for sure," Lorenz said, noting that a coal conveyor, scale and elevator no longer will be needed.
Natural gas had been the university's backup fuel source. Now, the backup source will be fuel oil. A larger oil tank will be added this summer.
Most of the ash from the coal burned at UW-Stout is repurposed as fill by Dunn County, with a minimal amount going to a landfill, Lorenz said.
The Heating Plant began operating in 1965. The plan operates 24 hours a day and is staffed by eight employees.
###
Photos
Heating Plant employee Brian Weisenbeck checks the furnace March 4, the last day coal was burned at UW-Stout.
Sarah Rykal
The last truckloads of coal are delivered recently to the UW-Stout Heating Plant. The university has switched to natural gas. About 120 tons of coal a year were used to heat UW-Stout.