Naomi Albert, a UW-Stevens Point senior majoring in natural resource planning, enjoys the interdisciplinary approach LAKES REU offers to trying to solve environmental problems.
Albert is one of eight college students from around the U.S. taking part in LAKES, a summer research experience for undergraduate students at University of Wisconsin-Stout. The eight-week program studies issues related to cyanobacteria, commonly known as blue-green algae, in the Red Cedar watershed and how the compromised water quality affects quality of life in the region.
The watershed includes Lake Menomin, Tainter Lake and the Chetek chain of lakes.
"LAKES REU looks at issues from multiple perspectives," Albert said. "I wanted to get more relevant experience looking at water pollution in Wisconsin."
Tara Smith, a senior environmental studies major from the University of North Carolina-Chapel Hill, will interview lakefront property owners to learn how they maintain their property and how they get information on best practices. The interviews will ask property owners about using native plants and wild rice to help curb phosphorus, which feeds blue-green algae.
"I love talking with people," Smith said. "I thought it was a good idea to come to the LAKES project to learn more about research, particularly what I was interested in."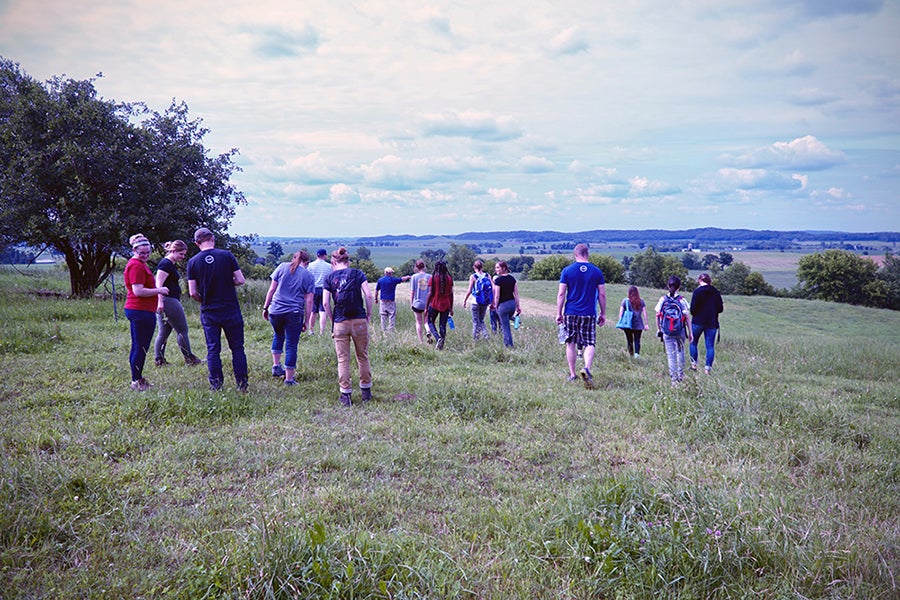 Lucia Possehl, a junior geography major at University of Vermont in Burlington, is working on the same projects as Smith. They also plan to talk with farmers to determine what inspires them to implement conservation practices, whether it be monetary incentives or personal beliefs, among others.
Possehl, who grew up near Viroqua in southwestern Wisconsin, said LAKES is an opportunity to do research that could help Wisconsin. "It's a special place in my heart," Possehl said. "It's a beautiful region. I Iike to talk to people and create productive change that is environmentally and socially minded."
Students are also doing research on policy measures to help with phosphorus pollution and people's perception of the issue as well using phosphorus to help provide power for water quality monitoring stations.
"The research this summer will range from analyzing the effectiveness of policies that already exist to experiments on producing energy out of the phosphorus in the sediment before it transitions to blue-green algae," said UW-Stout Associate Professor Nels Paulson, co-director of LAKES. "All the research is exciting — and we really try to pull in all the intellectual resources at our disposal at UW-Stout, at least as much variety as we can afford with the NSF funds." 
The students will share their summer research from 5 to 7 p.m. Wednesday, Aug. 8, at the Raw Deal, 603 S. Broadway St., Menomonie. Another forum will be held from 3 to 5 p.m. Friday, Aug. 10, at Gilligan's, 2542 8 1/4 Ave., Highway D, Chetek.
The events are free and open to the public. "Hundreds of people come to these forums and end up helping to develop new initiatives and projects each year that are cumulatively making a difference in Menomonie and Chetek and beyond," Paulson said. "These are great spaces for learning more and talking casually with others."
The students, their home universities, research focus and UW-Stout faculty advisers are:
Naomi Albert, UW-Stevens Point, natural resource planning; Arthur Kneeland

Kirsten Ondris, The Cooper Union, New York City, biology; Kneeland

Monica Kim, Occidental College, Los Angeles, economics; Zach Raff

Elle Alvarez-Casas, UW-Stout, economics; Raff

Lucia Possehl, University of Vermont, geography; Innisfree McKinnon

Tara Smith, University of North Carolina-Chapel Hill, environmental studies; McKinnon

Zayyan Swaby, Stony Brook University, New York, biogeochemistry; Matt Kuchta

Jennifer Pantelios, Beloit College, biogeochemistry; Kuchta
McKinnon, a UW-Stout assistant professor of geography, is excited about this year's research and looking into restoration of lakes and the mitigation of cyanobacteria.
"It's a great experience to get to work with these amazing students who are some of the smartest and hardest working from all around the United States," McKinnon said. "I personally like working on research involving the local community and helping people in Wisconsin."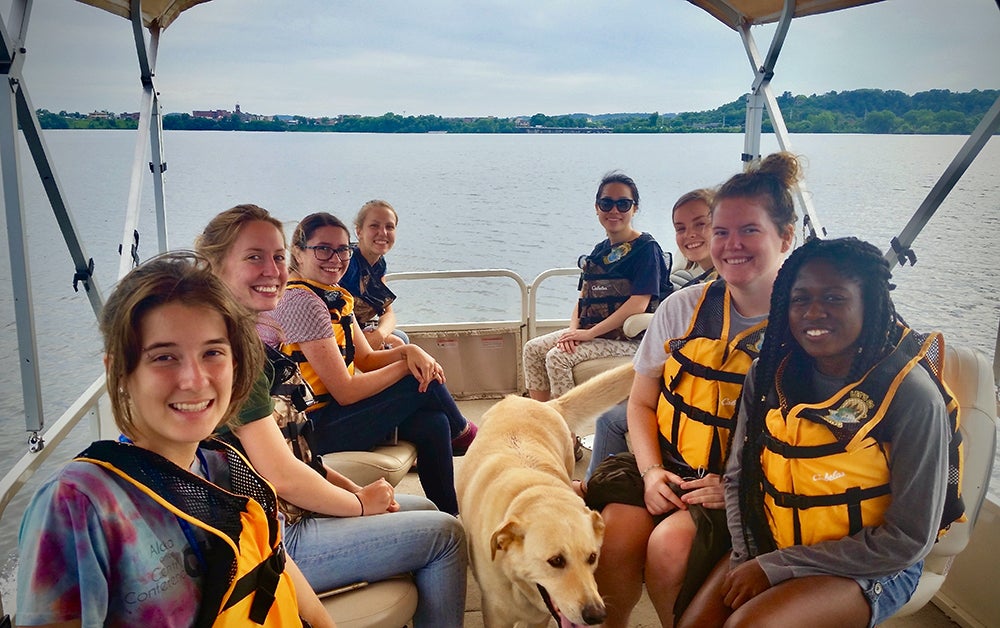 LAKES was reapproved last year for another three years by the National Science Foundation, receiving a $303,000 grant. The first LAKES grant cycle ran from 2014 to 2016.
LAKES REU stands for Linking Applied Knowledge in Environmental Stability Research Experience for Undergraduates.
LAKES students have produced research projects on social, economic, ecological, cultural and spatial issues related to the toxic blooms, which are caused by excessive phosphorous in the waterways.
Along with the student research, LAKES is collaborating with the U.S. Army Corps of Engineers and the Wisconsin Department of Natural Resources, which has $500,000 in funding for a related watershed project called the Red Cedar River Water Quality Partnership.
LAKES also collaborates with other area entities and agencies, including the Tainter/Menomin Lake Improvement Association, Dunn County, Barron County, City of Menomonie, Red Cedar Lakes Association, Chetek Lakes Protection Association and the Big Chetac and Birch Lakes Association.
The watershed includes about 40,000 acres of open water and 4,900 miles of waterways.
###
Photos
Students walk in a pasture in Dunn County to learn more about the soils and farming in the area. The LAKES REU students will share their summer research on Wednesday, Aug. 8, in Menomonie and Friday, Aug. 10, in Chetek.
LAKES REU students take a pontoon ride on Lake Menomin to learn more about the lake and blue-green algae.