Two UW-Stout students found a way to turn window blinds, window film, LED lights and an acrylic light diffuser lens into an object of beauty.
The students, interior design seniors Emily Gross, of Rochester, Minn., and Madison Goodrich, of Lakeville, Minn., created a one-of-a-kind dress out of the abstract materials and claimed second runner-up in the Best in Show category at the recent Fusion + Fashion show in Minneapolis.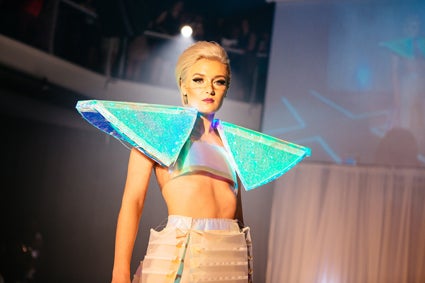 The contest drew 23 entries, including three from colleges and universities. The other entries were from professional interior design and architecture firms. With just two members, UW-Stout's team was the smallest.
Challenged to stretch the boundaries of interior design, contestants were required to design a dress using only standard interior design materials, similar in concept to UW-Stout's annual student Fashion Without Fabric show.
Gross and Goodrich created a striking four-piece garment with shimmering triangle shoulders, a metallic band top and a ribbed skirt made with Hunter Douglas blinds.
The inspiration for UW-Stout's dress came from Europe, Gross said. Both designers have studied there while at UW-Stout.
"It opened our eyes to the world of design in many ways," Gross said. "We became inspired by the idea of change. We related it to interior design and how we transform and change spaces. We wanted our outfit to reflect this idea through a change in material, light and reflectivity."
The competition challenged Gross and Goodrich to do their best. "It pushed us as designers to work at the level of professional design firms," Goodrich said.
The 10th annual Fusion + Fashion was sponsored by the Northland Chapter of the International Interior Design Association. A portion of the proceeds went to charity.
The students' adviser was Shelley Pecha, an associate professor and director of the interior design undergraduate program.
UW-Stout's School of Art and Design has six undergraduate programs and a Master of Fine Arts in design.
###

Photo
Emily Gross models the UW-Stout entry in the Fusion + Fashion show in Minneapolis. The entry was second runner-up in the Best in Show category.