Inspiring Graduate: Nick Kostka ('23)
Nick Kostka began his B.S. in special education at UW-Stout in fall 2017 and overcame many obstacles in obtaining his degree, mainly due to his obligations to the Army, he said.
From drills to training, recovering from injury and being called to active duty, being in the military during his time at UW-Stout greatly impacted him.
At one point, he was so disconnected from his education that he felt it would be impossible to return to school, having missed as much time as he had.
"I decided that education is one of my biggest passions in life, and I needed to go back. Despite all of the breaks and intermittent semesters, I am grateful for all of the staff I have worked with. They went the extra mile to help me be successful in my college education," he said.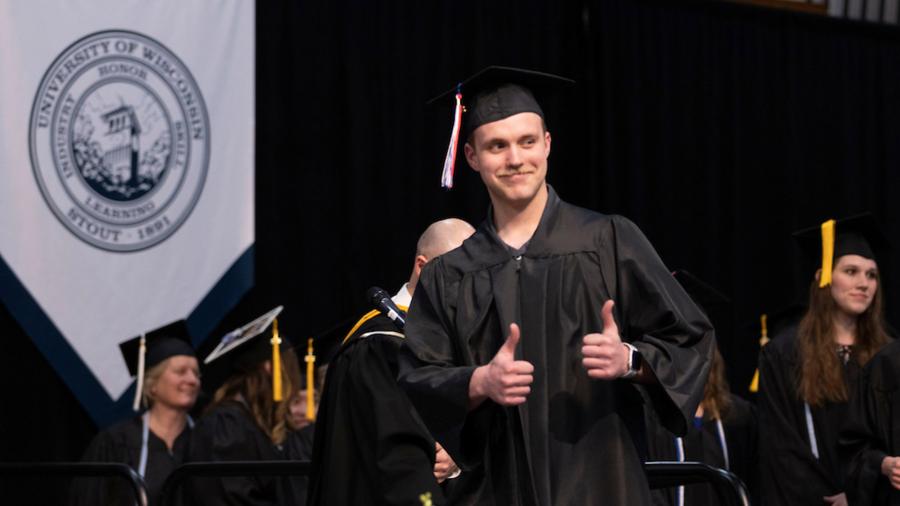 And six years after he started, Kostka is proud to have earned his special education degree on May 6, among 1,173 graduates. He plans to continue his education to obtain a master's degree and complete his military training.
"I am most proud of my determination to come back to school every time I had to take off for something. It would have been really easy to just quit, but I didn't," Kostka said.
What challenges did you face in earning your degree?
In the fall of 2018, my unit was set to deploy in Afghanistan. I left in early July for training and was expecting to be gone an entire year. This did not happen because during training I tore a ligament in my left foot that put me on crutches for a good five to six months. This happened in September, and I did not get back to campus until early October.
I felt really down on myself because I felt like I was delaying my progress at Stout for a semester for no reason since I did not deploy with my unit. Feeling this way, one of my friends told me I should reach out to the university and see if I could enroll late into some classes. I was given the green light by a few professors that believed in me and allowed me into their classes almost an entire month late. I caught up on my schoolwork around Thanksgiving and finished the semester receiving credit for my classes.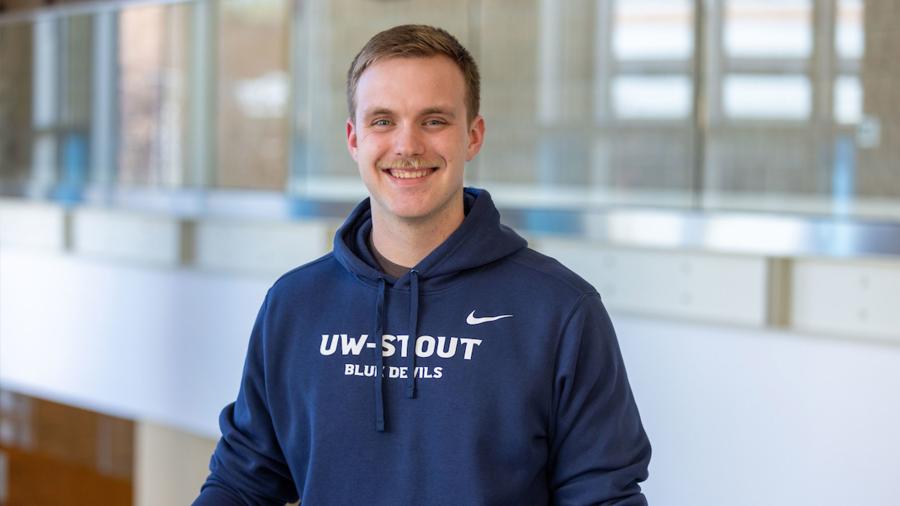 Another challenge I had was missing school for drill. Every professor I have ever had at Stout has been extremely understanding about this and accommodated to my schedule.
During the 2020-21 school year, I was called to active duty to assist the state of Wisconsin in its COVID-19 response. This lasted 14 months and took me all over the state to Madison, Milwaukee, Green Bay, Superior and Eau Claire.
How has UW-Stout prepared you to work in your field?
One of the most helpful things Stout has done for me is provide me with many opportunities to get into classrooms and get experience with actual kids. The base knowledge learned at the university was very important, but the classroom experience has helped me immensely. 
What stands out about your UW-Stout experience?
What stands out to me is the professors. So many of the professors I had were former classroom teachers, with real experience in the field. They had great stories about their time in the classroom, which helped teach me a lot about what being a teacher is about. They also were very accommodating with my military obligations. 
How have your UW-Stout education and experience changed you?
During my time at Stout, I came to realize that everything would not be just like high school. I moved out of home for the first time and had adult responsibilities. Being at Stout helped me mature and grow as a person. It taught me how to be responsible for myself, and it gave me a place to grow as a person. 
My time at Stout has been some of the best times of my life. My classes and activities have introduced me to some of the best friends I could have asked for. I am truly grateful for the opportunities Stout has given me.