A University of Wisconsin-Stout senior industrial design student wants women to start thinking about more environmentally-friendly feminine hygiene products.
Sarah Buezis, of Plymouth, Minn., created a concept called Moro, which would allow for easier and more discreet cleaning of menstrual cups in public bathrooms. Moro could be placed in individual public bathroom stalls to allow cleaning and sanitation of the cups, saving over the average woman's lifetime about 300 pounds of waste from feminine hygiene products such as disposable sanitary pads or tampons.
Buezis presented her idea to officials with Kohler Co. in late April. "They really liked it and were really interested in it," Buezis said.
Buezis saw a need for the product. She researched the issue, including surveying 160 women and trying a menstrual cup herself. "Changing them in public is pretty awful, for sure," she said. "I love designing where I can tangibly see I'm improving people's lives."
Feminine hygiene products are expensive, Buezis said, noting the average woman will spend $1,000 in her lifetime on the products. A menstrual cup is $20 and can last up to 10 years.
UW-Stout industrial design Associate Professor Jennifer Astwood said Buezis' project addresses the issues of women's health and discretion. "Her solution speaks to the problem in a thoughtful and beautiful, mass-producible appeal," said Astwood, who taught Buezis in Industrial Design 6.
Buezis, who graduated May 5 but still needs to finish a co-op program, shared the information on Moro recently at UW-Stout during the Senior Show for School of Art and Design students.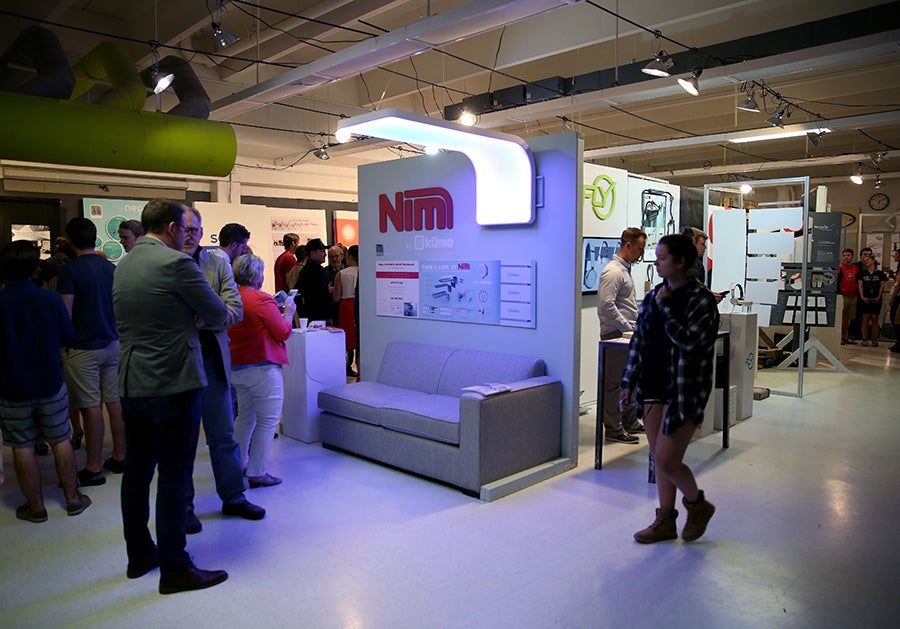 Industrial design student Logan Brooks, of Menomonie, displayed an interlocking panel system that allows desks, shelves or cabinets to be moved along a special paneled wall at different heights, providing more flexibility in a home or office space.
"It allows for each space to be different for individual needs," Brooks said. The panels would also have a layer of cork, allowing for some sound dampening and insulation.
Astwood said Brooks' furniture project was ambitious. "He did a great job rethinking storage and what that looks like," Astwood said, adding that Brooks created a visually dynamic form.
Brendan Byrne, an industrial design major from Eden Prairie, Minn., who graduated May 5, displayed a design he created for a light called Nim. As homes and apartment spaces continue to get smaller, Byrne wanted a good reading light that saves space.
"A lot of people's lights are very harsh and very directional, or they have something that is ambient and doesn't have task lighting," Byrne said. "I wanted something that could work for both functions."
Nim would go up a wall and then over furniture, such as a couch, to provide better lighting and be energy-efficient, he said.
Byrne accepted a job at Aspect LED in White Bear Lake, Minn., where he will be designing mostly commercial lighting.
Astwood, who taught Byrne in Industrial Design 6, said Byrne's passion is architecture and lighting. "His project speaks to both of these two areas." Astwood said. "I wish him well in his future endeavors doing what he loves."
The Bachelor of Fine Arts in industrial design prepares graduates for successful careers in contemporary product design. Industrial designers create and develop concepts that optimize the function, value and appearance of products and systems for the benefit of user and manufacturer.
The School of Art and Design Senior Show had about 100 students presenting capstone projects in various design disciplines, such as graphic, game, interactive, interior, industrial and entertainment, along with studio art, such as sculpture, metals, painting and printmaking.
First Noah Norton award
During the Senior Show, Blake Shermer received the first Noah Norton Portfolio Prize Endowed Fund for $1,000, named in honor of Norton, an associate professor and the university's first program director of industrial design.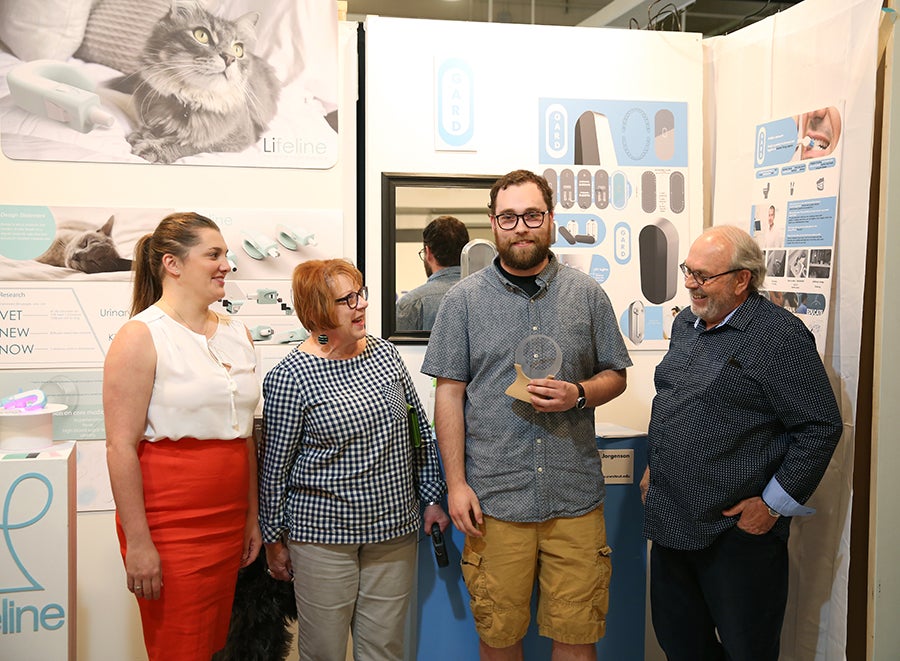 Norton died from leukemia in April 2017. He earned his bachelor's degree from UW-Stout.
Denis and Sara Norton established the fund in memory of their son. The Nortons and Noah Norton's wife, Dana Cowan, attended the Senior Show.
###
Photos
UW-Stout senior Brendan Byrne, who graduated May 5, displayed in early May a design he created for a light called Nim during the Senior Show for the School of Art and Design students. He wanted to create a good reading light that saves space. /UW-Stout photos by Brett T. Roseman.
Blake Shermer accepts the first Noah Norton Portfolio Prize Endowed Fund at the Senior Show in early May. Also pictures is Dana Cowan, Norton's wife, and his parents Denis and Sara Norton.