Amery High School sophomore Reese Benware loves the adrenaline rush of culinary competitions.
"I like being nervous and getting out there," Benware said. "I don't see or hear anything else during the competition. It's all about just what I'm doing."
Amery was one of seven two-member teams that competed in the third annual University of Wisconsin-Stout Recipe for Excellence Thursday, Feb. 13. Teams brought their cooking skills and recipes for pork to the competition, which was like the Food Network's "Iron Chef" television cooking show. Students had 60 minutes to prepare two identical pork entrees and side dishes on butane burners. A panel of judges taste-tested each of the dishes, and the other was put on display. Teams were also judged on menu design, cost analysis, safety and sanitation, presentation and fundamental cooking techniques.
Teams competing in addition to Amery were from Clayton, Green Bay Preble, Middleton and Pewaukee. Green Bay Preble and Pewaukee each had two teams. The competition was hosted by the School of Hospitality Leadership and the WRA Education Foundation. Sponsors included Hormel, ConAgra, Chef Works and PepsiCo.
As competitors chopped, grilled and sautéed fruits, vegetables and pork, the sweet smells lingered throughout the Great Hall of the Memorial Student Center.
The winning dish, honey ginger pork pho, was cooked up by Middleton High School team members Jade Davis and Hudson Roberts. The win garnered them gold medals, a trophy for their school and a $500 scholarship each to UW-Stout.
"It went extremely well," said Roberts, a sophomore. "We were ahead of time, which means we had planned it well. I'm really excited about the win and will definitely do more culinary competitions."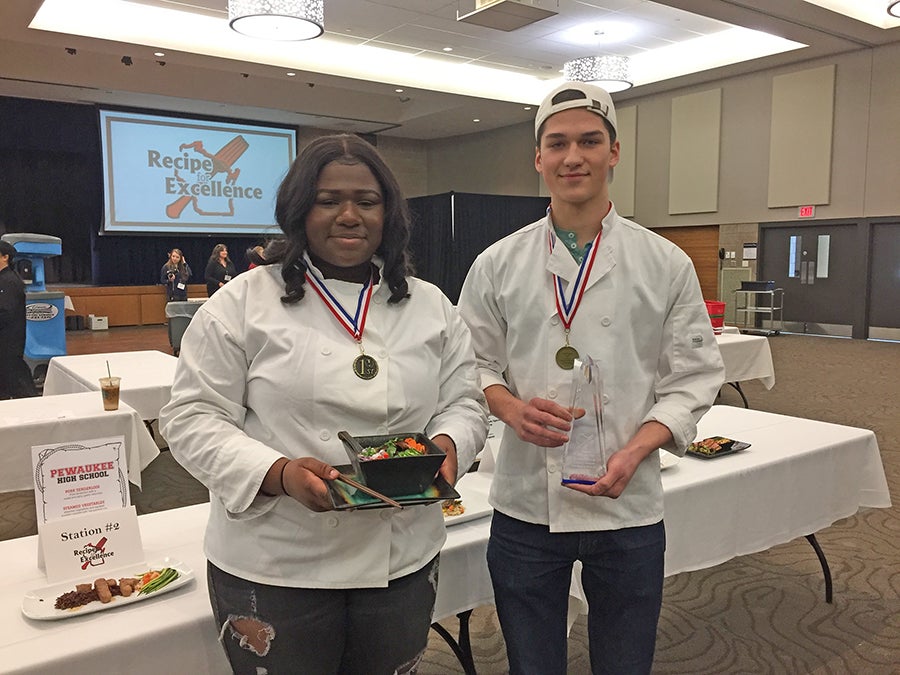 Davis, a senior, said she loves cooking and plans to pursue a culinary career. "I have been cooking all my life," she said, noting this was her second Recipe for Excellence competition at UW-Stout. "I just enjoy the challenges. I think it was our presentation and flavor that won for us."
The event served as a warmup for a state competition, the ProStart Invitational Tuesday, March 10, in Milwaukee. The state winner advances to the National Restaurant Association Education Foundation ProStart Invitational Friday, May 8, through Sunday, May 10, in Washington, D.C.
UW-Stout alumnus Alex Vernon, Wisconsin Restaurant Association and Education Foundation ProStart coordinator, said the challenge is a learning experience for high school students. "Most of them are looking to be chefs or in the culinary industry," Vernon said "This is high pressure. They are learning to work as a team. Every challenge they do, they learn something new about what is crucial in the industry."
Amery Coach Emily Larson, a UW-Stout 2013 alumna in family and consumer sciences education, who teaches at the high school, said the competition provides just a little extra challenge to the team made up of Benware and Makenna Nelson, a first-year student. "It's a learning experience for them," Larson said. "I am very proud of them. It's just so great to compete and learn from other schools.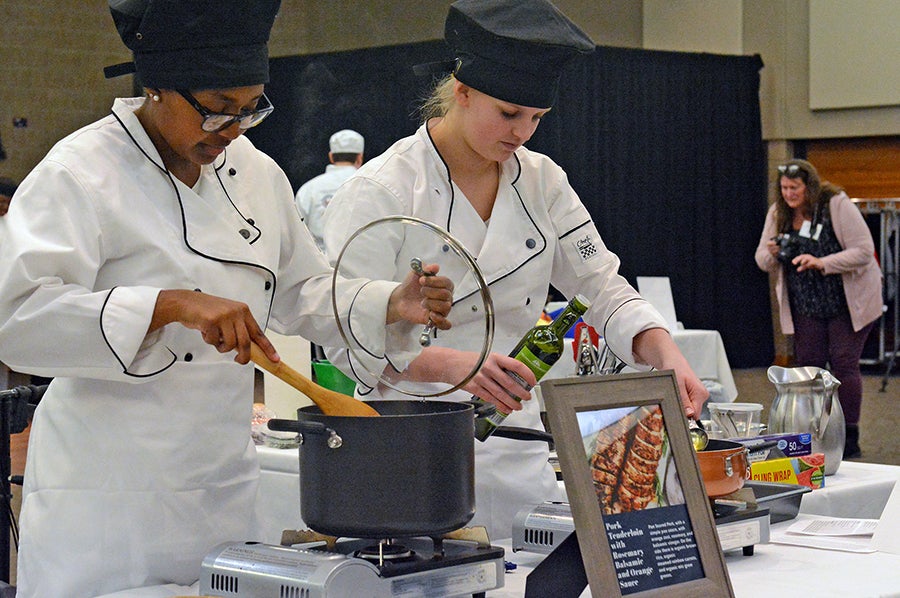 Nelson said she found the competition stressful but a great experience. "I like putting in the effort and seeing the final product," she noted, adding the team cooked a pork loin with balsamic sauce.
Getting high school students on campus is also a benefit for UW-Stout, allowing students to learn about different careers the School of Hospitality Leadership offers, Vernon said.
Ryan Demers, coach of the Pewaukee teams and a UW-Stout 2001 alumnus in hospitality tourism and family and consumer sciences, said the UW-Stout competition helps the teams prepare for the state competition. "You can only do so much in practice," he said. "This is where it gets serious. It's where everything becomes real."
Second place went to Pewaukee team 2 and third place to Green Bay Preble team 2. Each received a trophy for their school, medals and a $200 scholarship to UW-Stout per student for second place and $100 for third place.
###
Photos
Middleton High School team members Hudson Roberts, at left, and Jade Davis, cook up a honey ginger pork pho dish during the competition.
Davis and Roberts with their trophy and completed winning dish.
Amery High School students Makenna Nelson, at left, and Reese Benware cook their pork tenderloin with balsamic sauce.