Entrepreneurship is growing in Kenya, with the government investing in internet technology and striving to increase women's and young people's involvement in building businesses and the economy.
"There is significant attention to coaching and mentorships," said Achie Ojany Alai, commissioner for tourism in Kisumu County, Kenya.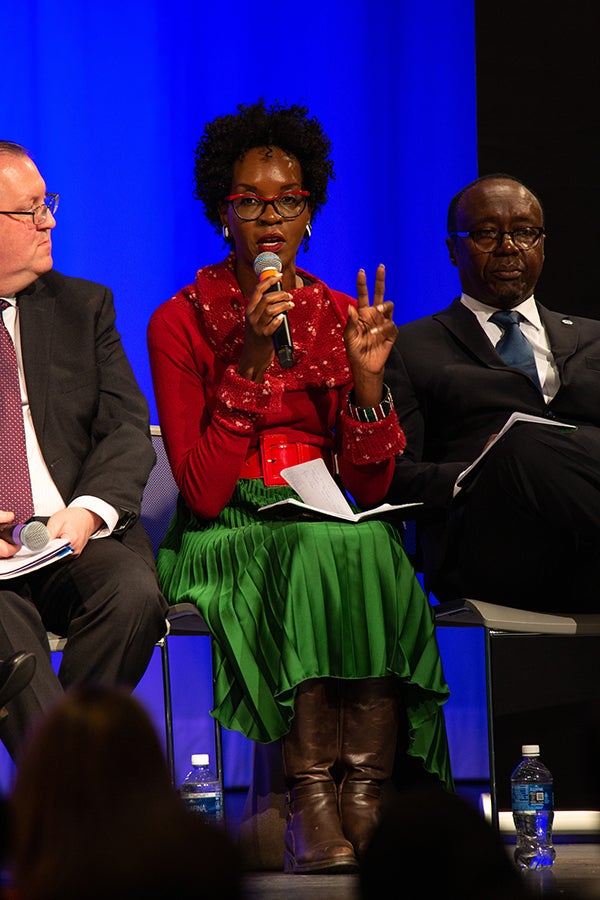 Peter Anyang' Nyong'o, governor of Kisumu County, one of the largest metropolitan areas in Kenya, spoke at UW-Stout Monday, Nov. 4, along with a panel made up of Alai; Bob Madanji, chief protocol Kisumu County; and UW-Stout business instructor Scot Vaver.
Vaver has helped lead the Young African Leaders Initiative in the past at UW-Stout and continues to work in Africa in a consulting capacity and as co-host of a television show, "Exploring America," produced with Dale Mord, a UW-Stout alumnus.
Vaver said he has seen many more incubation labs for businesses in Kenya than in the U.S. "It is where young entrepreneurs come together and help build ideas," Vaver said.
In Kenya, at the county level, there are technical and vocational training centers, Nyong'o said. This allows students who do not go to college an opportunity to enhance their skills and work in agriculture and industry.
"Universities are becoming more savvy and opening degree courses in tourism and hospitality management, IT, sports management," Alai said, noting these are careers young people are seeking.
With social media, everyone is interconnected, Alai said. "Youth across the world are talking to each other," she noted.
To stand out in the employment world, students need to have something extra on their resume. "University exchange programs are key," Alai said. "The opportunities to come work in Africa are huge."
Vaver agreed. "Major companies are based in Kenya too," he said. "One thing students shouldn't overlook is they get an internship for a reason. Turn that internship into your future ability."
In 2021 UW-Stout will be offering a faculty-led study abroad opportunity to Kenya. Scott Pierson, director of UW-Stout's Office of International Education, was emcee for Monday's event.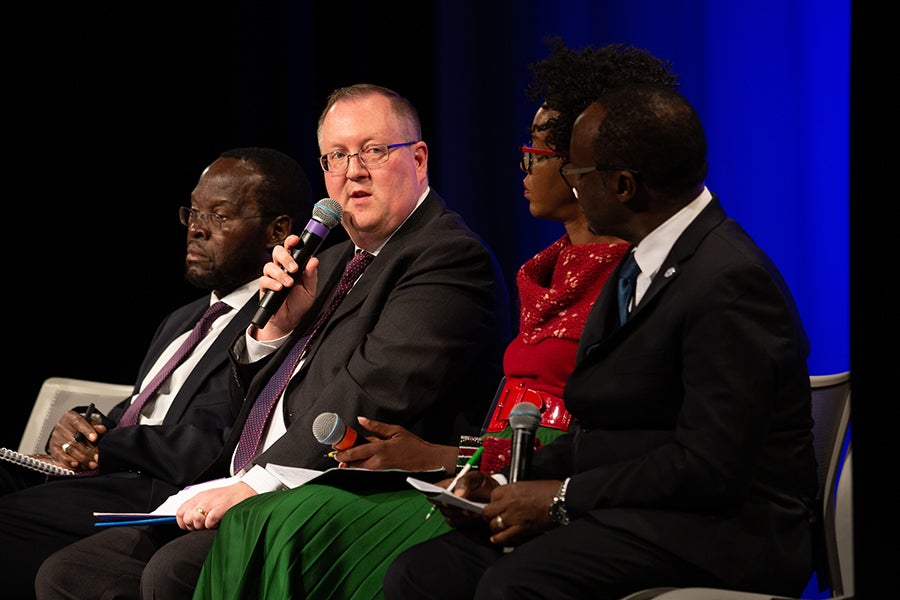 Having Nyong'o and the other members of the delegation come to UW-Stout and Menomonie helps build connections, Vaver said. "It is the beginning of reaching out to more students in Kenya to come to UW-Stout," he said. "I foresee a great future and many opportunities."
During a presentation before the panel discussion, Nyong'o discussed his concern over the growing debt in Kenya and how it impacts the money available for social concerns, such as health care and affordable housing. He wants a constitutional amendment to see the government turned back into a parliamentary system as opposed to the current presidential system.
"A parliamentary system of government is more inclusive and has more transparent policies," Nyong'o said. "That movement is being fought by conservative forces."
He also noted Kenya is home to many American companies, including Amazon and Nike. "The world has become one global village," he added. "What happens in one corner affects another corner more quickly than ever before."
The Kenyan delegation also toured Menomonie and met with city officials. Interim Chancellor Patrick Guilfoile welcomed the delegation to UW-Stout and introduced Nyong'o.
Mord also shared his story during the presentation, noting he struggled his first semester at UW-Stout but went on to graduate with a golf enterprise management degree. He then started a video production company, Rogue Productions.
UW-Stout gave him the tools he uses every day because of the hands-on learning environment that taught him the importance of world-class customer service. "Students can be very proud of the opportunities UW-Stout has to offer them," he said.
###
Photos
Achie Ojany Alai, commissioner for tourism in Kisumu County, Kenya, says entrepreneurship is growing in Kenya.
UW-Stout business instructor Scot Vaver talks about building intentional connections between UW-Stout and Kenya to give students international experiences.