A Q&A with one of the 1,319 students who received a diploma May 4 at UW-Stout:
Name: MaKayla Pederson
Hometown: Chatfield, Minn.
Major: Human development and family studies, minor in psychology
Awards, honors: Samuel E. Wood Medallion Award, Honors College, Psi Chi, Summa Cum Laude, Chancellor's Award all semesters, CEHHHS Potential for Excellence Scholarship, Steiner/Milnes Scholarship, Dwight and Linda Nyhus Davis Scholarship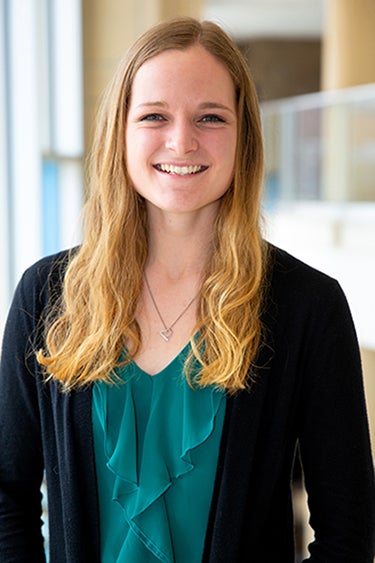 Why did you choose UW-Stout? I only applied to UW-Stout because I knew without a doubt that this was the college I wanted to attend. The main draw to this campus was my major, HDFS, as I wanted to work with kids but didn't want to be a teacher; this degree qualifies me to do that, and this program isn't offered at many colleges in this area. Besides the major, Stout was the ideal distance from my hometown, had several useful features included in tuition, I loved the campus, and everything just felt right from the moment I stepped foot on campus for my tour. I couldn't be happier with my decision and the subsequent three years attending UW-Stout.
What are the biggest obstacles you faced in earning your degree? Some of the biggest obstacles included completing group projects with difficult team members, balancing all my responsibilities and commitments and finding and then establishing my personal boundaries and limits. It's easy to get swept up in trying to do as much as you can to stand out in an application or resume, but it's imperative that you also find time for self-care and just to reflect on all that you've done or accomplished already.
What stands out among your college experiences? I've had so many incredible experiences at UW-Stout. Some that particularly stand out are the close relationships I've built with several professors, volunteering as a mentor through the Big Brothers Big Sisters program since 2017, studying abroad in England and France and both completing and disseminating numerous research projects with HDFS faculty. I presented at three conferences last year, one of which is the nation's largest children's mental health conference, wrote two manuscripts that I am trying to get published in an academic journal and presented at the 2019 Research in the Rotunda event.
What's next? I will be completing an internship with Make-A-Wish New Mexico this summer, taking a year off to work and decide which graduate program I want to pursue while getting more experience in the field, and eventually I would like to obtain my master's degree and potentially my doctorate degree. My end goal is working in some capacity with children and families that have experienced trauma.
###