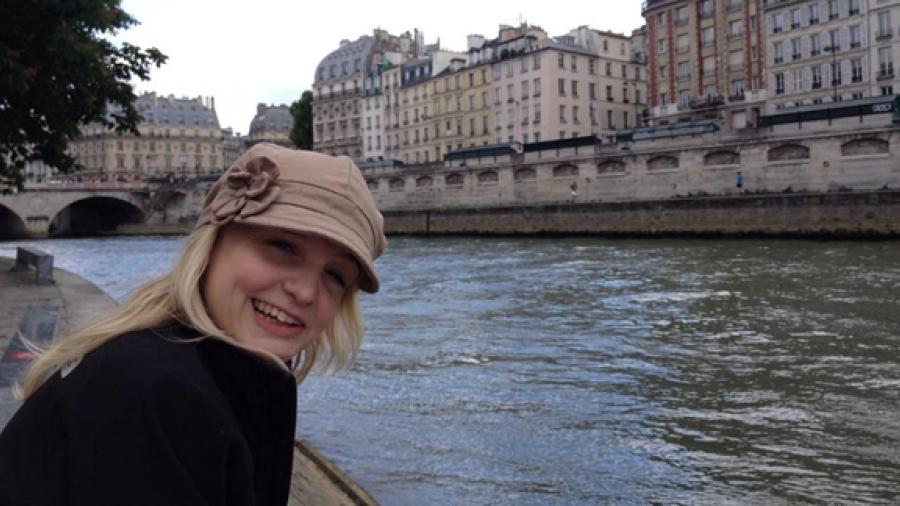 Name: Karli Jopp
Hometown: Elk River, Minn.
Major: Art education
Awards, honors: Chancellor's Award 2012, 2013, 2014, 2015; Goodman Family scholarship, 2014- 2015; art selected for Year End Show 2013, 2014, 2015; painting selected for "Prometheus," student creative arts journal, April 2016
Why did you choose UW-Stout? One of the main reasons was my major, art education. It's basically where you go if you want to be an art teacher. It has such a strong art program that I have thrived in. I also love the size of UW-Stout. The campus is quaint yet there are a lot of students. There are always familiar faces and yet people I've never met before. The university and city of Menomonie have been great communities to be part of.
What are the biggest challenges you faced in earning your degree? I realized early on that my major is basically a double major. The art courses paired with education classes have been challenging. And that is such an understatement. I've been growing and learning in two very different categories: as an artist and teacher. I've had so many hard, yet growing times. For instance: painting in the art building 'til getting kicked out at 2:30 a.m. or student teaching in north Minneapolis at a middle school. Another obstacle was the teacher candidate assessment series, the Praxis, which is required to student teach. I had to pass two rounds of tests. Tests are very hard for me. When I was five, I had a very rare cancer called rhabdomyosarcoma, which hindered my brain's processing speed and has always made tests difficult. I failed the Praxis test three times. This caused my graduation to get pushed back another semester. But through all these obstacles I grew through perseverance. I look back with gratitude at all the hard days I have been through.
What stands out among your college experiences? I have so many wonderful memories through my involvement on campus. I've been heavily involved with a campus ministry called Cru. Through Cru, I've been blessed with so many opportunities to serve and grow as a leader. I've gotten to participate in countless events, conferences and trips. I got to go on three mission trips to South Carolina and Paris. I formed many relationships during those trips that will last forever. I've also had enriching experiences in my art courses. I discovered a love for painting and have surprised myself with the outcomes of my artwork. This love is something I will always continue to pursue.
What's next? I've realized that no matter what jobs I have throughout my lifetime, they will always stem from the same three passions: art, ministry and teaching. I know I will always be pursuing those three things. As of right now, I plan on looking for job opportunities in the community. I plan on substitute-teaching this spring.

###
Photo
Karli Jopp visits Paris while on a mission trip with Cru, a campus ministry organization.