Emily Gordon is creating sculptures that will cannibalize themselves, and she hopes they make people uncomfortable.
That somewhat radical approach has brought Gordon national attention. The University of Wisconsin-Stout senior studio art major with a ceramics concentration recently received a fellowship from the National Council on Education for the Ceramic Arts.
The $1,800 Regina Brown Undergraduate Fellowship, the 20th annual, will be awarded at the NCECA conference March 27-30 in Minneapolis. Gordon is one of three students to be honored out of thousands who applied.
"It's not a normal approach," she said of the art proposal she submitted to NCECA as part of her fellowship application, which included a resume and portfolio.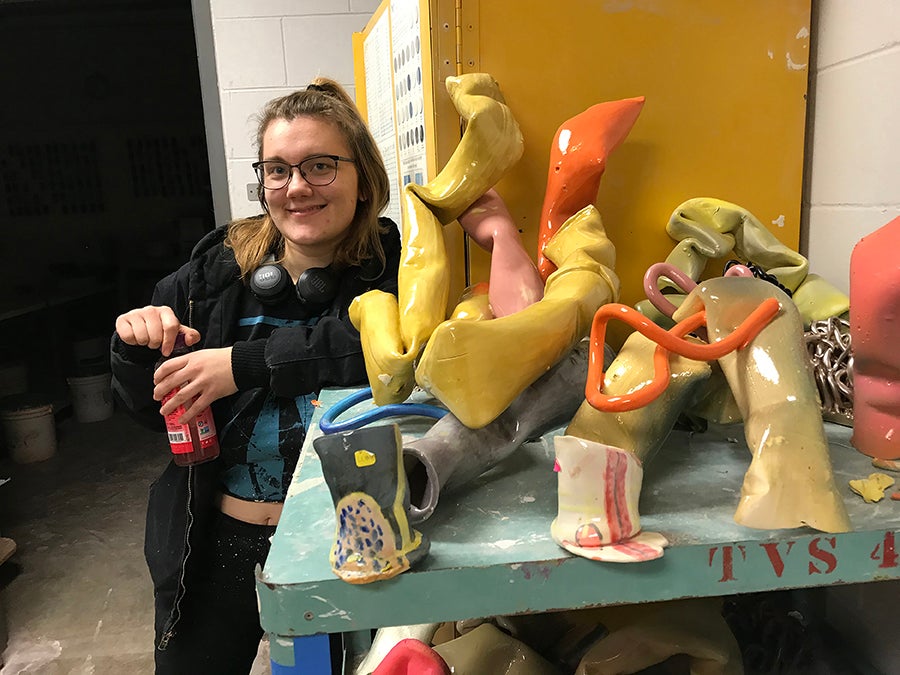 Gordon, of Woodbury, Minn., will use the fellowship to experiment at UW-Stout with ceramics in a way that she believes hasn't been done before. She is creating unfired, clay sculptures with perforated pipes running through them.
The sculptures, up to eight feet tall, will drip water "and slowly eat away at the thick applications of clay and paint," she said, eventually leaving them a shell of their former selves. In other words, she plans to destroy what she creates.
"By the end of the exhibition, these beings will be no more than an unrecognizable slurry that mixes in and becomes one with these other materials," Gordon said. "The public will develop a level of discomfort by watching these beings wither away."
Gordon's work also is intended to be cathartic. She sees the disintegration of her beings as a way to shed her own "toxic memories, relationships and behaviors."
Ceramics typically are kiln-dried. Gordon's sculptures will be made of unfired clay — or bone dry — to allow them to absorb water and break down.
"The ceramics art form is stable. I'm taking the material and doing with it what it's not typically used for. It's a new approach," she said.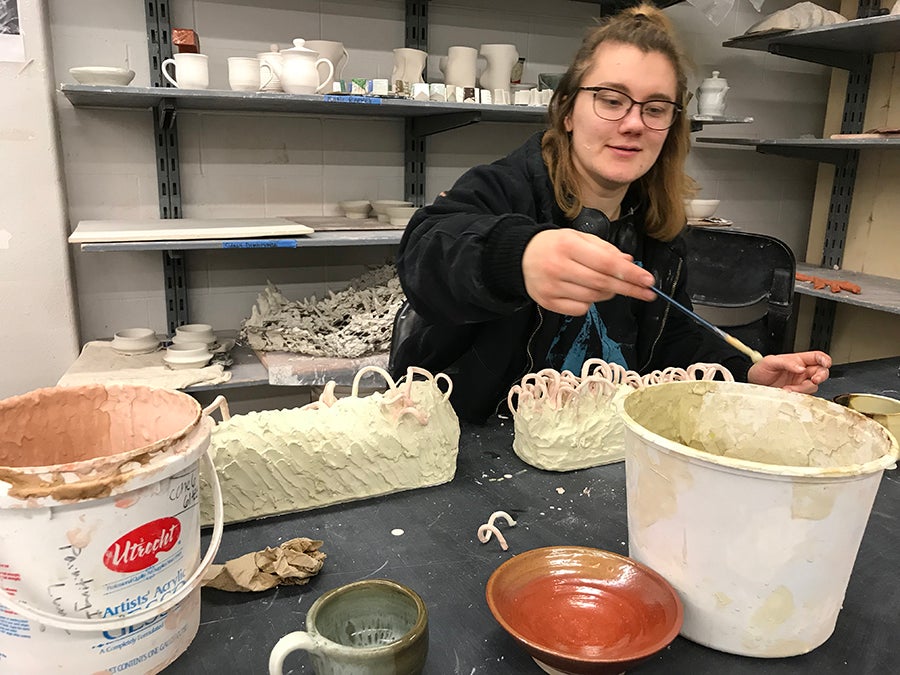 Her work will be exhibited, with the work of other ceramics students, in a Minneapolis gallery in March as part of the NCECA conference. The NCECA, based in Boulder, Colo., has about 4,000 members from more than 20 countries.
Also, she will have an exhibit in May at the UW-Stout library for the Bud and Betty Micheels Artist in Residency. She is one of two students chosen this year for the residency, established by the former UW-Stout chancellor and his wife.
Other Gordon paintings and glazed ceramics, not related to the residency or the fellowship, will be exhibited through February at Ambient Inks, a print shop at 524 Water St., Eau Claire. An opening reception will be at 7:30 p.m. Thursday, Jan. 24. The title of the exhibit is the Weight of Sweetness.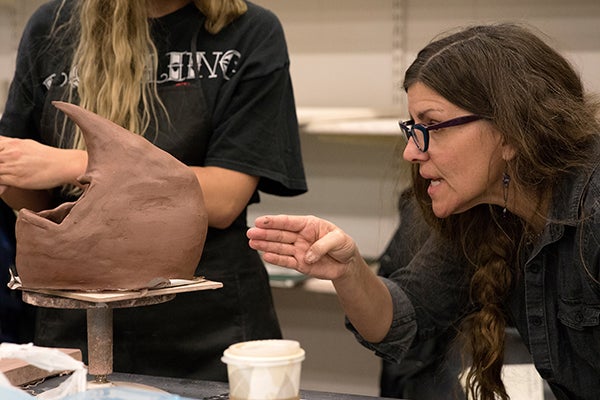 UW-Stout Professor Kate Maury, whose expertise is in ceramics, has been impressed with Gordon's work. "I believe Emily Gordon is very unique in her approach to her medium, rethinking how clay relates on both form and emotive concepts. She diligently strives to challenge herself and has had great success as an undergraduate," Maury said.
'A lifetime journey'
As a senior at Woodbury High School, Gordon won a national award in ceramics, leading her to UW-Stout's School of Art and Design.
She has appreciated the openness of her professors, exposure to ideas from other majors and painting and aesthetics classes that have given her an "outside perspective. Working with different materials made me come back to clay in a different way," she said.
Including ceramics, UW-Stout's studio art major has seven concentrations.
Once again winning an award — the fellowship — has helped validate Gordon's work as an artist . She also does abstract oil paintings. "The fellowship means a lot to me. I'm more confident in my abilities to be successful. It's definitely a confidence-booster," she said.
When she graduates in December, she will consider graduate schools and art residencies around the U.S. In addition to creating art, she's open to teaching during her career. "It's definitely a lifetime journey," she said.
It all comes back to clay. "I love how malleable clay is and the feel of it. I'm a very sensitive person. The endless things you can do with the material is really exciting," she said.
###
Photos
Student Emily Gordon, of Woodbury, Minn., loves working with clay and creating ceramic sculptures. A senior studio art major at UW-Stout, she plans to create art and possibly teach in her career.
Gordon has received a national fellowship for an experimental ceramics project, one in which her sculptures will disintegrate.
UW-Stout Professor Kate Maury works with students in a ceramics lab.