This story originally appeared on the website Wisconsin.Golf
If Indiana "Indy" Thompson was like most new college graduates, he'd be dipping his toes into the "real world" a little at a time — adapting to 40-hour work weeks and enjoying the freedoms of young adulthood. Maybe playing in a golf league.
But at 23 years old he has chosen a route that's closer to swashbuckling movie character Indiana Jones — ignoring the warning signs and jumping into the fire with both feet. In March, Thompson bought a golf course, nine-hole Pine Crest outside of Dallas, pop. 400, about 50 miles north of Eau Claire.
After growing up in nearby Chetek, where he played high school golf, and graduating from the golf enterprise management program at UW-Stout, the bold venture is part homecoming, part "pinch me, am I dreaming?"
Thompson has taken on a job most Gen Z'ers either wouldn't have the confidence or guts or work ethic to consider. There's fertilizer to order, grass to mow, pins to cut, events to organize, marketing, payroll, maintenance and so much more with a staff of 15 people.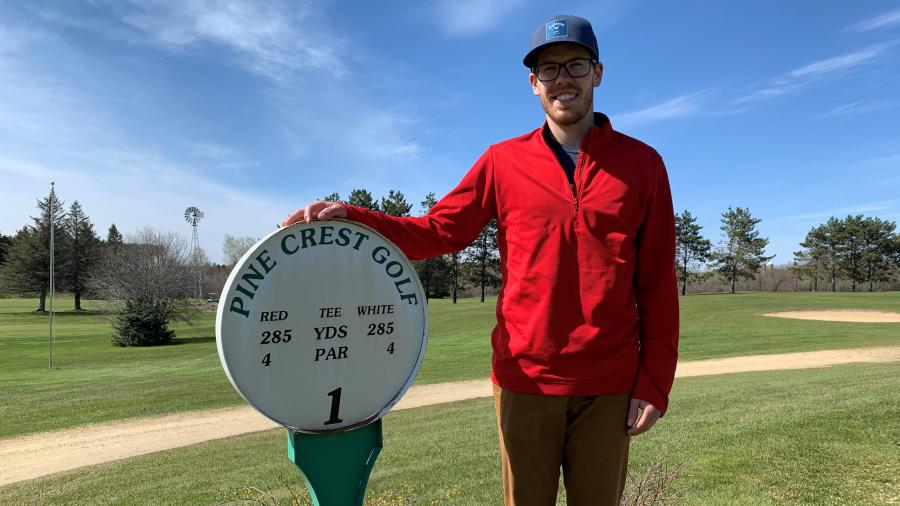 On a recent Friday afternoon, the parking lot was full and the knotty pine bar with fireplace and pool table was buzzing for AARP League as Thompson took a break from mowing fairways; he will be the superintendent for the foreseeable future.
"It's definitely been a learning experience. On a day like today, it does seem overwhelming. Your days get really busy, but it's been very rewarding," he said.
Jeff Schwister, executive director of the Golf Course Owners of Wisconsin, isn't aware of another course owner in the state as young as Thompson, although neither GCOW nor the National Golf Course Owners Association tracks that statistic. "That's amazing. It's great to hear," Schwister said. "'I'm sure he'll be wearing a lot of hats."
Kris Schoonover, one of Thompson's professors at UW-Stout, said he is "a driven young professional, just what the golf industry needs during record-setting rounds and participation. How amazing is this as a young professional? We are so proud of him."
The increase in rounds played across the state in 2020, up between 10% to 30% Schwister said, may have helped convince Thompson it was a good time to get into the business, but Thompson has been on a career track since fourth grade, when he got hooked on golf thanks to a teacher who introduced him to the game.
High school standout to Big Fish GM
He worked for six years at Sioux Creek, another course near Chetek, as he became a four-time Heart O'North all-conference and all-state player at Chetek-Weyerhaeuser High School. He also played two years at UW-Stout.
Then, in fall 2018, his senior year at UW-Stout, he was named general manager at Big Fish, the Pete Dye-designed course east of Hayward. He had been interning there since the previous March when the GM position opened. It was a big job for a 21-year-old.
"Moving up there where they have food and beverage and big tournaments, where we were putting through 150 golfers with a shotgun start, was a huge wakeup call for me. I learned the basics of what a golf course should be," Thompson said of Big Fish, where he managed a staff of 35 and reported to a board from the Lac Courte Oreilles Tribe, which took over the course.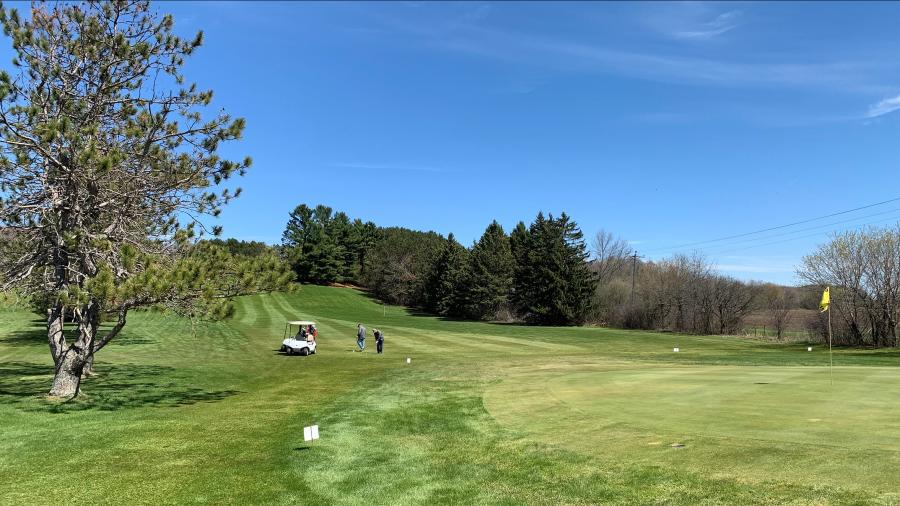 His decade of intense golf education came full circle in 2020 when he heard that Pine Crest owners Chad and Karla Knutson were selling. It wasn't a course he had played much growing up, but it was established with a steady business flow. The price wasn't insurmountable thanks to a regional business fund, some creative financing and selling a few lifetime memberships. He hadn't saved enough for the standard 10% down payment — but who would at 23?
Plus, entrepreneurship was in his blood. His dad, Mark, is an independent musician. His mom, Janet, is a longtime Chetek beauty salon owner. One grandfather was a farmer, and the other owned a meat market in Chetek. "Business ownership kind of runs in the family. I always wanted to be a farmer. This is kind of the closest thing to it without being a farmer," Thompson said.
With rolling farmland surrounding Pine Crest, Thompson is right at home. At Big Fish, the crowd was vacationers and lake home owners. At Pine Crest, it's residents from Dallas and nearby Prairie Farm, Ridgeland, Barron, Wheeler and Colfax, who want a quick, laid-back nine, a beer and a $7 shrimp or burger basket.
"There are a lot more Ram 1500 pickups than Cadillac Escalades in this parking lot. It's definitely more down to earth and home style for me. I know a lot of people, and my parents know a lot of people from the area," he said.
His parents are pitching in around the property to help him get started.
Third owner of course built on a farm
Pine Crest, par 36, 2,950 yards is on about 72 acres. It started in the 1970s as a homespun, three-hole family playground for Doris and Dale Severson on their farm, including a challenging par-3 with an old tree guarding the green. Their son, Mike, helped run and expand it to nine holes.
It was sold in 2010 to Chad and Karla Knutson. After Thompson finalized the purchase from the Knutsons, he drove out to the course. "I thought, 'Wow, this place is actually mine."
When he looked around, he saw lots of work and potential.
"A big thing now in the golf industry is the ability to go out and play nine. Time is the biggest constraint for golfers. These nine-hole courses, I think, are going to prosper. They cost less to play and take less time to play," he said.
"It's a nice course. There are some open holes and some woodsy holes," he said, adding that he doesn't plan major changes but wants to improve the overall condition and hole-to-hole consistency, especially with green speed.
He's enjoyed getting outdoors instead of being in a clubhouse with a tee sheet all day. "The outside work has been fun," he said.
UW-Stout's golf enterprise management program prepares students for all aspects of golf operations. Thompson is realizing the value in courses he took for turf management, golf marketing, hospitality and business, for example.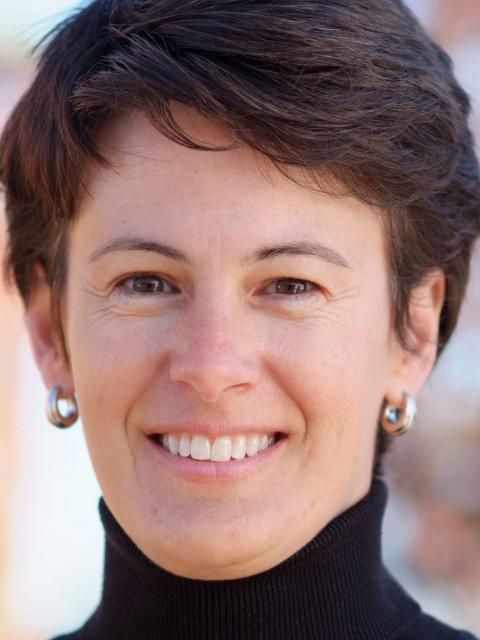 Along with the golf enterprise major, he earned a minor in business administration from UW-Stout. He likes how the golf and business courses dovetailed because golf, after all, is a business.
"I don't know if I could have bought the course without the bar and restaurant. You need something to get you through the offseason and pay the bills," Thompson said.
Schoonover, who is assistant competition director at Erin Hills as well as an assistant professor at UW-Stout, isn't surprised by Thompson's early career success.
"He has been a success through his academics work, his professional approach as a director of golf, and he understands how to manage staff and the financials. Indy will take his business acumen as an owner and operator of his golf course and create an enjoyable venue to gather with friends and family for the love of the game," she said.
Pine Crest has four leagues, and Thompson hopes to see memberships rise about 25% this year. "There's a lot going on here. It's a busy little course, but it's not too busy so you can't get out and play a round."
If only, at 23, with 12-hour days, he could find the time to play.
###