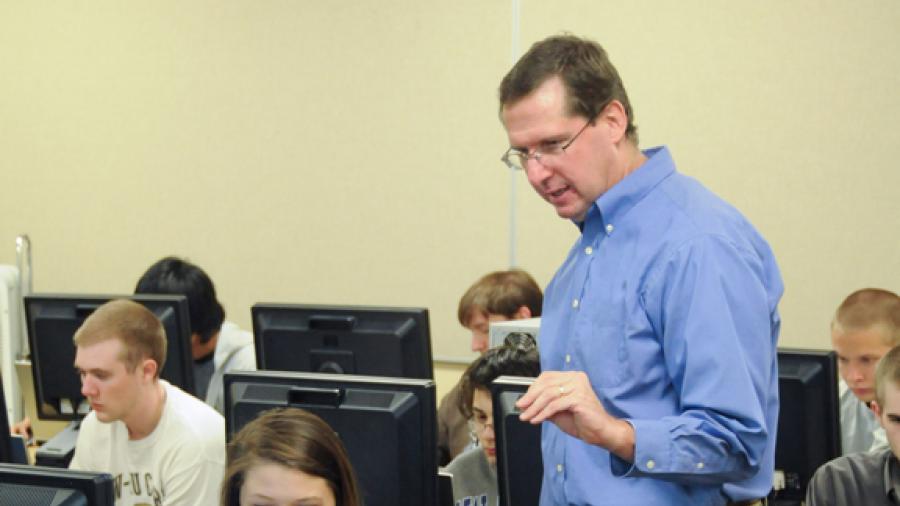 An academic program at University of Wisconsin-Stout that has withstood the test of time, and continues to grow, will be celebrated Saturday, Sept. 30.
The 50th anniversary of the Bachelor of Science undergraduate program in applied mathematics and computer science will be marked with an event beginning at 4:30 p.m., with a social hour and campus tours starting from the Great Hall of the Memorial Student Center.
At 6 p.m., Chancellor Bob Meyer will welcome attendees, including alumni, for a banquet and program. Meyer earned an industrial education degree from UW-Stout in 1980, with a teaching minor in mathematics.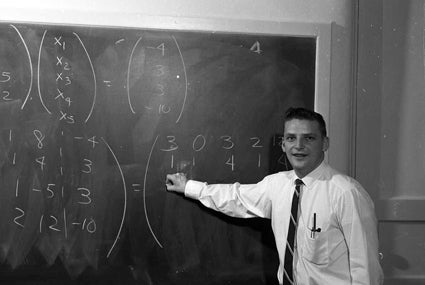 The banquet will include a special recognition for Eino Maki, of Menomonie, who served as program director for 25 years. Alumni who have helped plan the event are Colleen Hartmon Bollom, a 1988 graduate who is a member of the Stout University Foundation board; and Eric Austvold, a 1989 graduate who will be the master of ceremonies.
The applied mathematics program began in fall 1967 under school President William "Bud" Micheels, who helped the university expand its number of majors in the 1960s from three to 14. Today, UW-Stout has 48 undergraduate majors.
The computer science aspect of the major was added in 2001.
Students in the major have increased approximately 25 percent in the last five years, with nearly 200 enrolled this fall, as the demand for analytical skills and technical abilities in the workforce increases.
"The need for computing students has grown significantly in the past few years and is projected to grow significantly," said Professor Terry Mason, program director.
Mason has bachelor, master's and doctorate degrees in computer science from the University of Iowa and a bachelor's in chemical engineering from Iowa State.
Students in UW-Stout's program can choose from one of seven concentrations: actuarial science, business management, cyber security, interdisciplinary, mathematics education, scientific computing or software development.
"The success of our program is based on the foundation of mathematics applied into various professional fields," Mason said.
Program graduates, who for the last 20 years have had an employment rate of 92 to 100 percent within six months, report an average starting salary of more than $57,000 at companies such as IBM in Rochester, Minn., Marshfield Clinic, Cray, Acuity and Securian.
Career options include software engineer, financial analyst, information systems developer, programmer, actuary, cyber security specialist and business manager.
"The program has been extremely successful, with over 1,260 graduates applying mathematics in industry," Mason said.
Learn more about the major at the program website.
###
Photos
Top: Professor Terry Mason works with an applied mathematics and computer science student at UW-Stout.
Bottom: Eino Maki teaches a class at UW-Stout in 1963. He was director of the applied mathematics and computer science program at UW-Stout for 25 years and will be honored Sept. 30 on the program's 50th anniversary.