The 40th annual Early Childhood Education Conference at University of Wisconsin-Stout will feature nationally known teacher and songwriter Jean Feldman and Tami Rae Weiss, executive director of Arts Integration Menomonie and the UW-Stout program director for art education.
The conference, expected to draw about 800 people, is Friday, April 20, and Saturday, April 21.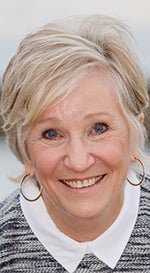 Feldman will speak from 9 to 10:15 a.m. Friday in the Great Hall of the Memorial Student Center on "Kids Just Wanna' Have Fun." Highlights will include practical applications from brain research, songs to nurture skills and standards, movement activities to release wiggles, how to engage children's attention and ideas to celebrate every child, every day.
Feldman's educational career has spanned more than 40 years as a classroom teacher, instructor of adults, author and consultant. She strives to inspire teachers with her songs and activities, with the goal to make teaching and learning fun. She will talk about the importance of play in child development.
Weiss will speak from 9 to 10:15 a.m. Saturday in the Great Hall on "Beads and Breakdancing: Understanding Empathy Through the Arts." In a multimedia presentation, Weiss will share various arts strategies from dancing to doodling through which teachers can cultivate empathy with even the youngest of learners.
To improve schools today, Weiss' advice is to: "Focus less on right answers and more on human rights," she has said. "Focus less on competition and more on community. Focus less on reading words and more on reading people. True education is the ability to understand another human being."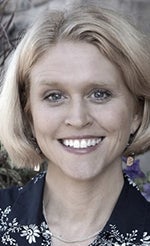 Special sessions Friday and Saturday are with Dr. Dipesh Navsaria on "Early Brain and Child Development." Navsaria will discuss the critical importance of the first 1,000 days of life and the key role human relationship and interactions play in that time. Navsaria is an associate professor of pediatrics at the University of Wisconsin School of Medicine and Public Health and is a primary care pediatrician.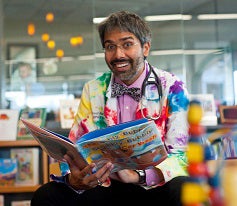 There will be 30 exhibitors offering books and children's materials in the Memorial Student Center during the conference.
The Children's Museum of Eau Claire will display a planetarium in Heritage Hall along with its Imagination Playground bricks. Both are free and open to the public from 9 a.m. to 4 p.m. both days.
More than 100 presentations are planned by teachers, daycare providers, children's museum staff and counselors. UW-Stout presenters in addition to Weiss include:  
Allison Feller, interim director of the Child and Family Study Center
Andy Felton, assistant professor
Glenda Jones, associate professor
Virginia Lea, associate professor
Terry Kohlmeier, assistant professor
Ruth Nyland, associate professor
Kate Kramschuster, educational materials center director
Jeanne Styczinski, children's book author and illustrator and coordinator of Menomonie Collaborations
Kimberly Martinez, associate professor
Kevin Mason, associate professor
Sylvia Tiala, associate professor
Renee Surdick, program director of operations and management
Sapna Thapa, associate professor
Julie Bates-Maves, associate professor
Makaya Ruhe, Oliva Revolinski, Megan Sykora, Hannah Saphner, Marko Pechnik, Nicole Seidler, Anna Koehne, and Sierra Thomfohrda, art education
Amber Eckert, Kristin Korkowski, Nicole Bobo, Angie Gilbertson, Laura Pitt, Rachael Stuart and Maggie Keenan, Rebecca Wolf, instructional specialists at the Child and Family Study Center, and Marcia Wolf, senior instructional specialist
The conference is coordinated by UW-Stout's Professional Education Programs and Services. Sponsors are UW-Stout's College of Education, Hospitality, Health and Human Services; Chippewa Valley Technical College; Mayo Clinic Health System; and PRIMO Toys.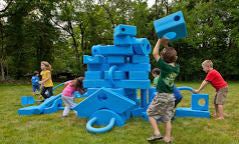 UW-Stout has offered an undergraduate program in early childhood education since 1972. Kindergarten and primary teacher training was the first degree program offered at UW-Stout, starting in 1899 when the university was known as Stout Manual Training School.
###
Photos
Jean Feldman
Tami Rae Weiss
Dipesh Navsaria
Imagination Playground bricks