Using science and best practices, Jerry Hui, University of Wisconsin-Stout director of choral activities and associate professor of music, has kept America singing during the COVID-19 pandemic.
Hui, of Eau Claire, felt fear and uncertainty when the novel coronavirus first struck the U.S. last March. He decided to build a publicly accessible folder of scientific studies about COVID-19 to help choir directors make informed decisions about continuing classes.
In the document, Hui, who graduated from UW-Madison with undergraduate degrees in computer science and music composition, used his research background to create abstracts of studies and executive summaries on such topics as masks, aerosols, filtration and room safety. He used commonsense language and advice but also linked to the specific studies for others to do their own research.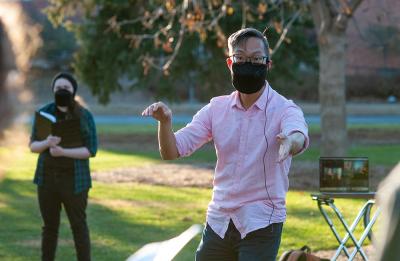 Hui's work impacted hundreds of choral directors, helping them make more informed decisions and follow the science in their planning for classes, said Stephen Sieck, associate professor of music and co-director of choral studies at Lawrence University Conservatory of Music in Appleton.
"As most choir directors work with a hundred or more singers, Jerry's impact in helping to keep America singing while reducing the spread of the virus is heroic in terms of the numbers of students he has reached," Sieck said. "The impact is real, and I'm not sure that the profession will ever be able to thank him sufficiently. He became the reference point. Jerry is one of the few people who responded to COVID-19 by stepping into the void and helping, which is priceless."
Hui would answer questions and made his Google document available for anyone in the country, Sieck said.
Fear, frustration, boredom prompted research
"The reason I started the research was out of fear, frustration and boredom," Hui said. "I was trying to figure out a sense of purpose and what was something I could do to show the bigger picture. If I know something, I want to share it out of the love of all the people in the choral world and students. I didn't want them getting hurt because they didn't understand the scientific world."
The act of singing generates more droplets than other activities such as breathing or talking; the more aerosol material is emitted, Hui said, the greater the potential for passing infection.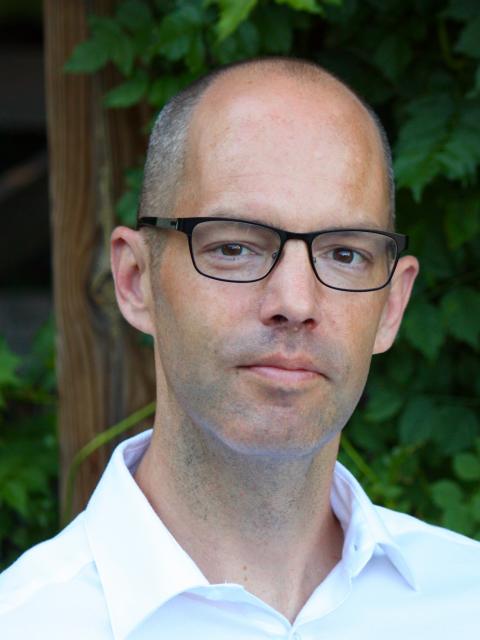 However, singing outdoors is considered low-risk, which the three UW-Stout choirs did much of the fall semester. The choirs – Symphonic Singers, Chamber Choir and Devil Tones Acappella – are also meeting in the ballrooms in the Memorial Student Center to allow for more social distancing. They meet for 30-minute rehearsals, as opposed to 90 minutes, to further lower risks.
"The whole idea is risk mitigation," Hui said, noting Dr. Chris Brown, medical doctor and Ph. D in infectious diseases at Weill Cornell Medical College, helped check Hui's interpretation of the research. "When you are outside the aerosols spilled out will be diluted. Mask wearing is important to limit the aerosol output."
The Memorial Student Center has increased the air exchange in the ballrooms to improve ventilation too, Hui said.
"Obviously, the risk will always be there," said Hui, who is in his eighth year teaching at UW-Stout. "The idea is how can we lower it."
Students use musical face masks
Kendra Korbel, a junior majoring in retail merchandising and management, joined choir her sophomore year and has been a member of both the Chamber Choir and the Devil Tones Acappella.
"There are so many great aspects about being part of a performing art in college," said Korbel, who is originally from Prior Lake, Minn., and lives in O'Fallon, Mo. "Joining choir allowed me to find a community full of people who all enjoy making music and are passionate about the work we do together. I love knowing that while I'm at rehearsal, I can leave all other worries at the door and just focus on creating something beautiful with my classmates."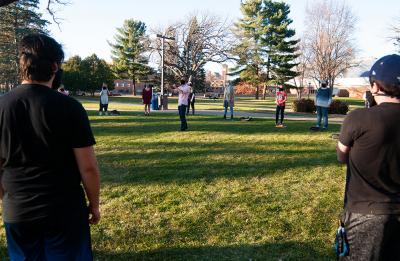 Korbel said Hui treats students like they are part of his choral family. "Jerry uses his amazing musical talents to provide support, healing and understanding to our community and shows that music can go deeper than just singing, it can provide historical and cultural context," Korbel said. "On top of all of that, Jerry has one of the most amazing vocal ranges I've ever heard."
Last spring when choir classes moved to alternative methods of learning, the choirs sang together over video chat, which was difficult with time delays, Korbel said, noting she is thankful to be back to in-person classes this semester, even if they are shortened.
"Jerry even bought us musical face masks that have a boxy shape to allow singers to project sound rather than have it muffled," Korbel said. "We lovingly call these our duck-beak masks. We also cannot use our usual music classroom. This has been the biggest adjustment because Jerry is unable to carry a piano to and from class, so we have basically become an a cappella choir. In some ways it's fun to rely only on our voices, but it also means we must be independent as musicians and be confident on our parts."
Korbel chose to attend UW-Stout because it offered a major she wanted to study. "UW-Stout provides unique majors for a lot of niche careers, and our professors truly care about our progress and professional development," she said. "I also knew about the choir program before attending school and knew it was another community on campus that I could relate to, which helped make my decision that much easier."
Choirs give emotional support, sense of community
Hui is a member of the Wisconsin Choral Directors Association and this summer helped create a video for the organization to tell the story of why children need to sing by sharing their stories of what choir means to them. "How can I keep from singing" has a virtual choir that Hui put together from students across Wisconsin.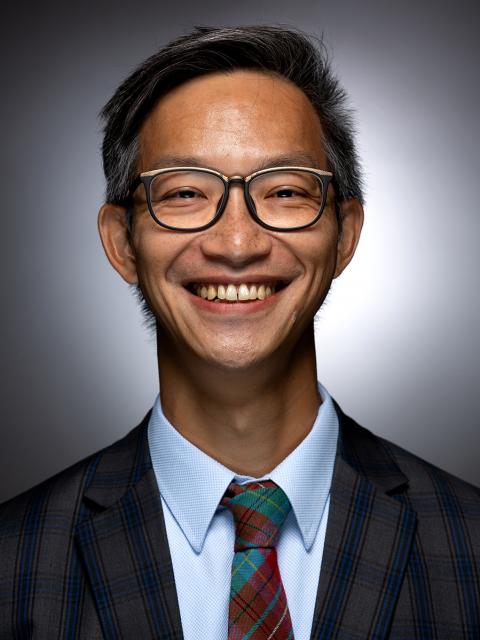 "Singing is for many people the most important way to connect to other people outside their family or inner circle," Hui said. "Choirs give them emotional support and a sense of community. A well-performed piece can be just as powerful as an essay to share emotion."
Hui wrote an arrangement of the beloved hymn "How Can I Keep From Singing?" for the advocacy video, Sieck said, noting it gave choral directors information to share about the importance of singing to students.
"He worked tirelessly with an ad hoc planning committee to clarify the purpose and mission of the video project, arrange a song and edit dozens of audio tracks while providing invaluable insights throughout the creative process," Sieck said. "The video simply would not have happened without Jerry."
Hui is helping WCDA create a nonprofit foundation to ensure the group's mission to prevent barriers to participation in events. For example, it would help students financially to attend choir festivals, giving them the experience of singing with larger groups, Sieck said.
Hui, who has dual master's degrees in musical composition and choral conducting from the University of Oregon, Eugene, Ore., and a doctorate in musical composition from UW-Madison, performs as a baritone and countertenor. He is the assistant conductor at the Madison Early Music Festival and artistic director of the Schola Cantorum of Eau Claire, a 12-voice chamber ensemble. He also directs the Chippewa Valley Festival Choir in Eau Claire.
Power of singing
Hui created a midsemester survey of his choir students to evaluate how the semester was going with the COVID-19 changes. About half of the students reported feeling anxious about academic work a least once a day and also worrying about their personal health.
However, 96% reported feeling good or better after singing in choir, Hui said.
Further proof of the power of singing, Hui noted.