Allegra Van Rossum remembers becoming interested in computers in middle school. When she reached high school, she began to think about a career in a field related to computers.
Her aspirations recently hit a bullseye when she learned what she'll do after graduating in May in computer science-game design and development from University of Wisconsin-Stout: She'll head to Fort Gordon, Ga., to begin training as a cyber operations officer for the U.S. Army.
She will help serve and protect the country from a computer bunker.
"I wanted a career where I was actually helping people with my life. Doing something with computers is a plus. Doing something with cybersecurity hits the sweet spot," said Van Rossum, of Sun Prairie.
Van Rossum, part of UW-Stout's ROTC program, was chosen for the Army's relatively new Cyber Command division. Cyber Command conducts "integrated electronic warfare, information and cyberspace operations," according to the website.
Only about 50 graduates-to-be have been chosen as cyber operations officers from about 5,500 new officers via ROTC this spring nationwide. After nine months of Cyber Basic Officer Leaders Course at Fort Gordon, she'll be reassigned within the division.
Van Rossum applied for the position in 2017 while attending the Advanced Camp at Fort Knox, Ky.
Cyber operations officers are required to have at least a Bachelor of Science degree in a related field. "It's a good fit for my skills," she said.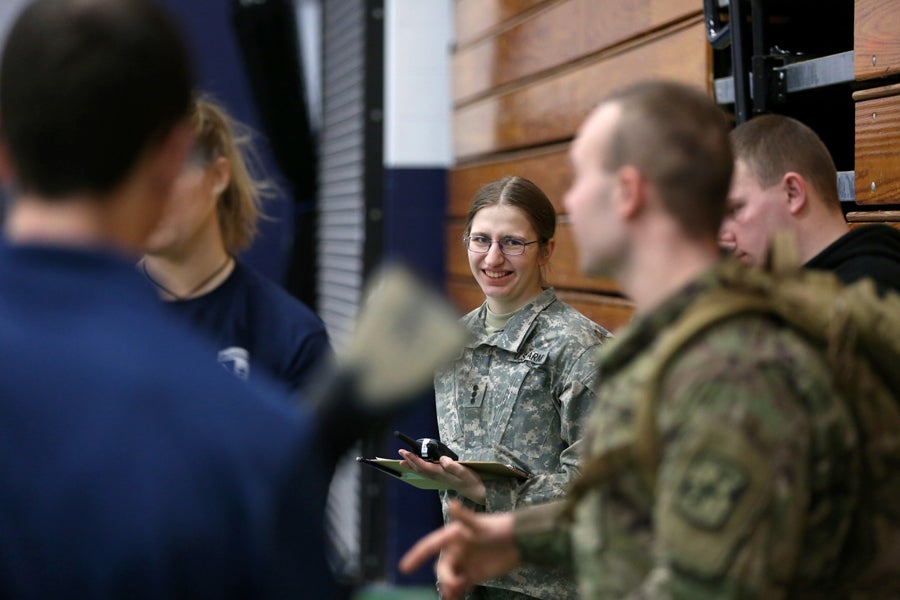 Nationally, women make up about 11 percent of the cybersecurity workforce, a number that hasn't risen in five years, according to the 2017 Global Information Security Workforce Study.
In UW-Stout's computer science program, in addition to learning hard skills about computer security, programming, coding, assembly language, analyzing malware and much more, Van Rossum learned soft skills that she believes will be valuable in her career.
"One thing about game design is you have to work with people who don't necessarily think like you," she said, citing game design students at UW-Stout who also major in the art side of the field. "In the military you work with a lot of people from different areas."
Van Rossum is part of a game design team of 20 people in her senior capstone project.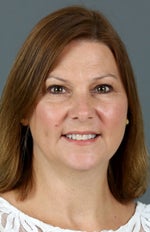 Professor Diane Christie, computer science program director, called Van Rossum an outstanding student and leader. "Our ABET-accredited program provided the rigor to enable her to succeed in her field and the flexibility to take courses in security that gave her the added skills to qualify her for the unique role she will now fulfill," Christie said.
In 2017, UW-Stout was designated as a Center of Academic Excellence in Cyber Defense through a federal program.
Learning computer and military skills
Van Rossum came to UW-Stout because it was one of the few accredited game design programs in this part of the country, she said.
Once she arrived, she became interested in the ROTC program, although she had considered joining the military upon graduating from high school. "My parents wanted me to go to college before going into the military, so ROTC was a good compromise," she said.
Capt. Nathan Justin, assistant professor of military science at UW-Stout, said Van Rossum's "work ethic and determination have brought her far in our program, and it is no surprise that she was chosen to serve in the Cyber branch."
Justin said Van Rossum was hand-selected as student leader of the ROTC program this semester. She is responsible for training 36 students in tactics, leadership and physical fitness. "She sacrifices her personal time to mentor underclassmen and teach them how to be successful in college and ROTC. Her hard work and successes here will set her up for success in Cyber operations," Justin said.
ROTC — Reserve Officer Training Corps — combines electives in military science with practical leadership training to prepare men and women to become Army officers. Upon successful completion of the program and graduation from college, cadets receive a commission as a second lieutenant in the U.S. Army, Army Reserve or Army National Guard.
Van Rossum said she has learned leadership, critical-thinking and tactical skills in ROTC.
UW-Stout's program is part of the Northwoods Battalion, which recently was named the top battalion in the Army's 3rd Brigade comprising 42 programs in nine states. 
Van Rossum also works part time, about 20 hours a week, at the university's computer help center for students, faculty and staff.
With recent national cybersecurity breaches, such as Equifax and the Russia election-hacking scandal, Van Rossum is excited to be going into a field that is becoming increasingly important to all citizens and national security.
"It's something that needs to be pushed. There are so many businesses that are behind the curve. Cyberwarfare already exists, and it's been here for 20 years," she said.
###
Photos
Allegra Van Rossum is the student leader this year for UW-Stout's ROTC program. / UW-Stout photo by Brett Roseman
Diane Christie
Allegra Van Rossum came to UW-Stout for its computer science-game design program and then joined the ROTC program. / UW-Stout photo by Brett Roseman